On Maui, you have the pick of some of the best beaches worldwide. Literally, some of them have won awards for being the best in the world.
Which means a spot like Kalepolepo Park can be overlooked. Located in North Kihei, Kalepolepo Park has a beach and swimming area, plus picnic tables and a rare example of ancient Maui history.
If you'd like to visit Kalepolepo Park, you might be surprised by just how lovely the underappreciated park can be.
Read this guide to help you plan your visit.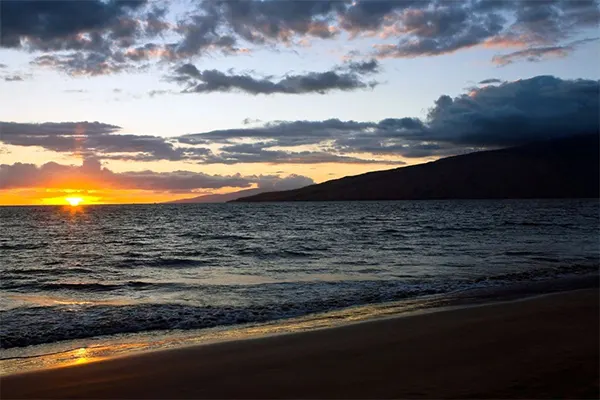 Where Is Kalepolepo Park?
The north of Kihei can be overlooked by tourists who are drawn to the charm of Wailea or the excitement of West Maui.
But Kalepolepo Park is just one of a few unexpected gems in North Kihei, and well worth a look.
Particularly if you're interested in learning a little more about Maui history.
Kalepolepo Park can be found to the side of South Kihei Road, north of Wailea. There is a small parking lot located on the ocean side of the road, with space for about nine cars.
The turning is between Kulanihakoi Street and Kaonoulu Street. If you're traveling north from Kihei, Kalepolepo Park is just past the Menehune Shores Condominium Complex.
What Can You Do At Kalepolepo Beach Park?
Kalepolepo Beach
The beach at Kalepolepo is small and sandy, and quieter than many of the beaches of Kihei.
To be perfectly honest, it isn't the most spectacular beach on Maui, but it does have some very tough competition. It's still a lovely beach.
If you time your visit right for a quiet morning when the winds are low, Kalepolepo can feel special.
The views across the Maui coastline are impressive, and you can enjoy them in near solitude, sitting in the shade of the trees. Over winter, you even have a very good chance of spotting humpback whales!
There is some snorkeling at Kalepolepo, but there are better places on Maui to snorkel.
You have to be careful of the swells, as the winds can hit Kalepolepo hard. When it's calm, snorkeling is okay.
Kalepolepo Fishpond
Kalepolepo Beach Park Fishpond, known as the Ko'ie'ie Fishpond, is worth visiting for two reasons.
First, it's an exciting look at an old Hawaiian tradition. Second, it's a great place for keiki to swim. 
Let's start with why Kalepolepo Fishpond is so interesting. Built using lava rock and coral wall sometime between 1400 and 1500 AD, the fishpond was designed to circulate water while trapping fish inside.
Small fish would come into feed, but as they grew larger, they couldn't fit through the gaps of the walls.
Meanwhile, the tide would be able to move through, keeping the water fresh.
Ancient Hawaiians used this method to farm many species of fish, helped by the natural springs in the area.
Nowadays, the fishpond is a popular place for small children to swim. Thanks to the walls, the water is calm and shallow.
The fishpond was once reserved for Hawaiian royalty, so be respectful in the area.
Also, keep an eye out along the wall for sea turtles! They blend right in, and you have to try and keep your distance. (For their safety, not yours.)
Kalepolepo Park Lawns
As well as the beach and the Hawaiian fishpond, Kalepolepo has a small grassy area that is good for picnics, barbecues, and letting kids run around.
Set just back from the sand, bring a book and relax on a peaceful stretch of coast with an exceptional view.
There are several picnic tables, some of which are sheltered from the sun during the day.
Kalepolepo is also a good spot for a barbecue, as there's one public grill in the park. As the beach tends to be quiet, the grill is often free to use.
Hawaiian Islands Humpback Whale National Marine Sanctuary Visitors Center
Located next to the Kalepolepo parking lot is the Hawaiian Islands Humpback National Marine Sanctuary Visitors Center.
The title might be a bit of a mouthful, but the visitors center is a small-but-interesting place to learn about the humpback whales that call Maui home for several months of the year.
The center is open from Monday to Friday, between 10am and 2pm. It's home to interactive displays and exhibits aimed at educating families about the incredible humpback whale.
There's also a viewing platform, where lucky visitors can spot the whales out to sea. 
If you've taken a morning trip to Kalepolepo, make sure to check out the Marine Sanctuary Visitors Center. You can't miss it—there's a big whale out front.
Facilities At Kalepolepo
Kalepolepo is a good beach for families, with the shallow fishpond allowing kids to play safely. It's also a convenient beach, with enough facilities to keep visitors comfortable.
Kalepolepo Park has portable toilets and an outdoor shower, as well as three picnic tables and a grill.
The parking lot is small, but generally has enough room to accommodate the reduced number of visitors. 
Anything Else To Know?
All Maui beaches can suffer from heavy winds causing sandblasting, but Kalepolepo Beach Park, in North Kihei, can get it slightly worse than others.
If you visit during a blowy afternoon, you may struggle to find a sheltered spot.
West-facing Kalepolepo Park can be a serene place to view the Maui sunset.
With fewer visitors around, you're able to really soak up this exceptional natural occurrence, and spend time perfecting your sunset photos.
Many beaches in Kihei are good for sunset watching, but Kalepolepo has the advantage that on a lucky day, you might get the view all to yourself.
Fishponds BBQs And Sunsets
Lots of Maui visitors overlook Kalepolepo in favor of the South Maui beaches, but Kalepolepo Beach Park is worth the extra travel.
As well as good swimming waters and an ancient fishpond, Kalepolepo Park has picnic benches and amenities, and a quiet place to watch the Maui sunset.
If you manage to time your visit just right, you might even get the beach to yourself.