Comedians often have to struggle with being "on" all the time. Expected to perform and react even in their off hours. They need a place to get away from it all. And what better place to relax than South Maui?
Jim Carrey has had a home on South Maui for several years now, with a luxury location just past Wailea. It's an area that's known for attracting celebrities, thanks to the opulent resorts and beaches.
If you're curious about Jim Carrey's connection to Maui, this guide has everything you need to know.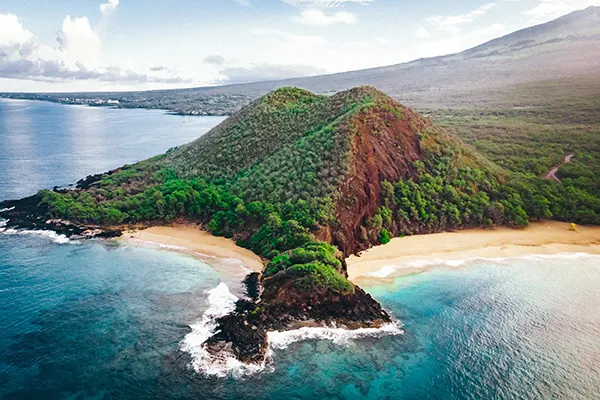 Who Is Jim Carrey?
Although he's fairly new to Maui, having only purchased a home in 2017, Jim Carrey seems to have fit right in.
The multitalented Carrey has even had his paintings displayed at Hawaiian galleries. 
Preferring to keep to himself, there isn't a huge amount known about Jim Carrey's Maui home.
Where Does Jim Carrey Live On Maui?
South Maui and the Kihei area attracts tourists of all sorts, and that includes American celebrities looking for second homes. Jim Carrey is one of them. His Maui second home is reported to be somewhere between South Kihei and Makena
Jim Carrey appears to have a close neighbor of another American superstar—Aerosmith frontman Steven Tyler is supposedly only a few doors down. And also in nearby proximity is the legendary Hollywood agent Shep Gordon.
Not bad, if Carrey finds himself looking for company!
Neighbors of The Rich and Famous
High-powered neighbors don't exactly come as a surprise. The Wailea area is known as a haunt of the rich and famous, attracting big names to the white sand beaches.
The houses in nearby Makena are few and far between, and tend to be sprawling luxury homes.
Massive price tags have a habit of putting them out of reach of anyone who hasn't had global success.
Where is Jim Carrey's House?
As for the house itself, the comedian seems to kept the details under wraps. There don't appear to be many details available about the property at all, including much information about where it is.
Some reports have it closest to Makena, while others seem to think he's near to Keawakapu. We can definitely see the appeal of both areas.
With a South Maui location, we can assume that the house has fabulous views over an incredible coastline. In the winter months, whales pass by Kihei.
So, if Carrey looks out his windows at the right time, he might be able to see a humpback breaching the surface.
But that's really all we know about Jim Carrey's home on Maui. Like many celebrities on the island, he uses it as a quiet retreat, rather than a photo opportunity.
What Happened With Jim Carrey And The Maui Missile Scare?
Cast your mind back several years, and you might remember a morning when every Hawaiian resident felt a deep wave of fear go through them. A peaceful day was suddenly, and terrifyingly, disturbed by a text message warning. 
If you don't remember, chaos was caused when an accidental message was sent to Hawaii residents warning of an incoming ballistic missile. The mistake was soon corrected, but the moment of panic is hard to forget.
Jim Carrey, who was in Hawaii at the time, certainly felt the impact of the moment. He discussed the incident in his book, Memoirs and Misinformation. In fact, the photo on the cover of the book is supposedly Carrey's reaction to hearing the news. 
Despite the fear he felt at that moment, Carrey seems to have made peace with the incident. Luckily, it doesn't seem to have disturbed his enjoyment of Maui at all.
How Much Time Does Jim Carrey Spend On Maui?
Although Jim Carrey has spent a fair bit of time on Maui, it isn't his primary residence. He's relatively new to the island, having only bought his home at some point in 2017. 
We can only guess at what Carrey does with his time on Maui. But he might make the most of the fabulous natural lighting to indulge one of his passions—painting.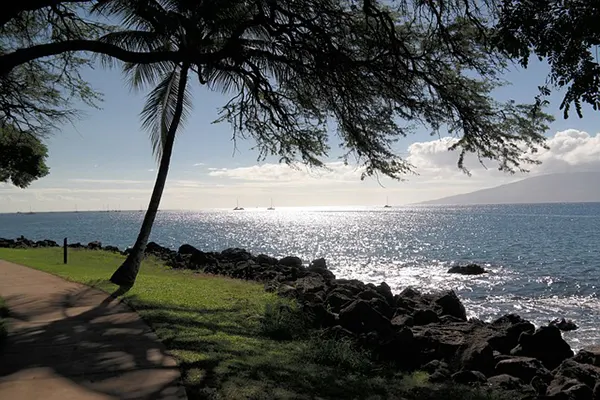 Does Jim Carrey Have A Maui Art Studio?
As well as being an accomplished actor, Jim Carrey is skilled with a paintbrush, so much so that he's had his own exhibitions and gallery openings. 
Jim Carrey has displayed his artwork online regularly, collecting praise for the abstract shapes and bold colors that define his style.
If you're curious about seeing them in person, you might have to head on over to Oahu. His artwork has been displayed and shown in the Wyland Gallery in Waikiki.
Maui is an incredibly inspiring place that sparks creativity in many visitors. Although Carrey has yet to have a gallery show on Maui, there are plenty of cultural centers to explore.
Galleries in Lahaina and Wailea are full of fantastic artworks, capturing the unique spirit of the island.
How Likely Are You To See Jim Carrey Around Maui?
There isn't much detail surrounding Jim Carrey's home, so you're unlikely to be welcomed trying to sneak a peek.
Instead, head over to Keawakapu beach. Even if you can't see any celebrities, you do get to see one of Wailea's loveliest beaches. 
Keawakapu is also known as one of the best places to take a selfie on Maui. So, put on your best swimsuit, head to the beach, and break out your camera. You never know who you might spot in the background.
Otherwise, take a look around the galleries of Wailea. There's some fabulous art on display, showing the unique Maui point of view. And you just might see something of Jim Carrey's on the wall as well!