When you think about Tiger Woods and Maui, you might find yourself remembering some of the incredible shots he's made at the PGA TOUR's Tournament of Champions.
The Maui backdrop only heightens the excitement this world-class golf tournament has to offer.
With multiple fabulous golf courses within driving distance of one another, it's no wonder a golf superstar like Tiger Woods might consider a move to Maui. 
Although it's been rumored for a long time that Tiger Woods has a home on Maui, the answer isn't quite so simple. Read this guide to find out where you might spot Tiger Woods on Maui, and how to make the most of the Maui golf courses.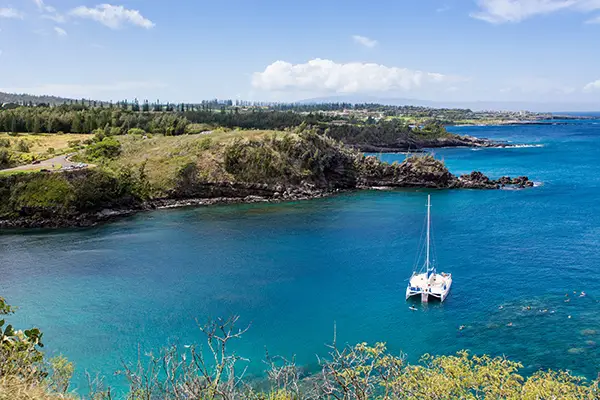 Who Is Tiger Woods?
One of the biggest names in sport, Tiger Woods is a golfing superstar.
He holds multiple golf records, has numerous tournament wins, and better name recognition than probably any other golfer.
The only thing he doesn't appear to have is a house on Maui.
Where Is Tiger Woods' Home In Maui?
Tiger Woods is one of the highest paid professional athletes in the world, with an estimated net worth of $800 million.
As one of the richest athletes ever, you'd expect Woods to have a few island getaways to his name. But does he have one on Maui?
The Jewel of Maui
The Jewel of Maui is an opulent mansion located on West Maui, near the Kapalua area.
With five bedrooms, six bathrooms, an infinity pool, home cinema, and a fabulous beachfront setting, it's one of the most luxurious properties in all of Hawaii.
For a while, this house was rumored to belong to Tiger Woods.
While many of us can imagine the golfer occupying the estate, this rumor apparently has no basis in fact. The Jewel of Maui is not owned by Tiger Woods.
There are still whispers that Woods has a home on Maui, or somewhere in Hawaii, but this hasn't been confirmed.
If Tiger Woods ever did want to move to Maui, there's plenty to keep him occupied. Golf is a big pastime in Hawaii, and there are some world-class courses waiting across the slopes and coastlines of West and South Maui.
Golf And Maui
No matter how badly you play, a round of golf on Maui is a fantastic day out. The expertly designed courses are only second to the scenery they're set in, with sunny skies and natural splendor making any round of Maui golf memorable.
Although golf isn't a traditionally Hawaiian sport, like surfing or cliff diving, it's one that's come to define the islands. Regular sunny skies aid play, and the courses are often cleverly situated to dodge the worst of the wind. 
What really makes the Maui courses stand out isn't just the fair weather—it's the incredible surroundings.
Tumbling lava rocks mark the edges of courses, lush tropical growth rings the greens, and gorgeous ocean views await you from many of the holes.
Those who've never golfed before will enjoy the opportunity to golf on Maui, even if Tiger Woods isn't about.
Where Can You Golf On Maui?
There are plenty of places to golf on Maui, and the huge variations in landscape make each course feel like something new. 
If you want to start with the best of the best, then a trip to the Plantation Golf course is a must. Regularly ranked as the number one golf course on Maui, the 7,596 yard course is home to the PGA TOUR's Tournament of Champions every January.
Spectacular ocean views, sloping shots, and wide greens make it worth visiting for even newbie golfers.
There are multiple choices of course at Wailea Golf, with the Gold Course being the most challenging. Women golfers should head to the Emerald Course—it's known as being the most female-friendly place to golf on Maui.
For something a little more laid-back, try the Dunes at Maui Lani.
A sustainable course built on natural sand dunes, this is popular with golfers looking for a low-pressure course. When you're done, head to the Café O'lei restaurant for some delicious local foods.
Serious golfers may want to try King Kamehameha course, located 750 feet above sea level on the slopes of the West Maui mountains. Maui's only private 18-hole golf course, the members only location is picturesque and peaceful.
Has Tiger Woods Ever Played Golf On Maui?
Tiger Woods has golfed on Maui, which might be part of the reason he was rumored to be buying a house in a similar area.
The Plantation Course at Kapalua Golf is Maui's number one golf course, and home to the PGA TOUR's Tournament of Champions every January. Woods has actually won there twice: in 1997, and 2000. 
Other golfing greats to play on the Plantation Course include Vijay Singh, Justin Leonard, and Ernie Els.
The Plantation Course isn't the only Maui golf course to have attracted golfing greats. It's sister course, the Kapalua Bay Course, has seen popular PGA players such as Davis Love III, and Fred Couples play and win. 
Down at the Wailea Gold Course, anyone playing a round of golf follows in the footsteps of such golfing legends as Arnold Palmer, Jack Nicklaus, Gary Player, and Tom Watson.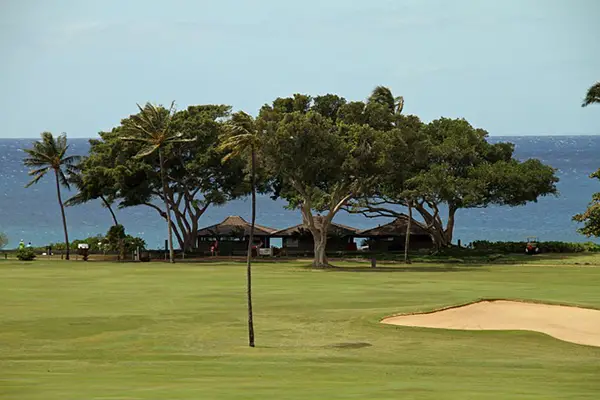 How Likely Are You To See Tiger Woods Around Maui?
It seems unlikely that you'll ever bump into Tiger Woods on Maui, because despite what rumors might say, he doesn't appear to have a home there. However, the allure of this golfing paradise might tempt him one day.
Even without Woods offering an incentive, there are plenty of reasons to try golfing on Maui. 
For a start, the luxury courses rank amongst the best in the world. The Plantation Course at Kapalua Golf is incredible, and the Bay Course has the famous 17th hole, which features a shot over the water. 
Even the relaxed courses, like that at the Dunes at Maui Lani, are high quality.
Those who aren't such a fan of golf are sure to fall in love with the stunning vistas, and spectacular scenery to be found at nearly all of Maui's golf courses.