Eddie Vedder and Pearl Jam may be more commonly associated with the rainy streets of Seattle, but the grunge frontman seems to prefer sunshine nowadays.
Vedder is just one of many rock stars who chooses to call Hawaii their part-time home. 
Although Maui is home to music legends such as Wille Nelson, Steven Tyler, and Kris Kristofferson, Eddie Vedder has turned to another Hawaiian island to call home.
To learn more about Molokai, and how Vedder spends his time on the little known island, read this guide.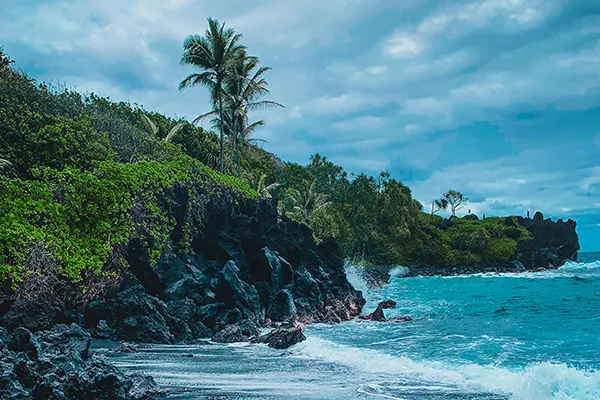 Who Is Eddie Vedder?
Eddie Vedder may not have the most recognizable name in rock, but he certainly has one of the most recognizable voices.
The gravel-voiced singer is the frontman of legendary 90s grunge group Pearl Jam. 
Where Is Eddie Vedder's House In Hawaii?
Pearl Jam frontman Eddie Vedder reportedly owns a house on the island of Molokai. The property is located in Kaunakakai, which is the largest municipality on Molokai, where there is little development. 
A former ranch, Vedder's home has plenty of space for growing crops, watching the sunset over the cliffs, and blasting nineties grunge as loud as you possibly can.
The wide open spaces surrounding the property teem with the untouched fauna that characterizes Molokai.
Molokai is known for having the largest sea cliffs in the world.
Although Vedder's south-facing property may not overlook the cliffs at Kalaupapa, he still has some spectacular ocean views.
Most days, he should be able to spot Maui and Oahu in the distance.
However, the Molokai property might not be Vedder's only Hawaiian real estate. Some reports say he's a neighbor of the Obama family on Oahu.
Where Is Molokai?
Stand on West Maui on a clear day (and often even on a cloudy day), and you're likely to spot the island of Molokai in the distance. The islands are just 7.5 miles apart, making a quick day trip from one to the other easy.
Some people have even swam between Molokai and Maui before, although we definitely do not recommend it.
Molokai is one of the least developed of the Hawaiian islands, and the small residential community prefer to keep to themselves.
There are no large resort hotels, very few maps, and only the UnCruise cruise ship is allowed to stop at the island. Tourists to Molokai tend to make quick visits, and then move on.
Molokai isn't an unwelcoming island, it just wants to avoid the large developments that have happened on the other Hawaiian islands. 
Do Any Other Celebrities Live On Molokai?
Molokai has fascinating natural resources, untouched beauty, and minimal development. Although there are some conveniences, the island isn't the easiest place to live.
Other than Pearl Jam singer Eddie Vedder, no celebrities are known to own houses on Molokai.
As much as we can all appreciate the understated the simplicity of the towns of Molokai, for global superstars it's probably not the easiest place to live.
Do Any People Live In Molokai?
There are roughly 7,000 people who call the island of Molokai home. 
Molokai has an upsetting recent history, as it's home to the last quarantine area for leprosy (otherwise known as Hansen's disease) patients in America.
Despite the stigma that still surrounds the illness, Hansen's disease is treatable, and Molokai is safe to visit. The colony is technically no longer active, and only a few patients remain living there.
Nowadays, Molokai may not be a thriving tourist destination, but it is welcoming to the visitors who choose a trip there. There are smaller guest houses to stay at, and plenty of opportunities to take a day trip. 
Residents may be interested in keeping their private community away from large developers, but they're happy to greet curious tourists who can appreciate the unique beauty of Molokai.
Is Molokai Privately Owned?
Take a day trip to Molokai, and you might be surprised by just how little there is. The small island prefers to keep things simple, with the top attractions being Papohaku Beach Park, and the Halawa Valley.
Both places are fascinating for their lack of development, and the wilderness that encroaches on hiking trails.
Molokai is not privately owned.
Despite being so close to Lanai, the two islands are very different. The majority of Lanai is privately owned, with plans for big developments, quality retreats, and sustainable luxury.
Molokai, on the other hand, has a population of about 7,000 and only a couple of small hotels.
Did Eddie Vedder Get Married On Maui?
Eddie Vedder didn't get married on Maui, but he did choose a Hawaiian destination to tie the knot.
Instead of Maui, he hopped over to Oahu, for a beachfront wedding at a Kailua property.
The luxury house that served as the backdrop for the ceremony is popular with many celebrities, and has hosted several superstars over the years.
Are You Likely To See Eddie Vedder On Molokai?
If you head to Molokai and try to search for Eddie Vedder you will not be popular with the locals.
The residents of Molokai like to keep to themselves, and resist the tourist expansion that happens on other Hawaiian islands. So, don't expect to be handed a map to the star's home.
As well as struggling to spot rock stars, you'll find it difficult to see any of the usual high-living trappings associated with the rock star lifestyle. Molokai is casual and relaxed, with an emphasis on all things natural. 
Molokai may not be the most opulent part of Hawaii, but it's still a fantastic place to visit, especially for nature lovers.
The towering sea cliffs of the north coast are spectacular, while the long white sands of Papohaku Beach offer a day out completely different from the beaches of nearby Maui.