If you're hoping to discover a slice of paradise in Maui on a smaller budget, there are a few times of year when you might expect to save some money.
Visiting during the Maui off season can help smart travelers find a bargain.
If you want to visit Maui, but you're worrying about the costs, this guide has everything you need to know about the cheapest months to visit Maui.
Is There Ever A Cheap Time To Visit Maui?
Flights and accommodations to Maui are pricey (though there are cheap months to fly) and once you factor in all the costs, there's no such thing as a cheap Maui vacation.
There are, however, cheaper times. During these months, you can save on flight and accommodation, giving you some extra spending money for a guilt-free second Mai Tai.
Savvy-savers should look toward the Maui off season, and hopefully nab a bargain.
When Is The Maui Off Season?
Maui only has two seasons, summer and winter, with high temperatures and limited rainfall making even the depths of winter lovely and sunny.
That said, Maui does have some distinctive off seasons, and these fall when much of the mainland is experiencing spring and fall.
April and May is the first Maui off season, between the winter sunseekers and the summer rush.
September, October, and November is the second off season. This starts as the family summer vacation season dies down, and ends before thanksgiving.
When Are The Cheapest Flights To Maui?
Surprisingly, the cheapest time to fly to Maui is often January. 
There can be a tourist lull in January, when the holidays have passed and tourists are heading home. Although numbers pick back up again in February, early-January is a slight off season.
It's also the best time to see humpback whales visit the warm Maui waters. So, if you're looking to save some money and still have an amazing vacation, consider a January trip.
The Typical Off Season
Flight costs are lower during the typical off season. That's April, May, September, October, and November. As Maui is quieter during these months, airfare is generally cheaper than the busy summer and winter months. 
If you're willing to take a risk, you can sometimes grab a bargain by waiting for last-minute flights.
When the strategy pays off, you get cut-price tickets to an astounding destination. When it doesn't, you risk missing out on your holiday all together.
When Is Accommodation The Cheapest On Maui?
Accommodation is cheaper on Maui during the off season. During April, May, September, October, and November. Fewer visitors mean less demand for hotel rooms. You can get a good deal, even at some high-end resorts.
If you're hoping to stay in a vacation rental for cheap, the off season is, again, the best time. May, September, October, and November, are all good times to get a bargain on your accommodation.
A vacation rental can be a fantastic way to cut costs overall, as you can often cook for yourself, and avoid pricey Maui restaurants.
Vacation rentals can be rented for a lower price during the busy summer months, but bargain hunters should avoid booking in December. As families flock to Maui for the holiday period, rental prices skyrocket.
Accommodation is a major expense on Maui, no matter what time of year you choose to go. Staying in quieter towns, away from the resort areas, can lower costs. However, be prepared to pay for transport.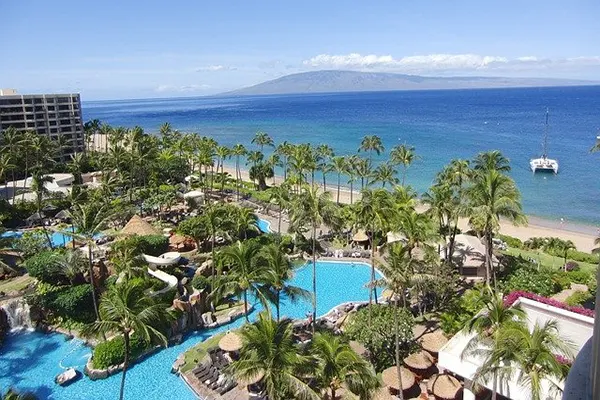 What About Other Expenses?
There's not much point saving money on airfare and accommodation to only view Maui through a window. And that's when costs start to build again.
Food is infamously costly, as a lot of it has to be flown in from the mainland. This is true year round.
The best way to save money on food is to shop smartly. Food trucks and local cafés may not look glamorous, but they often serve hearty meals with sophisticated techniques.
Many consider a rental car to be a Maui necessity.
During the busy months, car rental costs can be massive, with the huge demand for rental cars pushing the prices up. Booking early is often a necessity. During the quieter months, renting a car is easier, and generally cheaper.
Excursions and day trips can sometimes lower prices as well for the off season, but it isn't a guarantee. However, with fewer people looking to plan a day out, it's easier to book a place on a day trip.
Why Is Maui So Expensive?
The big reason for the increased costs is the isolated location. Maui, and all the Hawaiian islands, are in the middle of the Pacific Ocean. Which means that many of the everyday essentials need to be made on the island, or imported.
From the food, to the cars, to the petrol. To cover the cost of shipping, consumers have to pay more.
Plus, if you want to stay on Maui, you have no choice but to fly. Airfare is an expense visitors to Maui cannot avoid (unless you want to pay for an even more expensive cruise).
When Is The Cheapest Time To Visit Maui?
If you're looking to save some money on a Maui vacation, the off season is the best time to go.
In the summer and fall months, flights and accommodation are both less expensive.
Smaller crowds can also have the benefit of cheaper car rentals, and easier to plan days out.