Oahu and Maui are some of the largest islands of Hawaii.
The petite island of Molokai sits in-between both islands, separating Oahu and Maui along with the Pacific Ocean.
Oahu makes for an ideal first destination on a trip to Hawaii, thanks to its well-connected international airport.
To make the most out of your trip you need to ask yourself, "How fair is Oahu from Maui?"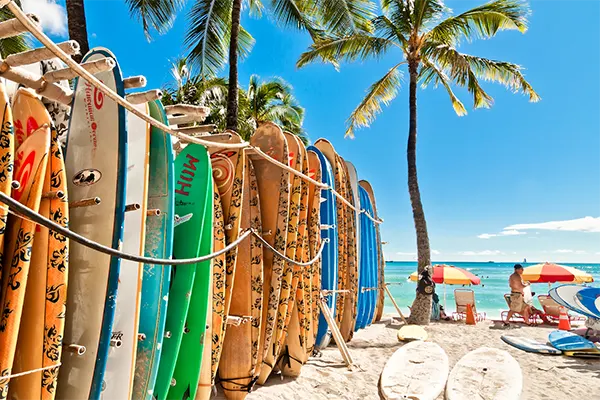 What to Expect When Visiting Oahu
Many travelers will begin their trip at the decidedly more cosmopolitan island of Oahu, before venturing to Maui's lush rainforests and volcanic-made beaches for a tranquil nature experience.
Some of Oahu's main attractions are its Pearl Harbor Historic Sites,, as well as its stunning North Shore.
The serene island of Maui is a retreat away from bustling Oahu. Make sure to take the scenic Road to Hana, complete with many attractions along the way, including
Waterfalls
Hikes
And white sand beaches
There are two main routes you can take to get to and from Oahu and Maui.
Before you decide which mode of transportation is best for your trip, it's important to answer the question "How far is Oahu from Maui?"
How far is Oahu from Maui?
Oahu and Maui are about 116 miles apart. The island of Molokai sits between them, and the island Lanai sits to the eastern side of Maui.
There are two ways you can hop between Oahu and Maui: by plane and by ferry.
Traveling by Plane
Hawaiian Airlines and Southwest Airlines have nonstop flights from Oahu to Maui and vice versa. The flight is a short, 40-minute journey between Oahu's Daniel K. Inouye International Airport (HNL) and Maui's Kahului Airport (OGG).
This option is by far the fastest way to get between the islands.
Prices will vary depending on whether or not it's Hawaii's high season—from mid-December to March or mid-April—and how soon in advance you book the flight.
If you're interested in a day trip to a separate island before continuing your journey, you can choose a long layover flight.
Hawaiian Airlines has one-stop flights on the Big Island (Hawaii Island), just south of Maui and home to the renowned Hawaii Volcanoes National Park, where you can venture through the park for the day before catching your next flight.
There are also Hawaiian Airlines flights with a stopover in Kauai, located north of Oahu.  Kauai is known as one of the wettest places on earth, making it one of the most ecologically robust landscapes in all of Hawaii.
Kauai is  famous for its staggering seaside cliff hikes at the Nā Pali Coast State Wilderness Park, which you could trek through the park on a day trip before hopping back on the plane.
Traveling by Ferry
Traveling by ferry is a reasonable second option to travel between Oahu and Maui. It's important to remember, though, that you'll still be required to fly in a plane at some point.
Ferry rides between Maui and Molokai offer a 90-minute, scenic journey through Hawaii's pristine blue waters. From Molokai, you can take a 35-minute flight to Oahu or do the journey in the opposite order if you are starting in Oahu.
If you plan accordingly, you can make a day trip out of your stop in Molokai before taking the ferry to Maui or flying from Molokai to Oahu.
The white-sand shores of Papohaku Beach Park are worth a visit while you are passing through the island.
When you combine the flight price and the ferry price, it might not be the most cost-effective route, but it will offer a scenic boat ride.
Depending on the season, it may be comparable to a direct flight between Maui and Oahu.
Which is The Fastest Route?
By far, the fastest way to get to and from Oahu and Maui will be with a direct, nonstop flight.
However, if you have extra time, taking a layover flight or a ferry ride to other islands is a great way to see more of Hawaii.
You should consider each option and the length of your Hawaiian getaway to make the best choice, whether you are prioritizing sightseeing or time-saving.