Hidden away on the North Shore, quirky Paia has quietly become one of the best places on Maui for food.
A longtime favorite of surfers, foodies are now being drawn to the Paia lifestyle, which celebrates local ingredients, fresh flavors, and original menus.
Paia town prioritizes individuality, and you can see that reflected in the independently-owned restaurants that dominate the food scene.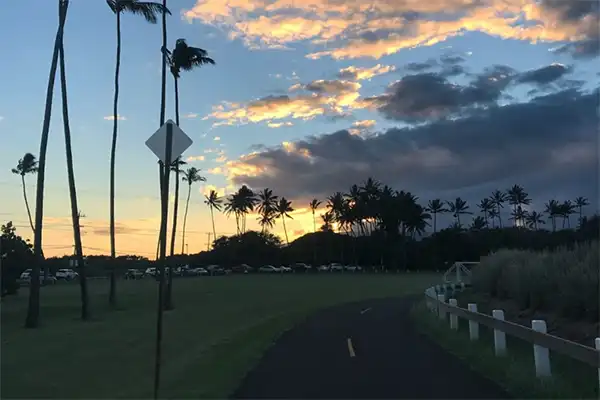 Best Place To Eat In Paia
Mama's Fish House
Mama's Fish House is one of the best restaurants on Maui for island flavors made with local ingredients. The quality of Mama's Fish House means reservations fill up fast, so be prepared to book months in advance.
$$$
Open daily from 11am – 8:30pm.
Tel: (808) 579-8488
Café Des Amis
Serving an unusual combination of crêpes and curries, Café des Amis is a lunch and dinner spot that blends flavors from around the world. Visit during Happy Hour from 4 to 6 for half price drinks.
$
Open daily from 1:30pm – 8pm.
Tel: (808) 579 6323
Café Mambo
Café Mambo is an excellent Paia brunch spot, serving Maui classics such as Loco Moco made with organic and locally sourced produce.
The lunch and dinner menu bursts with burgers and Mexican flavors, for crowd-pleasing comfort food.
$
Open weekdays 11am – 8pm, weekends 8am – 8pm.
Tel: (808) 579 8021
Flatbread Company
Flatbread Company puts a fresh spin on pizza, adding all your favorite toppings to a flatbread base.
Get it half-baked to go and finish to perfection in your own oven, or eat in the laid-back restaurant that's just a quick walk from the beach.
$$
Open daily from 11:30am – 9pm.
Tel: (808) 579 8989
Milagros Food Company
Milagros Food Company is a family owned restaurant serving up a combination of Mexican favorites and classic American diner food.
Or try some of their fresh fish, which is caught daily, with a margarita that's been voted the best on Maui!
$
Open daily from 11am – 9pm.
Tel: (808) 579 8755
Vana Paia
Looking for a date night destination? Vana Paia, one of the newest restaurants in Paia, is an intimate sushi bar with an exceptional handcrafted cocktail menu.
The Japanese-inspired menu is as cool as the shade from the Hau Tree that canopies the dining area. 
$$
Open Tuesday to Saturday from 5pm – 10pm.
Tel: (808) 579 6002
Thai Spice
Thai Spice serves authentic Thai cuisine with a family atmosphere. Thai classics are key to the menu, which is packed with ever-popular dishes such as pad thai and green papaya salad. Save room for dessert!
$
Open Monday to Saturday from 11am – 2:30pm, 4pm – 8:30pm.
Tel: (808) 579 8269
Mana Foods
High quality, fresh, and organic ingredients are the focus of Mana Foods, a Paia deli where you can grab your groceries alongside delicious baked goods.
Head to Mana Foods to pick up your picnic items before exploring the Upcountry.
$
Open daily from 8am – 8:30pm.
Tel: (808) 579 8078
nyloS
An internationally rated restaurant that's ideal for special occasions, nyloS blends inspiring creations with classic luxury ingredients.
Be sure to book in advance to try the innovative tasting menu, which uses indulgent produce sourced from Maui and around the world.
$$$
Open daily from 5pm – 8pm.
Tel: (808) 579 3354
Paia Fish Market
Only the freshest fish is used at Paia Fish Market, a restaurant that's become a Maui institution. We recommend the tacos, but you can't go wrong with the fresh catch plates, served with fish straight from the boats.
$
Open daily from 11am – 9:30pm.
Tel: (808) 579 8030
Paia Bay Coffee
Paia Bay Coffee serves breakfast and lunch in a tropical garden, with live music adding to the welcoming atmosphere.
Visit for lunch to try the sandwiches and coffee, and stick around until the evening for cocktails.
$
Open Monday to Saturday from 7:30am – 8pm, Sundays from 7:30am – 1:30pm.
Tel: (808) 579 3111
Island Fresh Café Paia
Island Fresh Café celebrates traditional Hawaiian favorites: hearty meals, made with fresh local ingredients.
Check out their breakfast menu to fuel you for a day on the waves, or grab a smoothie for a quick afternoon refresh.
$
Open daily from 7:30am – 6pm.
Tel: (808) 446 0298
Surfclub Tacos
Are Surfclub Tacos the best tacos on Maui? They're up against some stiff competition, but we think this Surfclub has a strong case.
The lobster tacos are pretty hard to beat. Steps from the beach, this is a great stop for a bite to eat between waves. 
$
Open daily from 10am – 9pm.
Tel: (808) 579 3333
Paia Bowls
A trip to Maui isn't complete without an açaí bowl, and we recommend Paia Bowls for some of the freshest ingredients around.
If the bowls aren't enough of a kick-start in the morning, the super coffee will be. 
$
Open daily from 7am – 2pm.
Tel: (808) 446 3388
Choice Health Bar
Choice Health Bar prioritizes freshness, selecting the finest produce on Maui to make fresh salads, smoothies, and bowls.
Everything is 100% plant based, and packed with superfoods to make you feel as good as possible.
$$
Open daily from 9am – 4pm.
Tel: (808) 661 7711
Kuau Store
Just outside Paia on the Road to Hana, Kuau Store is a general store and delicatessen with an excellent grab-n-go deli.
Enjoy freshly made poke, or grab a panini sandwich packed with local ingredients to take on the Hana Highway. 
$$
Open daily from 7am – 7pm.
Tel: (808) 579 8844
Ululani's Hawaiian Shave Ice
The place to go for a sweet treat on Maui, Ululani's Hawaiian Shave Ice delicately shaves blocks of ice to create a soft and creamy refreshment.
Enjoy it loaded with toppings, or keep things simple with flavors made from premium fruit juices. 
$
Open daily from 11:30am – 7:30pm.
Tel: (808) 877 3700
Paia Gelato
Paia Gelato is a family owned gelato store combining Hawaiian flavors with traditional Italian gelato. The flavors are changing all the time, so pop back in regularly to see what's on the menu.
And thanks to the late opening, this is the perfect stop for a refreshing treat on a warm evening. 
$
Open daily from 7am – 10pm.
Tel: (808) 579 9201