A large Japanese population and access to the freshest fish straight from the Pacific has made Maui an exceptional destination for top-quality sushi.
Sushi is big on Maui, with Japanese restaurants found in all the major resorts, plus some hidden gems tucked away in unexpected locations. Take a look at our guide to find the best sushi Maui has to offer.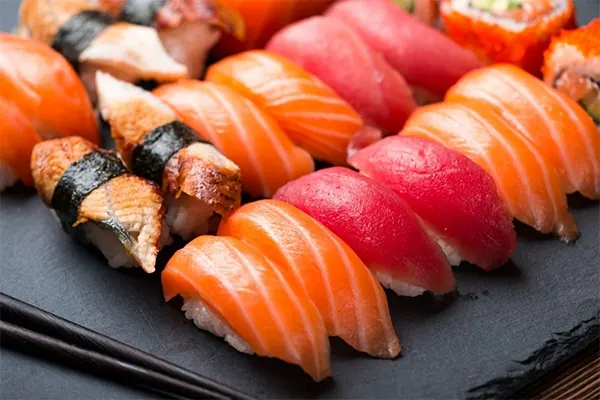 Sansei Seafood Restaurant & Sushi Bar
Sansei Seafood Restaurant & Sushi Bar is one of Maui's most popular dining establishments.
It's so popular it has two locations: one in Kapalua, and one in South Kihei. Expect to find a queue out the door, but it's worth it to get your hands on the specialty rolls.
Kapalua location open daily from 5pm to 8:30pm. Kihei location open Thursday to Monday from 5pm to 9pm.
Miso Phat
Tucked away in shopping centers in both Kahana and Kihei, Miso Phat offers quality sushi in a laid-back location.
Known for offering incredibly fresh fish, Miso Phat serves a fantastic blend of classic cuisine and modern flavors. Try the TNT Roll, for an explosion of flavors.
Kihei location open daily from 11:30am to 8:30pm. Lahaina location open Monday to Friday from 11:30am to 9pm, Saturday and Sunday from 3pm to 9pm.
(We also have an in-depth post detailing everything you should know about Miso Phat.)
Lahaina Sushi Ko
Surrounded by the vibrant galleries of Lahaina, and tucked in a calm corner off the bustling Front Street, Lahaina Sushi Ko serves sushi with a Hawaiian twist.
The popular restaurant provides a low-key atmosphere to enjoy the bright flavors of Maui served with traditional Japanese style.
Open Tuesday to Saturday from 3:30pm to 8:15pm, and on Sunday from 3:30pm to 8:30pm.
(We also have a whole article dedicated to Lahaina's best sushi.)
Japengo
Japengo, in the Hyatt Regency Maui Resort and Spa, offers steaks and seafood alongside their specialty sushi bar.
We recommend trying the premium Chef's Specials, but don't overlook the nigiri and sashimi. Japengo recommends booking well in advance, to secure your table overlooking the resort's waterfalls.
Open daily from 5pm to 9pm.
Koiso Sushi Bar
Be prepared to book weeks in advance to try the legendary Koiso Sushi Bar. Hidden in a Kihei mall, and with seating for only 15, Koiso is unassuming but exceptional.
The food is simple, elevated to greatness thanks to the skill of the chefs. Order a platter, and let the staff at Koiso choose for you.
Open Tuesday to Saturday from 6pm to 9pm.
(And if you're in Kihei check out our article on Kihei's best sushi.)
Morimoto Maui
A beachfront restaurant at the Andaz Maui, Morimoto Maui is a date night location that pairs an impressive sushi menu with an incredible Pacific backdrop.
The oh-toro fatty tuna melts in the mouth, and pairs perfectly with a Morimoto specialty cocktail and a Maui sunset.
Open daily from 4pm to 8pm.
1054 Togoshi
The tiny 1054 Togoshi offers an intimate experience and classic Japanese flavors. Run by a husband and wife team, reservations are recommended if you want to try the delicious 1054 Togoshi sashimi.
The immaculate presentation adds an artistic flair to an enjoyable meal.
Open Tuesday to Saturday from 5pm to 8pm.
Sushi Paradise
Tucked in the Longs Drugs Shopping Center in Kihei, visitors go to Sushi Paradise for remarkable cuts of carefully chosen seafood.
The atmosphere is friendly and unassuming, but at Sushi Paradise it really is all about the food. An impressive reputation means Sushi Paradise can get busy, so book a table in advance. 
Open Tuesday to Sunday from 6pm to 9pm.
Isana
Owned by fishermen, Isana brings diners seafood straight from the waves of Hawaii, served overlooking the ocean.
Adventurous eaters will enthuse over the range on offer, while hungry diners will enjoy tucking into one of the specialty "big" rolls. Head over during happy hour to save on sushi and nab an ocean-facing table for the sunset.
Open Friday to Sunday from 12pm to 9:30pm, Tuesday to Thursday from 12pm to 2:30pm and from 4:30pm to 9:30pm.
M Sushi
M Sushi, in hip Wailuku, is a must-see sushi spot if you're exploring the West Maui Mountains. Serving a fun selection of classic sashimi alongside some curious specialty rolls.
M Sushi has a casual atmosphere that welcomes the chilled-out visitors that Wailuku attracts. A great place to bring friends.
Open Tuesday to Sunday from 5pm to 9pm.
Nuka
Japanese simplicity and local ingredients are at the heart of Nuka, a sushi restaurant in Haiku on Maui's North Shore.
The dishes allow the ingredients to shine, using skillful preparation and delicate cuts to build a creative menu with fresh vibrancy. Enjoy alongside sake from their impressive drinks' menu.
Open daily from 4:30pm to 10pm, and Monday to Friday from 10:30pm to 2:30pm.
Vana Paia
Vana Paia encourages sharing, and the thoughtful plating and interesting flavors will have you excited to try as much of the menu as you can.
Dim lights and gentle ocean breeze create an enticing ambience, while the bartenders at Vana Paia mix up an amazing selection of cocktails. Found in Paia on Maui's North Shore, Vana Paia is hip and modern, but still packs plenty of aloha.
Open Tuesday to Saturday from 5pm to 10pm.
Umi Sushi Maui
Of course, you have to try the sushi at Umi Sushi, a Wailuku restaurant with a laid back vibe and some serious seafood. The garlic tiger roll is a local favorite, or try the Shiso dragon roll for something a little different.
But we recommend not filling up on fish so you can sample the ramen, which is possibly the best on the island. And get there early to grab the crab bao bun before it sells out.
Open Tuesday to Saturday from 5pm to 9pm.
Kojima's Sushi And Japanese Cuisine
You'll probably have to travel to Kojima's Sushi and Japanese Cuisine, which is hidden away in Pukalani.
It's worth the extra effort, though, to find a sushi menu that's authentically Japanese and exceptionally priced. BYOB, and turn up early to enjoy all the menu has to offer.
Open Monday to Thursday from 4:30pm to 9pm, Friday and Saturday from 4:30pm to 9:30pm.