From casual Asian fusion to family friendly Italian to romantic farm to table classics, West Maui dining really has something for everyone.
Food enthusiasts will love exploring West Maui, so to ensure you sample the best of the best, we've put together this guide to restaurants of West Maui.
If you really like the look of a restaurant, we recommend making a reservation. Some of these places can be booked out months in advance!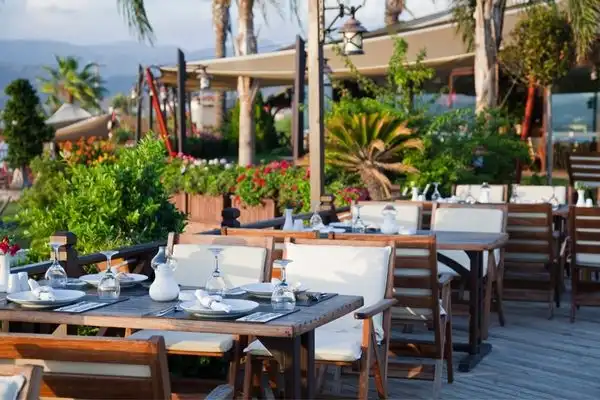 Lahaina
Kimo's Maui
Kimo's has been a Maui institution for over 40 years, a family friendly seafood restaurant which is rich with that aloha vibe.
Try the fresh fish baked "Kimo's style" with garlic, lemon, and sweet basil, or for meat lovers, the prime rib.
Make sure you leave room for a slice of Hula pie!
Open daily from 11:30am to 9pm.
Frida's Beach House
The oceanfront setting adds to the cheery vibe of Frida's Beach House, a restaurant that specializes in Latin inspired dishes. If the ahi sashimi tostada is available, grab a plate and try a fresh take on Mexican fusion.
The large tequila menu is also worth a long look.
Open daily from 11am to 9pm.
Sale Pepe
A little bit Brooklyn, a little bit Italy, and a touch of Hawaii, Sale Pepe draws you in with the smells wafting from the pizza oven.
This is traditional Italian food, using simple local ingredients to impart big flavors.
The freshly made pasta is exceptional, but it's hard to resist the allure of a Sale Pepe pizza.
Open Monday to Friday from 5pm to 9pm.
Paia Fish Market
Paia Fish Market serves seafood fresh off the boat, and has several locations across Hawaii. The Lahaina Front Street location is an excellent place for a casual dinner, or a filling lunch.
Try something authentically Maui, and get the ono fresh catch plate. The tacos are also amazing.
Open daily from 11am to 9pm.
Fleetwood's On Front Street
Unsurprisingly for a restaurant owned by Mick Fleetwood of Fleetwood Mac, Fleetwood's On Front Street is the place to go if you enjoy live music with your meal.
Visit during happy hour for exceptionally priced fresh shucked oysters, to be enjoyed with a bargain cocktail, and a terrace view of the ocean.
Open daily from 3pm to 10pm. 
Star Noodle
The menu at Star Noodle explores Asian flavors, offering fusion food that includes the local favorite saimin noodles.
The menu is incredibly well priced, and the Front Street Location adds a touch of elegance to the casual restaurant.
It's a favorite with locals, who come for the big flavors at affordable prices. 
Open daily from 10:30am to 9pm.
Leoda's Kitchen And Pie Shop
Look out for Leoda's Kitchen and Pie Shop on the road from Lahaina to South Maui.
The plantation-style restaurant has one of the best bakeries on Maui, and you'll want to grab yourself a pie to enjoy on the road.
The sandwiches are thickly cut and packed with filling, just what you need after a morning of snorkeling at nearby Olowalu Beach.
Open daily from 10am to 6pm.
Ka'anapali
Japengo
Planning a special occasion meal? Japengo has "date night" written all over it.
Part of the Hyatt Regency Resort and Spa in Ka'anapali, Japengo serves Asian food with a Hawaiian twist, from a location that overlooks the Pacific Ocean.
Enjoy the romantic atmosphere as you tuck into some of their extraordinary hand-rolled sushi.
Open daily from 5pm to 9pm.
Leilani's On The Beach
Leilani's has been heavily inspired by the Maui surroundings, and offers a menu full of freshly caught fish, locally reared meats, and Hawaiian flavors.
An elegant yet family-friendly restaurant, the keiki menu serves up something a little different from the standard grilled cheese and fries!
Open daily from 4pm to 9pm.
Monkeypod Kitchen
Monkeypod Kitchen is a place for foodies, and the meals are as spectacular as the cocktails.
Order a Monkeypod Mai Tai to keep you going as you peruse the seasonal menu, and save room for dessert when you've finished your entrée.
A small keiki menu makes Monkeypod a decent family restaurant, while a large drink menu makes it perfect for celebrations.
Open daily from 11am to 10pm.
Roy's Ka'anapali
Blending island flavors, Asian ingredients, and American classics, Roy's is a restaurant with a wide-reaching appeal.
Try the blackened ahi for a Roy's specialty, but get it as a starter: that way, you get to explore the rest of the menu for your entrée! 
Open daily from 4pm to 8pm.
Kapalua, Napili 
The Gazebo
Is The Gazebo the best breakfast on Maui? You'll have to try it to decide for yourself, but the people you can consistently find queuing out the door seem to think so.
The fried rice plate is an excellent way to start the morning, while those with a sweet tooth should check out the macadamia nut pancakes.
Open daily from 7:30am to 2pm.
Sansei Seafood Restaurant & Sushi Bar
It's hard to recommend any one dish at Sansei Seafood Restaurant & Sushi Bar, because the entire menu is just so good.
Go for a celebration meal with a big group, so you can order widely from the sushi and sashimi menu.
Open daily from 5pm to 8:30pm.
Merriman's Maui
Merriman's Maui is a farm to table restaurant that's best enjoyed on special occasions—even if that special occasion is a trip to Merriman's.
Enjoy ocean views and a prix fixe menu that celebrates local produce with classic dishes. 
Open daily from 4pm to 8:30pm.
The Sea House Restaurant
Napili managed to slide under the radar when it came to fine dining for many years, but the Sea House Restaurant is changing that.
Located next to picturesque Napili Bay, the Sea House restaurant serves a breakfast worth waking up for, with an impressively inventive cocktail menu (best enjoyed with a Napili sunset).
Open daily from 7am to 9pm.
Final Thoughts
Honestly? This list only touches the surface. West Maui, particularly Lahaina and Ka'anapali, is a paradise for foodies.
Enjoy everything from Asian fusion to classic Italian dining.