The Aloha State of Hawaii ranks among the most popular tourist vacation spots worldwide, especially Maui, and the areas of Waikoloa and Wailea.
There are numerous luxurious hotels, attractions, and, most importantly, vibrant beach resorts to choose from within Waikoloa and Wailea. Once you arrive at the Paradise of the Pacific, keep in mind that it can be hard to decide which place you should choose to stay.
Travelers mostly end up discussing whether to stay at the Hilton Waikoloa Village in Hawaii County or the Grand Wailea Resort in the island county of Maui. Read on to learn which is right for you.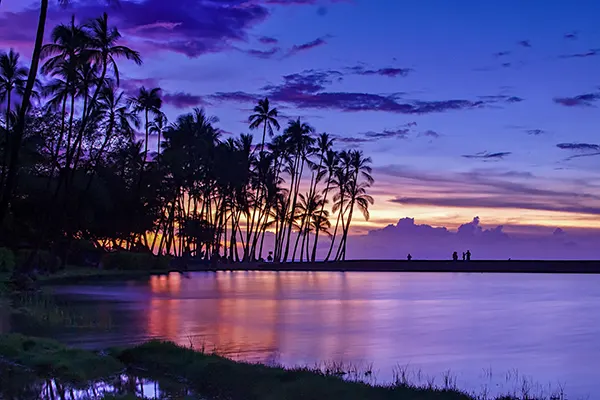 Basic Information About Hilton Waikoloa Village
Located 20 minutes from Kona International Airport, Hilton Waikoloa Village has approximately 1,100 accessible and spacious rooms, nearly 60 suites, and a few guest towers overlooking the Pacific Ocean.
The luxury oceanfront resort is set on 62 acres of the sunny coastline of Kohala in Hawaii County.
Every room, which showcases beautifully adorned private "lanais" (balconies) with seating, is thoughtfully designed for comfort so you can make the most out of your trip.
Key Information About Hilton Waikoloa Village
At Hilton Waikoloa Village, check-in is at 4:00 PM, and the check-out is no later than noon the following day.
Many activities area available at the village, such as hula and ukulele lessons and historic petroglyph trips, which allow visitors to experience Pacific Islander culture.
Aside from the many standard facilities it offers, Hilton Waikoloa Village provides a few convention services, too—ideal for such events ranging from board meetings to corporate conferences.
Know that the resort has an exclusive Hilton Honors membership available in Diamond, Gold, and Silver tiers.
Basic Information About Grand Wailea Resort
The Grand Wailea is a premier luxury resort located in Wailea, Maui County.
(A program to revitalize the Grand Wailea is still in progress, significantly transforming the overall Polynesian culture of the resort to a more contemporary one, sometime in 2022.)
Widely regarded for its beautifully decorated rooms, suites, villas, and world-class facilities, the Grand Wailea Resort features 40 acres of neighboring lush tropical landscape and the naturally stunning Wailea Beach.
Each room, measuring a minimum of 6,640 square feet, has private lanais, showcasing captivating ocean views, and is fitted with the necessary amenities.
Key Information About Grand Wailea Resort
The check-in at the Grand Wailea is from 4:00 PM, and the check-out is not beyond noon the next day.
At the Grand Wailea, you will find many activities, such as fine dining, and various cultural events depicting the aloha spirit of Hawaii.
On top of its standard services, the Grand Wailea provides membership to guests, including discounted rates and special offers, among other perks.
Sleeping Options: Hilton Waikoloa Village vs. Grand Wailea
We've compared sleeping options of both the Hilton Waikoloa Village and the Grand Wailea below:
Hilton Waikoloa Village Rooms
Standard Guest Rooms
The standard guest room utilities comprise a walk-in closet, mini-refrigerator, high-definition LCD TV, and private lanai (balcony) with seating.
Suites
The facilities for all 59 "Presidential Level" suites include the standard guest room amenities, plus the breathtaking ocean views.
Villas
There are three guest Towers at Hilton Waikoloa Village, namely Lagoon, Palace, and Ocean. Each tower has its own unique set of amenities.
The signature Makai room at Lagoon Tower, for instance, provides a premium resort experience, and features:
a refreshing look out at the Pacific Ocean,
a fine collection of boutiques and galleries,
a dedicated concierge,
an exclusive pool seating,
the Pa Le'a Le'a Tennis Garden,
and complimentary access to relaxation at the world-class Kohala Spa.
Grand Wailea Rooms
Normal Rooms
The standard rooms are of varying designs and sizes, and feature utilities such as a 55-inch high-definition TV, Keurig coffee maker, mini-refrigerator, walk-in shower, and Wi-Fi access.
Suites
The Grand Wailea suites—known for being spacious—have distinctive living quarters, separate bedrooms, and a private lanai offering a relaxing view.
Villas
The Grand Wailea has a total of three luxury villas. Each villa has a garage, separate living area, completely equipped luxury kitchen, several bathrooms, a grill on the private lanai, and a gorgeous outside view.
Pros and Cons of Hilton Waikoloa Village
Pros
Massively spacious property
Excellent variety of amenities
Stunning ocean view from the private lanai
Enjoyable on-site recreation (helicopter tour, kayak trip)
Caring and friendly staff
Cons
Limited and expensive food options
Outdated room and exterior designs
Ice cold swimming pool water
Pros and Cons of the Grand Wailea
Pros
Being greeted upon arrival with tropical flower lei
Access to many recreational activities (trail biking, scuba clinic)
Beach umbrellas available for use
Cons
More children than anticipated
Almost fully booked
Absence of laundry facilities
Which is Better: Hilton Waikoloa Village or Grand Wailea?
Now that you know all of the essential details about Hilton Waikoloa Village and Grand Wailea Resort, which of these places would you like to stay?
Regular patrons of Hilton Waikoloa Village often hail the resort as a more practical option due to its massive outdoor space, breathtaking ocean view from the balcony, and high-quality facilities.
On the other hand, while the Grand Wailea can become crowded at times, it's a highly recommended luxury resort for families planning a week-long vacation stay. Grand Wailea Resort is also the ideal spot for fun and engaging recreational activities.
Although there are a few pros and cons to either of these resorts, your needs and preferences will play the vital factor in your final decision.
Other Places To Stay In Maui
We've written quite a bit about all of Maui's available lodging, and continue to do so, but we wanted to share a few more places to stay from our friends at Booking.com. 
A Resort Stay: The Four Seasons Resort in Wailea is the cream of the crop of resort stays, with restaurants, ocean views, an on-site spa, and the Shops at Wailea are just down the road. Couples particularly love The Four Seasons!
Bed and Breakfast: Sometimes, it's all in a name, and Adventure in Paradise is exactly what it sounds like, located in Haiku on Maui's north shore. Wake up to a 180 degree view of Haleakala summit every morning from your private patio.
Hotel: The highly rated Maui Sunset hotel combines laid-back atmosphere and the beach of Waipuilani Park. Also, it's only 1.7 miles from the Elleair Maui Gold Club!
Vacation Home: Find your home away from home at Puu Koa Palms, six minutes from Hookipa Beach, and near the Hana Highway. Also particularly great for couples!
Villas: If you're looking to vacation in style with your own villa try the Andaz Maui, which include all the expected amenities along with grills and plunge pools.