Many people go to Maui to enjoy the scenery and recreation like swimming, hiking, surfing, and sightseeing. They  explore the on-grid natural experience without the rugged natural landscapes.
The camping experience in Maui is underrated—and a great way to save money by avoid resort fees!
If you have decided to go camping in Maui you're in the right place.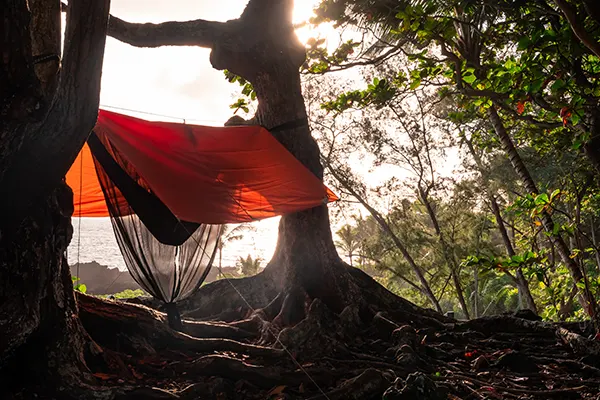 Where are the Best Camping Sites on Maui?
Out of all the camping sites available in Maui, we have highlighted some of the best sites below.
Waianapanapa State Park
Waianapanapa State Park is famous for its black sand beach, located in Hana. It has freshwater Lava tube caves, a native Hala forest, hidden swimming holes, ocean arches, and more. Maui's state government owns the park just like the name implies.
Waianapanapa campsite has 12 well-furnished cabins for rent with electricity and all the basic camping amenities.
Camp Keanae
Located along Hana Road, Camp Keanae offers a splendid view of the Ke'anae Peninsula from the campsite.
Camp Keanae facilities includes a gym, swimming pond, fire pits, ice machine, and two bathhouses with showers. Cabin and tent space rentals are available, and parking is available at the campsite.
Haleakala National Park
Haleakala National Park has four good camping spots. Two of them are easily accessible, but you have to hike up the volcano to get there. Hosmer Grove and Kipahulu are the most easily accessible, and can host up to 50 and 100 people respectively, with camping amenities like picnic tables, barbecue grills, and pit toilets.
Holua and Paliki are the spots you have to hike to reach. They are both at over 7,000 feet, and accomodate up to 25 people. Groups hiking up to camp can be no larger than 12. These camping grounds also include basic amenities like a pit toilet and running water.
What are the Rules For Camping in Maui?
Camping is legal in Maui, but there are specific rules and regulations governing camping activities.
The rules to follow are…
You must have a permit to camp at designated camping sites at all times.
You must register as a camper on the permit, and the tents and vehicle descriptions must be made on the permit.
Each permit is limited to 6 campers, two vehicles, and one licensed dog.
The permits are limited to a maximum of 4 consecutive nights for each license.
The permits cannot be issued for more than eight days a month per person.
The campsites must be kept clean at all times. You must dispose of all trash in the trash receptacles at the camping sites.
The licensees are held responsible for the conduct of all campers within their group.
You are not allowed to take tobacco in any of Maui's camps and beaches.
Pets must not be left unattended to or left unleashed, and they must be licensed and have their tag in at all times.
Cutting or removing foliage and trees is prohibited.
Fires are not allowed in parks or campsites except when cooking in park-supplied barbeques.
What do you need to have before camping?
Camping at Maui is exciting and fun, but it can be stressful if you're unprepared for camping.
Below are some of the necessities you need to have a hitch-free camping adventure.
You will need a permit to access camping sites and lands.
If you plan on spending the night at camping sites, you will need lights (lanterns, flashlights, or lamps) to see clearly since campfires are not allowed.
The campsites must be kept clean at all times, so you must have trash bags available.
Tarps are needed if you use tents in case of rain on the day you decide to camp. Especially if you are camping in or near Hana, you will have to carry extra tarps to avoid water flooding your tent.
Choose the best suitable camping vessel: tents, RV, cars, or cabins.
Don't forget warm clothes and sleeping gear!
The Perfect Camping Trip
Maui's landscape makes it one of the most sought camping areas for locals and tourists alike. But Maui does not rely solely on its beautiful landscapes.
Most sites offer basic amenities like toilets, running water, cabins, etc. to make camping comfortable  and fun for as many people as people.
You will also have to prepare yourself with some necessities like the tarps and sleeping gear to prepare for anything that might come your way.
Other Places To Stay In Maui
We've written quite a bit about all of Maui's available lodging, and continue to do so, but we wanted to share a few more places to stay from our friends at Booking.com. 
A Resort Stay: The Four Seasons Resort in Wailea is the cream of the crop of resort stays, with restaurants, ocean views, an on-site spa, and the Shops at Wailea are just down the road. Couples particularly love The Four Seasons!
Bed and Breakfast: Sometimes, it's all in a name, and Adventure in Paradise is exactly what it sounds like, located in Haiku on Maui's north shore. Wake up to a 180 degree view of Haleakala summit every morning from your private patio.
Hotel: The highly rated Maui Sunset hotel combines laid-back atmosphere and the beach of Waipuilani Park. Also, it's only 1.7 miles from the Elleair Maui Gold Club!
Vacation Home: Find your home away from home at Puu Koa Palms, six minutes from Hookipa Beach, and near the Hana Highway. Also particularly great for couples!
Villas: If you're looking to vacation in style with your own villa try the Andaz Maui, which include all the expected amenities along with grills and plunge pools.