A luau is an ancient Hawaiian ritual where people unite to celebrate a significant event.
It's both feast and entertainment, typically in the form of dancing and storytelling.
Although most luaus are now celebrated by families, the outing is also increasingly popular with visitors, and many companies offer visitors the chance to experience a luau for themselves. 
Below, you'll learn the average price of a luau in Maui, when they take place, and for how long. Keep scrolling so you can learn how to experience a luau!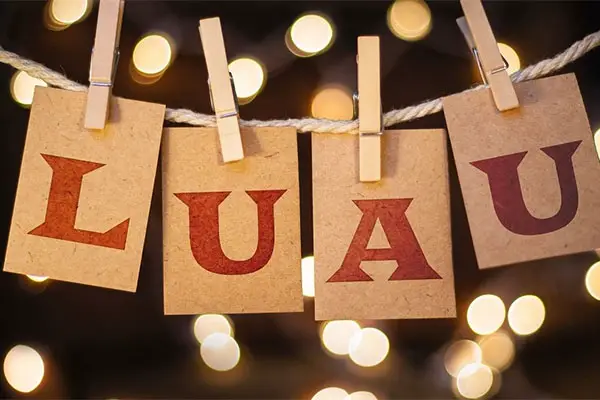 The Cost
The cost of a luau differs depending on the venue that it is held in, and whether transport (such as a rental car) is required to get to and from the destination.
The price of an adult ticket can range between $80 and $170, which typically applies to guests aged 13 and older. The ticket covers food, drink, and entertainment. 
In most cases, you will be charged a reduced price for younger guests: the average cost for children between the ages of 6 and 12, is $50 to $60. Children under the age of 6 are typically granted access free of charge. 
It is worth noting that tips are often appreciated by the waiters, but this isn't included in the cost. As such, you should have carry extra money available. 
Luau Schedule
Most Luaus take place outdoors. Upon arrival, you will normally be greeted with a lei.
Then the festivities begin. 
Luaus usually last for 2 to 3 hours, beginning near sunset at 5 or 6 p.m. But this, of course, depends on the luau's event organizer, and the time of year. 
While some luaus are held every day of the week, others are held on set days—this generally applies to those that are held on resorts.
May is also known as National Luau month, so if you are going to be heading on vacation to Maui in May you are bound to find a luau to attend. 
The Best Luaus in Maui
Now you know the cost and schedule of luaus in Maui, you may be wondering which one you should attend. We have provided you with a shortlist of some of the best-rated luaus below.  (Check out our top 10 luau guide for more options.) 
Old Lahaina Luau
The Old Lahaina Luau may be the most popular Luau in Maui. It is held on the beachfront and runs throughout the year.
From October to February it begins at 5:15 pm.
From March to May and again in September it begins at 5:45 pm.
From June to August it starts at 6:15 pm.
The Old Lahaina Luau is 3 hours long., and the cost of an adult ticket is $145.83. While a ticket for a child (3-12) is just over $83.
This cost includes an aloha greeting, an island craft session, dinner, and an Imu ceremony where you can learn more about the culture of the island.
Marriott Luau
The Marriott Luau is located on the beach where guests can take in the beauty of their surroundings.
It is held on Mondays, Thursdays, Fridays, and Saturdays. From June to September, the doors open at 4:30 pm.
An adult ticket costs $225, a child's ticket costs $155 and those under the age of 5 can enter for free.
Although this may seem a little pricey, your ticket covers the cost of entertainment, which includes music and fire dancing. You can also learn more about the island thanks to the storytelling sessions before enjoying a buffet-style meal and drinks. 
Is a luau worth the money?
The cost of a luau can be quite pricey. Whether it is worth the expense ultimately depends on your preference and what you want to do with your time while you are on vacation.
A luau provides you with an opportunity to enjoy and learn more about Hawaiian culture firsthand. And you will also be able to try an array of traditional foods that you may not have otherwise tried. 
If your budget allows, a luau is a unique experience that is worth attending.
Remember to make your reservations in advance because they are known to get booked up rather quickly.
It's also worth comparing the prices of different luaus to see what is included in the cost and which one offers the best value for money.