Sushi is a big deal on Maui, thanks to an abundance of fresh fish and an established Japanese population.
If you're looking for a sushi bar based on reputation alone, then you might find yourself directed towards Sansei Seafood Restaurant & Sushi Bar.
Known for innovative flavors and a welcoming atmosphere, Sansei has become a legend of the Maui sushi scene.
With locations in both Kapalua and Kihei, Sansei is a popular choice with visitors looking for a friendly setting to enjoy some exceptional seafood.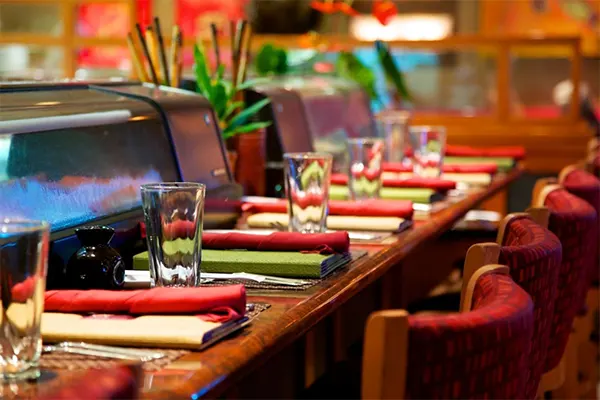 Sansei Seafood Restaurant & Sushi Bar
It was through word of mouth that Sansei Seafood Restaurant & Sushi Bar became a Maui legend.
The unassuming restaurant is now so popular it has two locations, and even then you can often spot a line coming out the door. 
The reputation is well deserved. The food at Sansei is exceptional.
It isn't just among the best sushi on Maui, but one of the best restaurants altogether.
Fish fresh from the ocean, Japanese classics, and some unexpected entrées have made Sansei a top choice for everyone from families, to couples, to friends looking to celebrate. 
Sansei Seafood Restaurant & Sushi Bar has won the Gold 'Aipono Award for Best Sushi, been listed in Bon Appétit's Guide to "Favorite Asian Restaurants", and recognized as one of the "Top 50 Sushi Bars in America" by msn.com. 
Sansei Kapalua Location
Sansei Kapalua is the original location and is still one of the best places to eat on West Maui.
Tucked just behind the Ritz-Carlton resort, the setting isn't the best on Maui, but the food makes up for it.
There's an outdoor and indoor seating area, with a light and airy atmosphere that seems sophisticated without being stuffy. 
Sansei Kapalua is open seven days a week, with dine-in available from 5pm to 8:30pm. They also offer a take-out service daily.
Take-out hours are 5pm to 8:30pm, Tuesday to Saturday, and 6pm to 8:30pm on Sunday and Monday.
Visitors to Kapalua enjoy the rugged coastal trail and slightly quieter beaches.
If you've decided to spend a day exploring the far end of West Maui, we recommend making a stop at Sansei.
Get there early to try and beat the queues.
Sansei Kihei Location
The popularity of Sansei has led to a second location opening on Maui.
Part of Kukui Mall in South Kihei, this is another quiet location where you might not expect to find some of Maui's best seafood.
The atmosphere is low-key but welcoming and allows the food to speak for itself. 
Sansei Kihei is open five days a week, from Thursday to Monday.
Dine-in is from 5pm to 9pm on Thursday, Friday, and Saturday, and from 4:45pm to 9pm on Sunday and Monday.
Take-out is available from 5pm to 8pm Thursday to Saturday, and 5:30pm to 8pm on Sunday and Monday.
Sansei Kihei is closed on Tuesday and Wednesday.
Visitors to Maui tend to spend a lot of time exploring Wailea, but can overlook adjacent South Kihei.
Sushi fans should make the trip to see what Sansei has to offer and enjoy a casual atmosphere with some serious flavor.
What's On The Menu At Sansei Maui?
Sansei Seafood Restaurant & Sushi Bar has a large menu, which blends simple Japanese classics with some unexpected Hawaiian flavors.
The seafood selections are excellent, and you can easily enjoy a varied meal. Sashimi and nigiri form a bulk of the menu, and the traditional flavors are elevated by attractive plating.
If you visit as a group, make sure to order a selection and sample across the board.
The Sansei sushi rolls are also exceptional, and for many customers, this is what keeps them coming back. Give the Crunchy Island Spice roll a try if you're feeling hungry, or try the Hawaiian Roll in the evening sunshine.
A real feature of Sansei is the vegetarian selection, with rolls that are carefully and thoughtfully constructed, rather than just an afterthought.
Even carnivores will enjoy tucking into the Paia Maki Roll.
Non-sushi fans will also be happy at Sansei, which is a relief for large groups. Sansei has a surprisingly good steak menu, and even some enjoyable pasta options.
We also recommend the grilled Hawaiian Ahi and Shrimp Cake, if you want fish but don't fancy sushi.
Sansei isn't quite fusion food, but it does bring together a mixture of traditional Japanese flavors, Hawaiian favorites, and American classics.
What Are The Prices Like?
Sansei is moderately priced for a sushi bar. Rolls cost an average of $15, with nigiri available for roughly $10, and sashimi for around $18.
Two people should be able to enjoy a good meal for under $80, particularly if they sample some veggie rolls. 
Sansei does offer an Early Bird discount, with a 25% saving on most menu items during the first half hour of opening on certain week nights.
However, you have to be quick to get this saving. Queues for the Early Bird discount start in advance.
In this case, the early Early Birds get the discount, while the Early Bird can end up paying full price.
Discount days are subject to change, so consider calling ahead before visiting. 
A meal at Sansei is a good balance of fancy and casual. It's a good place to go for a celebration, but you can also swing by after a day spent on the beach. 
Do You Need A Reservation For Sansei Seafood Restaurant & Sushi Bar?
A reservation isn't strictly necessary at Sansei, but it's often worth calling ahead anyway.
Both the Kapalua and Kihei locations are comfortable without being spacious, and seats can fill up fast.
If you're determined to visit Sansei, we recommend making a reservation for your chosen night.
Should You Visit Sansei Maui?
Sansei Seafood Restaurant & Sushi Bar is well worth a visit. It appeals to those with both a classic palate, and those with adventurous taste buds.
And the large menu, featuring both steaks and pasta, means even any non-sushi lovers in the group will be satisfied.