When you hear the words "Hawaii" and "pizza" what tends to come to mind is chunks of pineapple and thick slices of ham.
But while the Hawaiian might be a divisive (but delicious) pizza topping, Maui itself is home to several exceptional pizza restaurants.
Pizza is a perfect family treat after a day of Maui adventure, so you can expect to find a few good slices in the family resort town of Ka'anapali.
We've put together a list of where to visit when you're craving a slice, and the best pizza in Ka'anapali.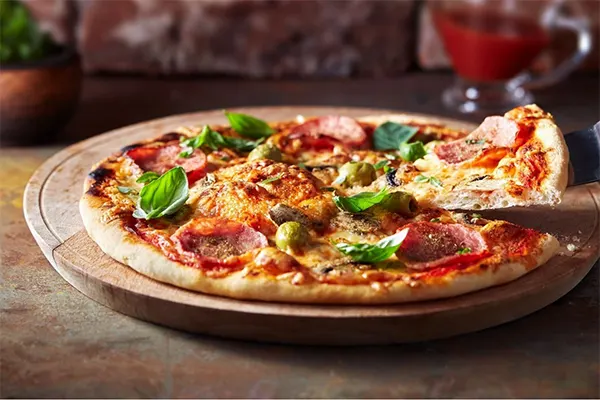 Pizza Paradiso Mediterranean Grill
Just north of Ka'anapali is Pizza Paradiso Mediterranean Grill, a place so popular it's been voted "Best Pizza in Maui" three times by readers of The Maui News.
Specializing in Mediterranean comfort food, Pizza Paradiso serves crowd pleasing pizza made with flair.
As a Mediterranean restaurant, Pizza Paradiso makes pizzas in the classic style. The base is delightfully crispy, and made with extra virgin olive oil to form a flavorful crust.
Local ingredients are used alongside Italian classics, creating a fresh feast that appeals to everyone from curious palates to hungry keiki.
Pizza Paradiso does its own range of specialty pizzas, including the Maui Wowie, their take on the Hawaiian.
We recommend trying the Paradiso to sample all the best produce that the island produces.
Feeling fussy? Build your own pizza with whatever combinations you like. There's also the option of adding a gluten-free base.
It isn't just pizza available at Pizza Paradiso, the Kabob plates bring traditional Mediterranean flavors to a Hawaiian lunch classic, and the pittas and sandwiches are excellent.
And make sure to save room for dessert so you can try the baklava. Pizza Paradiso is Hawaiian aloha meets Italian family-style dining.
Open daily from 11am to 9pm.
Nikki's Pizza
Nikki's Pizza is for when you want a slice at any time of day. This casual and laid back eatery opens early to serve breakfast and closes in the evening after the dinner rush.
With a Whalers Village location, Nikki's Pizza is perfect for when you've worn yourself out exploring the waves of Ka'anapali beach and need a break to refresh. 
Located on the lower levels of the Whalers Village shopping center, the Nikki's Pizza counter serves pizza by the slice, and entire pies for big appetites.
The food is crowd pleasing, and the friendly atmosphere and quick service keeps families coming back. You can grab a slice to eat in the food court, or take it to go and enjoy in the sunshine.
Nikki's Pizza serves classic pizzas, loaded with toppings and sauce.
The range is limited, but the friendly service makes up for a lack of choice. It isn't just pizza on offer.
Burritos, pasta, and breakfast foods are all for sale, and all delicious.
And if you want to grab dinner at Nikki's Pizza, you can be in and out before you'd even find the end of the queue at other Ka'anapali restaurants. 
If you're enjoying a day spent exploring Ka'anapali and West Maui, stop by Nikki's Pizza for satisfying food, served quickly and with a smile.
Open daily from 7:30am to 9pm.
Round Table Pizza
Sometimes, you want a taste of the familiar. And if you've eaten at one of the over 400 restaurants owned by Round Table Pizza, then you probably already have a good idea of what you're getting.
Round Table Pizza Ka'anapali is a family-favorite location for fuss-free dining and good pizza. 
Although Round Table might not be a Maui local chain, it does follow the Hawaiian tradition of serving good, hearty meals.
The dough is thick and tasty, forming the perfect base to be loaded with Round Table toppings. And at Round Table, the toppings go all the way to the edge.
No bite is boring with the quality ingredients that Round Table has used on their pizzas for almost six decades. Round Table is ideal for families, but the laid-back atmosphere is appealing to all kinds of visitors.
This is the place to stop if you want a filling meal that's packed full of flavor in a relaxing environment and a good location.
Open until 10pm on a Friday and Saturday, it's also the place to stop if you've been enjoying the beach bars of West Maui.
Plus, if you visit often enough, you can use the Round Table rewards program to grab yourself some tasty treats at a discount. 
Open Sunday to Thursday from 11am to 9pm, Friday and Saturday from 11am to 10pm.
Can You Get Good Pizza In Ka'anapali?
There are a few places in Ka'anapali where you can find good pizza, and it isn't all pineapple and ham.
Pizza Paradiso, Nikki's Pizza, and Round Table Pizza are all easy to access for those staying in Ka'anapali, and those just passing through.
For a little more choice, however, you might prefer to take the trip to nearby Lahaina.
Lahaina is only a short drive away, and there are plenty of dining options available. Including more than a few pizzerias.
We recommend trying Sale Pepe Maui if you want the perfect blend of Italian classic, American flavor, and Hawaiian individuality.
Or take a trip to Prison Street Pizza, and cover a crisp Jersey-style base with toppings of your choice.
And there's Lahaina Pizza Company for deep dish and great views.
Or, you can head in the other direction! Maui Brewing Company has a restaurant in Kahana serving homemade food with locally sourced ingredients.
Although they don't serve pizzas, their flatbreads are close enough and sure to satisfy. 
Ka'anapali's Best Pizza?
We think all the choices listed above are great places to stop if you're after pizza in Ka'anapali, but our top choice has to be Pizza Paradiso.
The thin and crispy bases are exceptional, and the local ingredients add freshness and vibrancy.
Stop by Nikki's Pizza when you fancy a quick slice after a long day, and Round Table when you need something to fill you up.
Maui might not be known for pizza, but at family-friendly Ka'anapali, you can find some crowd pleasing flavors.