Wailea is home to some of the best restaurants on Maui, but what about the food trucks?
Food trucks are a Hawaiian staple, often serving restaurant quality food from a humble setting and a low-key location.
While Wailea has a few food trucks, the resort town doesn't have quite the variety you might expect to find elsewhere on Maui.
That said, if you like tacos or açai, Wailea has some incredible places you have to try. Read on to find out more.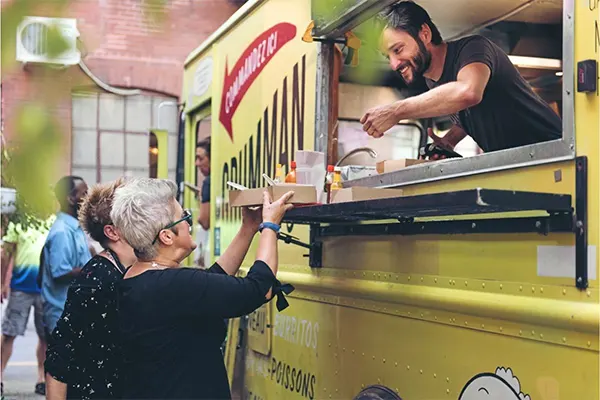 Jawz Tacos Food Truck
Technically, Jawz Tacos Food Truck is in nearby Makena, but we had to start with one of Maui's best food trucks.
Since 1998, Jawz has been one of the major draws of Makena (alongside the sandy beaches and unspoiled views).
The fish tacos at Jawz are so good you might find your trip to Makena never ventures past the parking lot.
It isn't just the tacos that Jawz does so well. The menu is surprisingly diverse, blending big Mexican flavors with vibrant Hawaiian ingredients.
And the prices are excellent. A full taco meal will cost you significantly less than a similar dish at a nearby restaurant.
You can even finish with a refreshing shave ice. (Check out our article on Kihei's best shave ice!)
As well as the Makena food truck, Jawz has a dine-in location in Kihei.
Open daily from 10:45am to 4:30pm.
Jazzy's Kitchen
Some of the best tacos on Maui come out of a food truck, and there are few that can compare to Jazzy's Kitchen.
Located in Makena, a short drive from Wailea, Jazzy's Kitchen serves simple and hearty Mexican food to satisfy big appetites. 
With such a low price point, you can sample from across the menu, but we really recommend starting with the fish tacos.
They're packed with meat and are deliciously filling. Make sure to wash your tacos down with a fruit smoothie.
They're both fresh and refreshing, and make a surprisingly good accompaniment to a fish taco and a hike on the Hoapili trail.
Open Thursday to Tuesday from 10:30am to 4:30pm.
Aloha Trick Pony
Guests at the Grand Wailea will love a trip to Aloha Trick Pony for a casual lunch that goes big on island-inspired flavors.
Found in the resort Surf Garden, Aloha Trick Pony serves barbecue foods cooked with Hawaiian vibrancy, combining juicy meats with the zing of tropical fruits. 
The atmosphere is laid-back, with the food truck in a quieter setting away from the madness of the Grand Wailea main pool.
Prices are a little high for a food truck, but you can still get a decent lunch at a good price for Wailea.
We recommend trying the Hawaiian style pulled pork sandwich for a combination of tangy and meaty flavors, or the jackfruit version for vegetarians.
Open daily from 7am to 10am, and 11am to 5pm.
Mo' Bettah Food Stand
Freshly cooked food awaits you at the Mo' Bettah Food Stand, a truck with a location on Wailea beach.
The meal is definitely beach side fare, and we mean that as a compliment—big flavors with lots of zest and a punch of spice, you'll want to enjoy it in the cool after a morning on Wailea beach. 
Combining Mexican favorites with American dishes and Hawaiian flavoring, Mo' Bettah Food Stand is a crowd pleaser.
You can also grab some Maui classics such as shave ice and poke bowls, and enjoy a taste of the island.
The prices are slightly higher than you might expect from a food truck—it's linked with the Marriott Wailea Beach Resort—but the menu is fantastic. 
Open daily from 11am to 4pm.
Brekkie Bowls
A food truck with a bit of a difference, Brekkie Bowls serves açai bowls to those who want to start the day right.
The plant based, vegan, and organic food truck works with local farmers to fill the Brekkie Bowls (eco-friendly) bowls with the freshest produce around, to benefit both the customer and the environment. 
The build-your-own açai bowls are a revitalizing way to start the day, with fresh fruits and superfoods giving you a boost for exploring.
If açai isn't your thing, you can also grab a smoothie, made with the same quality and organic ingredients that Brekkie Bowls loves. 
Open Tuesdays at Wailea Village Farmers' Market.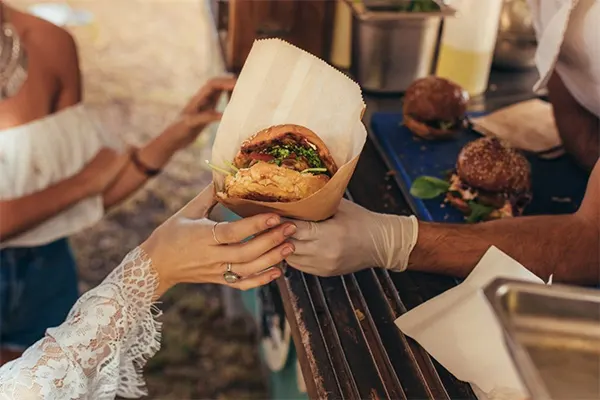 What Makes Maui Food Trucks So Good?
Few of us really associate food trucks with fine dining, but things are a little different on Maui.
With so much sunshine and humid weather, eating indoors can be uncomfortable. Instead, talented chefs choose to take their skills on the road.
By serving from a food truck, diners have the chance to enjoy their food in the best setting—outdoors!
And after a long day, you can always grab a bite to go to tuck into on your lanai, or while watching the famous Maui sunset. 
Are There Food Trucks In Wailea?
Wailea has a few food trucks, but this resort town is better known for its restaurants.
Food trucks such as Jawz and Jazzy's are a little outside Wailea in Makena, but a few resorts have pop-up trucks of their own.
And, as food trucks do have the ability to move about, keep an eye out for any that might be passing through.
For a better variety of food trucks, those staying in Wailea should consider heading up to nearby Kihei.
It's a short drive, and a lot of exceptional food trucks choose to serve here.
One of the delights of the food truck is finding a place to stop on the go, so keep an eye out while traveling around Maui.
Final Thoughts
Wailea is home to world class restaurants, but a slightly reduced number of food trucks.
However, the trucks that do call Wailea home are worth visiting.
Food trucks in Wailea serve exceptional flavors when you want filling food to enjoy as you kick back and relax.
Jawz and Jazzy's serve mouth watering tacos from a beach location, while Mo' Bettah and Aloha Trick Pony add resort sophistication to the casual food stand.
And don't forget to keep an eye out for Brekkie Bowls for an early morning treat.