Maui has some amazing low-key restaurants and food trucks for when you don't feel like dressing up, but sometimes even leaving the hotel can feel like a lot of effort.
In this guide, we've rounded up the best Maui restaurants delivering the greatest of all comfort foods, pizza, to your door.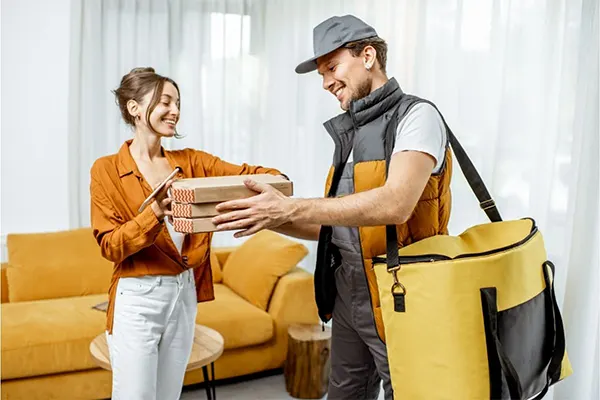 Prison Street Pizza
At Prison Street Pizza, you can enjoy a slice of authentic Jersey pizza in an attractive West Maui location.
The crispy bases are loaded with fresh and traditional toppings, offering choices for everyone from meat lovers to veggies.
Prison Street Pizza specializes in authentic flavors, but if you fancy something a little different, you can always build your own.
Prison Street Pizza offers eat-in, takeaway, and delivery options for the Lahaina area.
They can also cater events if you're planning a pizza party. 
Open daily from 11am to 8:30pm.
Pizza Madness Maui
Pizza Madness serves pizza just the way you want it after an active day: chewy base, smothered with sauce, and absolutely covered in toppings.
If you've spent a day on the waves, collapsed at home, and realized you've forgotten to get any food, a Pizza Madness delivery will hit the spot.
Pizza Madness offers a few specialty toppings, but this is a place where you want to build your own.
And this is Pizza Madness, so you can put together whatever combos you've been dreaming of, no judgment. 
Pizza Madness provides eat-in, takeaway, and delivery options in South Kihei.
Open daily from 11am to 9pm.
(Also, if you're in Kihei, check out our list of Kihei's best pizza.)
Dollie's Pub & Café
Fans of Dollie's Pub & Café will be excited to know that they now offer delivery.
And if you aren't a fan of Dollie's you will be once you've tried their hand pressed, stone oven, award-winning pizzas. 
This popular local spot is known for a chilled out vibe, numerous satellite TV's, and some of the best pizza on the island.
Order the Maui Wowee for a fresh take on the classic Hawaiian, and enjoy from the comfort of wherever you might be staying. 
Dollie's Pub & Café can be found in Kahana, offering dine-in, takeaway, and delivery.
Open daily from 11am to 10pm (delivery from 4pm).
Outrigger Pizza Company
Outrigger Pizza Company does toppings and sauces really well, but the star of the show has to be the wood fired bases.
Outrigger proves that the old methods sometimes are the best, with these incredible pizzas that are absolutely packed with flavor. 
Outrigger Pizza Company might not seem like much from the outside, but don't let the food truck appearance fool you.
Classic bases are combined with fun and unusual toppings (plus a few old favorites), for delicious pizzas available both takeaway and delivery in Kihei.
Open Monday to Saturday from 11am to 8:30pm. 
Manoli's Pizza Company
Fresh and local ingredients are key to Manoli's Pizza Company, which makes food inspired by the Mediterranean and best enjoyed in the sunshine on your private lanai.
The family-friendly restaurant creates wholesome food and authentic pizzas.
And if you want to avoid any post-pizza guilt, they also do the Personal Trainer's Choice, featuring lean chicken and plenty of vegetables.
Manoli's is available for delivery and takeaway, with a Kihei dine-in option.
Open daily from 11am to 12am. Delivery available from 4pm to 9pm.
Fabiani's
Enjoy Italian authenticity at Fabiani's, a pizzeria and bakehouse that serves thin crust pizzas to diners in Kihei.
As well as the traditional red sauce pizzas, Fabiani's is one of the best places on Maui to enjoy a white sauce pizza.
Trying to please a crowd? Fabiani's has some delicious pasta options as well, and a menu for the keiki-slash-bambino-slash-kids.
Save room for dessert, as the Italian bakery does some incredible baked goods that you won't want to miss out on.
Fabiani's can be found in Kihei, serving eat-in, takeaway, and delivery.
Open Sunday to Tuesday, and Thursday from 2pm to 8pm. Closed Wednesday. Open Saturday and Sunday from 2pm to 9pm. Delivery ends at 7:45pm.
Shaka Sandwich & Pizza
Shaka Sandwich & Pizza is some of the best Authentic New York style pizza in Hawaii, delivering freshly made pizza to your door.
Dough and sauce are made every day, providing you with a rich flavor experience.
Supporting local farmers, Shaka uses Maui ingredients where possible, for New York pizza with a Hawaiian twist.
Shaka is a laid-back restaurant where you can grab hoagies and cheesesteaks to go with pizza by the slice.
Order delivery when you fancy a chilled evening with some quality food. Found in South Kihei, Shaka serves delivery, takeaway, and dine-in. 
Open daily from 10:30am to 9pm.
Giannotto's Pizza
Wailuku is attracting the hippest crowds who like to spend all day and half of the night exploring.
And when you've worn yourself out, a delivery from Giannotto's Pizza can provide the fuel for another day in the Maui sunshine.
With free delivery on orders over $20, and loaded toppings on an authentic Italian base, Giannotto's is quality pizza for when you don't feel like leaving the lanai.
Open Monday to Saturday from 11am to 8pm.
Round Table Pizza
In Maui, Round Table Pizza chain offers tasty and reliably good pizzas.
You can order delivery and pick-up from their Ka'anapali of Kihei locations, or dine-in if you're in the area.
Round Table Pizza has over 400 restaurants across the United States, and the Maui locations serve quality you can trust.
They also pack the toppings right to the edge, if you're feeling extra hungry!
Open Sunday to Thursday from 11am to 9pm, Friday to Saturday from 11am to 10pm.
Domino's
Well, we couldn't not mention Domino's.
The ubiquitous chain has two locations on Maui, ready to serve you home comforts straight to the door of your condo, resort, or hotel from Kahului and Wailuku.
Open daily from 10am. Delivery hours vary depending on location.
Final Thoughts 
Maui has some exceptional restaurants, but sometimes you don't want to stray far from your comfortable accommodation.
With these options, you can still get quality food, but without needing to leave the lanai.