Many Maui locals and visitors will find themselves eyeing up any jutting rock or waterfall, wondering if that might be the place for a jump.
Cliff jumping is a historical Maui sport that remains popular today.
And the numerous ledges and plunges of the Pools of 'Ohe'o make it seem like a prime location for jumping.
Cliff jumping at the Pools of 'Ohe'o is strictly prohibited, but tends to happen anyway.
Despite the danger and the deterrents, many choose to take the leap. Read our guide to find out more.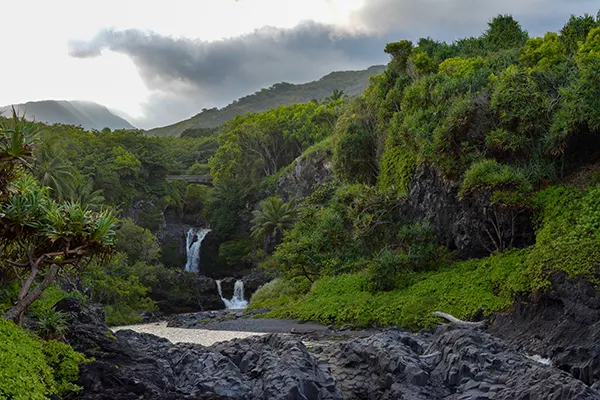 What Are The Pools Of 'Ohe'o?
The Pools of 'Ohe'o are a stop at the end of the Road to Hana, a site of tumbling rockfall and water that many consider a fitting end to an exceptional drive.
If they don't sound familiar, you may have heard of them as 'Ohe'o Gulch, or the Seven Sacred Pools, or even Haleakala National Park Kipahulu.
It's a place with almost as many names as pools.
Despite being tucked away at the far end of East Maui, the Pools of 'Ohe'o still manage to attract a crowd.
That speaks to just how impressive the area is, with trickling waters falling from tumbling rock faces into still pools, bracketed by lush greenery.
And even though the name may suggest otherwise, there are more than seven pools found here, with the nearest being easily accessible to bathers, and the furthest stretching to the horizon.
Is Cliff Jumping Allowed At The Pools Of 'Ohe'o?
Technically, cliff jumping is not allowed at the Pools of 'Ohe'o.
However, on a busy day, you're likely to notice two things: signs telling you not to jump, and people jumping.
Despite not being allowed, cliff jumping is still a popular pastime for visitors to 'Ohe'o.
Cliff jumping is prohibited, but it's a rule that's largely unenforced.
Although there are many who won't be happy to see cliff jumpers, you're unlikely to be stopped.
Especially if it's a busy day with plenty of people enjoying the waters. It's worth noting that swimming at the Seven Sacred Pools is also prohibited.
The rangers combine the signs with newspaper clippings of accidents and fatalities that have occurred in the area over the years, to try and deter jumpers. 
Can You Cliff Jump At The Pools Of 'Ohe'o?
Although cliff jumping at 'Ohe'o Gulch is banned, plenty of visitors still do it.
The first pools in the area are all easily accessible, and there are a variety of ledges to offer jumpers of different skill levels opportunities.
An easy hike in an area with several difficult hikes, 'Ohe'o Gulch attracts families and visitors that have over exerted themselves on the Road to Hana.
And with such an attractive setting, cliff jumping at the pools of 'Ohe'o seems like the place for some exciting vacation photos.  So, cliff jumping at the Seven Sacred Pools is a risk that many people choose to take.
If you do decide to jump, be aware of the dangers that are found at the pools.
The climb up can be the most dangerous part, as the rocks are generally slippy and damp. Visitors have actually been injured while scrambling up the rocks by not paying attention to their footing.
Make sure you always have a good handhold, and an exit plan if the path becomes too tricky.
Once you've jumped, don't hang around under any of the waterfalls, as debris has a habit of tumbling down and catching unsuspecting visitors.
You might also want to think of a good excuse, in case the rangers decide they want a word with you.
For a safer place to cliff jump on the Road to Hana, we recommend Twin Falls at the other end of the journey.
There's slightly less variety than at 'Ohe'o Gulch, but a reduced risk.
Is Cliff Jumping Safe At The Pools Of 'Ohe'o?
Cliff jumping isn't exactly safe anywhere you do it, as it involves leaping from rocks into the ocean.
Even at popular cliff jumping sites such as Black Rock in Ka'anapali, cliff jumping is still a risk.
At the Pools of 'Ohe'o, that risk is increased by slippy rocks and changeable weather, plus a tendency for debris to float down in the waters. 
Wherever you choose to cliff jump, make sure to recognize the dangers and respect the area. Although it can be hard to predict accidents, don't put yourself at risk by failing to take note of the location.
Weather conditions can greatly affect the level of safety at the Seven Sacred Pools.
If no one else is jumping, it's best to assume that they know something you don't.
Pools Of 'Ohe'o Closures
If the warning signs don't put you off jumping, there might be another factor that holds you back at the Pools of 'Ohe'o: their frequent closures.
The Seven Sacred Pools are fabulous to look at, as decades of running water have cut a scene that looks both ruggedly natural and designed by a landscape artist. 
But those attractive tumbling rocks do cause problems when they start actually tumbling.
The famous Maui trade winds can batter the East Maui setting, but it's excessive rainfall that causes the most problems.
Rocks and debris come clattering down after particularly bad weather.
Flash floods are also an issue. Even when the sun is shining on the Pools of 'Ohe'o, rain further up the rainforest rivers can flood the normally placid pools.
If flooding has occurred, or it seems likely, the pools can be closed.
Remember that flash floods really do occur in a flash, and Maui bathers have been taken by surprise before.
Final Thoughts
The Pools of 'Ohe'o are a popular cliff jumping spot, even if they really aren't a cliff jumping spot.
The tumbling rocks and placid pools appear to make an excellent jumping platform, while the easy accessibility appeals to families and groups.
However, cliff jumping at the Seven Sacred Pools is prohibited, and fatalities have occurred.
Although many still make the plunge, we recommend finding a safer location to engage in this Maui pastime.