The northern edge of the West Maui shore is home to some overlooked stretches of beach, tucked away between large resorts and a curving coastline.
Perhaps the most overlooked of all is Ironwoods Beach, otherwise known as Oneloa.
Looking for a serene location for your wedding photos? Consider an Ironwoods Beach Maui wedding!
Learn more about the hidden gem of Ironwoods Beach with this guide.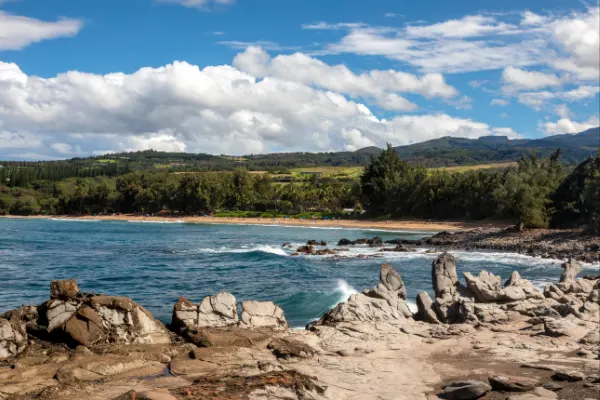 About Ironwoods Beach Maui
Nestled between private residences and tucked away from the road, many visitors fail to notice Ironwoods Beach. Which is a shame, because it has a lot to offer.
But the upside of a rarely noticed beach is that Ironwoods, otherwise known as Oneloa, is a delightful place for a romantic stroll or a quiet family picnic.
The coastal stretch from Napili to Kapalua is scattered with attractive beaches that bring smaller crowds than nearby Ka'anapali.
Hidden just around the corner from DT Fleming Beach, the wide sands of Ironwoods Beach are appealingly laid back. Visit for a chance to discover the chilled out vibe of old Hawaii.
How Do You Get To Ironwoods Beach Maui?
The best parking for Ironwoods Beach is at the Kapalua lot at the junction of Kapalua Place and Lower Honoapiilani Road. From here, you can find a set of stairs that leads you to the Kapalua Coastal Trail. Follow this down, and you'll be on Ironwoods Beach.
The entrance to the beach can be a little hidden, which helps keep Ironwoods Beach so quiet. Look for a sign directing you to the Kapalua Coastal Trail, flanked by signs warning of a strong current.
Once you've reached the beach boardwalk, there are several sets of stairs in the sand dunes you can take down to the beach. Access is slightly tricky due to the sandy stairs.
If you want to walk part of the Maui coast, park in Kapalua Bay and follow the Maui coastal trail! It will eventually meet up with Ironwoods Beach.
Ironwoods Beach By Bus
If you don't have access to a car, there is a bus route that can get you pretty close to Ironwoods. It's a 45-minute bus journey from Ka'anapali, on the 28 bus for Kapalua.
From the bus stop, Ironwoods Beach is about a 10 minute walk away.
Buses tend to leave hourly, so plan a full day at Kapalua to make the most of it. With the coastal trail, multiple beaches, and several restaurants nearby, it shouldn't be hard to stay occupied.
Facilities At Ironwoods Beach
On the way down to Ironwoods Beach you'll pass a small shower for rinsing sand off before you head back to your car.
This is it for facilities at Oneloa. You'll need to head back to Kapalua for anything more than scenery and sand.
Kapalua is the nearest town to Ironwoods Beach, perhaps best known for its coastal trail and Ritz-Carlton hotel. Kapalua is quiet and charming, and there are a few places to stop for a bite to eat and a drink. 
Can You Snorkel At Ironwoods Beach?
On the very calmest days, it is possible to snorkel at Ironwoods Beach. Rocky outcrops mark the boarders at either end of the beach, and determined snorkelers might find something to look at. Head for Makaluapuna Point to the northern end for the best snorkeling. 
Beginner snorkelers would be best off steering clear. Getting in and out of the water at Ironwoods Beach can be tricky, and currents can gather speed unexpectedly. When the surf picks up at Ironwoods, visibility is ruined.
For the best chance to snorkel, visit in the morning. Winds tend to hit in the afternoon, but they can reach Oneloa fairly early on.
Can You Swim At Ironwoods Beach?
Swimming can be dangerous at Ironwoods Beach, especially when the surf is high. It's better to stick to the sands at Ironwoods.
Especially as there's no lifeguard around, and access to the road is difficult.
Although, there is one sandy danger at Ironwoods Beach. With a golf course overhead, those relaxing at the north end of the beach should keep an eye out for the occasional wild ball.
Can You Surf At Ironwoods Beach?
Surfers will be largely disappointed by the waves at Ironwoods Beach. They're known for being weak, and surfers should definitely look elsewhere for good breaks.
Bodyboarders will have slightly better luck, and as a quieter beach, you might even get the waves to yourself.
Ironwoods Beach can get the occasional swells, but there are typically better options in the area. But if it's really not hitting anywhere nearby, surfers will sometimes retreat to Ironwoods.
Is Ironwoods Beach A Good Place For A Wedding?
Quiet, calm, and picturesque, Ironwoods Beach is a fantastic place for a romantic wedding. Away from the major developments of Maui, and rarely full of visitors, many happy couples choose Oneloa as the destination for the wedding photographs.
Lava cliffs and golden sands provide a wonderful wedding backdrop, and you can even spot the island of Molokai in the distance. For the very best photos, stick around until sunset.
Kapalua is home to luxury resorts the Ritz-Carlton Maui, and Montage Kapalua. These popular wedding venues almost overlook Ironwoods Beach, causing many couples to use Oneloa for the perfect wedding snaps. Especially if Kapalua Bay or DT Fleming are looking crowded.
Visitors to Ironwoods Beach may find that even though crowds are absent for much of the day, they pick up around sunset. The golden light adds to the romantic feel of this isolated beach, and photographers will often take the opportunity to perfect their craft.
Sit And Soak It In At Ironwoods Beach
Out of the way Ironwoods Beach is a place to go for a chance to relax. Head down for a romantic sunset stroll, or simply to soak up the atmosphere. 
If you plan on walking the Kapalua Coastal Trail, make sure to schedule a stop at Ironwoods Beach! The gentle waters at the shallows can refresh your tired feet, while the views over Molokai ease you into a peaceful mindset.