Hawaiian coffee is known as some of the best in the world, and Maui is no exception. Take a look around any Maui grocery store to find out exactly how good Maui coffee is.
But if you want an up close and personal coffee experience, consider booking a plantation tour. A Maui coffee plantation tour is an unusual way to explore the Maui farmland (and you might grab a few samples as well!)
Check out our guide for all you need to know about Maui coffee plantation.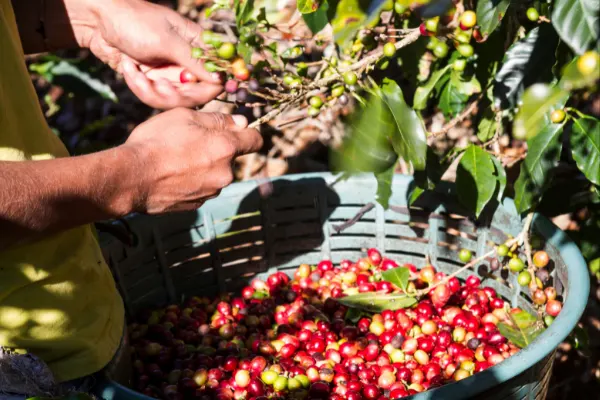 Does Maui Have A Coffee Plantation?
The rich and lush growth on Maui is thanks to the sunny mornings, frequent cloud cover, regular rain, and mild night temperatures.
With an island made of nutrient-packed volcanic soil, the Maui Upcountry is ideal for growing all kinds of produce. And that includes the coffee bean.
There are various coffee plantations on Maui, including MauiGrown Coffee, responsible for the renowned Maui Mokka. Coffee Plantations (and other farms) are typically found on the verdant Upcountry or East Maui.
But take a look at the West Maui mountains, and you might spot the occasional coffee farm! Coffee beans thrive in these conditions, giving growers plenty of options.
Can You Tour A Coffee Plantation On Maui?
Yes, several Maui coffee plantations offer tours of their farms. O'o Farms, ONO Organic Farms, and Maui Chocolate and Coffee are all open to visitors (booking is necessary).
MauiGrown Coffee no longer runs their tours, but you can stop by their Lahaina shop to try the product.
During a plantation tour, guests get the chance to see how coffee goes from the tree to the cup. Tours typically include a look around the farm, a walk through the roasting process, and sometimes a sample at the end.
Maui Coffee Plantation Tours
O'o Farms
Founded in 2000 to bring Maui a true farm to table experience, O'o Farms is a welcoming farm in the Kula community.
Since development began in 2000, O'o Farms has transformed from a small orchard to a rich farmland, featuring fruit trees, vegetables, and greenhouses.
The farm has also expanded from a couple of coffee trees to a vibrant Hawaiian coffee plantation.
O'o Farms offers a lunch tour, but the best choice for coffee lovers is the Breakfast and Coffee Tour. The early morning tour takes place in the forest of Waipoli, and wakes you up with a cup of French Press, and fantastic Upcountry views.
The tour shows you every detail of the coffee process, from growing the trees to roasting the beans. Finish by sampling the beans, and enjoy some of O'o Farms other produce with an included breakfast. 
Tours run Monday, Tuesday, Thursday, and Friday. Tours start at 8:30am, and last for 3 hours.
ONO Organic Farms
Fancy doing something a little different on the Road to Hana? Try a private tour of the ONO Organic Farms working farm! Located just past 'Ohe'o Gulch on the Hana Highway, ONO Organic Farms is the perfect place to refresh and relax before the drive back!
ONO Organic Farms is a certified organic family-owned farm, growing tropical fruits, cacao, and Arabica estate coffee.
Their produce is hand-picked when it's at its very best, and then delivered to homes and businesses across Maui (and the coffee is delivered around the world).
ONO Organic Farms offer a private tour and tasting session around their land, which the family conducts themselves.
On your tour, you get the opportunity to sample fruit straight from the trees, and leave with a carefully selected produce box. Tours run from Monday to Friday, and must be booked in advance via ONO Organic Farms.
Maui Chocolate and Coffee Tours
There are few combinations quite as exalted as chocolate and coffee. Maui Chocolate and Coffee Tours were always onto a winner with this one.
Grown on the slopes of Haleakala, the 8 species of Arabica coffee produced by Maui Chocolate and Coffee have their own distinct flavors. Wine fans may know something of how the terroir can affect the finished product.
With this Maui coffee, you can get a real taste of the tropical in the bean.
Maui Chocolate and Coffee Tours are a private experience through a working farm. You'll be guided through the orchards and where the cacao and coffee blooms, and find out how they go from fruit to French press.
The Maui Chocolate and Coffee Tour is a private tour, and advance booking is a must. Tours can be arranged via the Maui Chocolate and Coffee website.
MauiGrown Coffee
Unfortunately, MauiGrown Coffee no longer offers a tour of their Ka'anapali plantation. Fortunately, their delicious coffee is still available for sale. Phew!
MauiGrown Coffee is harvested from 500 acres of coffee farms, perched on the West Maui mountains overlooking Ka'anapali.
Although you can't tour the plantation, you can visit the MauiGrown Coffee store and bar in Lahaina. Make sure to pick up a bag of Maui Mokka—it's known as the Champagne of coffee. 
Where Can You Buy Maui Coffee?
Maui grown coffee can be purchased directly from the farms.
But if you don't have time for a tour, take a look at local grocery stores such as ABC Store, and even Costco. Maui coffee is a quality product, so expect some high prices for the hand-farmed beans. 
Does Maui Grow Good Coffee?
The Kona district on Big Island gets most of the attention when it comes to Hawaiian-grown coffee. The volcanic soils, elevation, and cloud coverage all come together to make a coffee bean that really is top quality.
But Maui is something special as well.
Maui has many of the features that makes Kona coffee so great, including that important volcanic soil. It's also an island with plenty of variety. That's why Maui coffee can be experimental and versatile.
The varying conditions across the plantations allow for some interesting creations, with different farms growing their own unique beans. But if you really want to know why Maui coffee tastes so good, then you have to book a tour.