Cocktails are, for many, a necessary part of a trip to Maui. And for a good cocktail, you need a base made from excellent spirits. Luckily, Maui is home to several distilleries, emphasizing local ingredients and classic Hawaiian flavors. 
With both a Maui rum distillery, and a vodka distillery on Maui, there are plenty of options for the cocktail connoisseur.
So, where can you go on Maui to get a good (handmade) drink?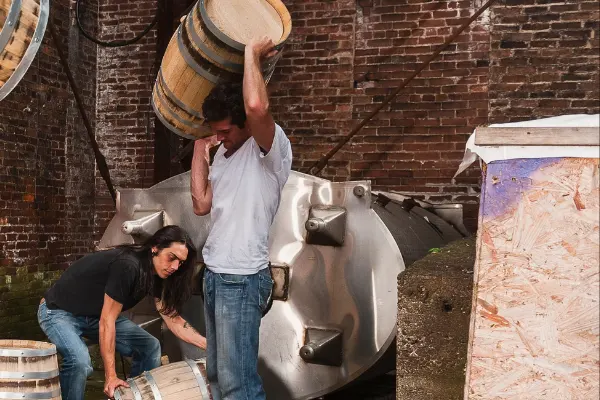 Are There Distilleries On Maui?
Sipping a Mai Tai on the Maui beachfront is a classic Hawaiian vacation experience. For a real taste of the island, try something made with liquors and spirits distilled on Maui!
Maui is home to several distilleries, creating drinks made with local ingredients and a passion for island life.
If you're after a different way to explore Maui, consider booking a tour to one of the local distilleries. You still get a chance to explore the scenery and discover local produce, and you get a drink on the way!\ 
Hali'imaile Distilling Company
We can all probably agree that "Hawaii in a bottle" sounds like a spectacular drink for sunny days and celebrations. Well, that's exactly what the Hali'imaile Distilling Company aims to create.
This Upcountry based distillery uses local ingredients and small batch brewing techniques to create something that's uniquely Maui.
Can You Tour Hali'imaile Distilling Company?
Yes, the Hali'imaile Distilling Company does offer the opportunity to explore the clean air and community that's used to create their Hawaiian spirits. On the tour, a guide will take you through the facility, and you can discover how the process works.
The tour finishes in the tasting room, where you can grab yourself a sample of the Hali'imaile products!
The Hali'imaile Distilling Company is found at the center of the Makawao pineapple region, in Upcountry Maui. Pineapples play a key role in creating the Hali'imaile spirits, and are an iconic symbol of Hawaiian hospitality. 
Tours run from Monday to Friday, at 10am, 11am, 1pm, 2pm, 3pm, and 4pm.
Each tour lasts for roughly 30 to 45 minutes, and ends with the opportunity to sample 3 of Hali'imaile's unique creations. Tours can be booked via the Hali'imaile Distilling Company website. 
What Maui Distilleries Are There?
Besides the Hali'imaile Distilling Company, Maui is home to Ocean Organic Vodka, and Old Lahaina Rum.
The Maui rum distillery can be found in Makawao. To tour the vodka distillery on Maui, head for the slopes of Haleakala.
PAU Maui Vodka
The flagship product of Hali'imaile Distillery Company, PAU Maui Vodka is made using the pineapples that are so iconic of Maui.
Hawaiian spring water provides a crisp finish to a vodka that's smooth and versatile. 
Mahina Rum
Sweet molasses are distilled to create Mahina Hawaiian Rum, Hali'imaile Distillery Company's premium rum.
Kona coffee distillate is used to give this rum that distinctive "Hawaiian" flavoring, while vanilla, cocoa essence, and clove create a complex flavor profile. 
Paniolo Whiskey
Whiskey and pineapple may seem like an unusual combination, but Paniolo Whiskey combines these ingredients to create a uniquely Maui drink.
Distilled pineapple juice is mixed with blended whiskey for a smooth finish to an aromatic spirit.
FID St Hawaiian Gin
A juniper-forward dry gin made with 11 Hawaiian sourced botanicals, FID St Hawaiian Gin is the first Maui gin ever created.
With a clean finish and aromatic bouquet, this is a gin that reminds you of the fresh Upcountry air.
Ocean Organic Vodka
Ocean Organic Vodka was actually inspired by one of the resources Hawaii has huge amounts of: water. Specifically, the desalinated deep ocean mineral water that's found around the Kona coastline of Big Island.
Another abundant Maui resource that's essential to the making of Ocean Organic Vodka is sunlight! Sunlight powers the facility and grows the 30 species of sugar cane that are used in the distilling process. 
Ocean Organic Vodka strikes the right balance between subtle and complex. Thanks to the quality Maui ingredients, Ocean Organic Vodka has a crisp finish that's won the spirit numerous awards. 
Can You Tour Ocean Organic Vodka Distillery?
A tour of the Ocean Organic Vodka Distillery is an interesting way to see the Maui scenery from a different perspective.
Located on the slopes of Haleakala, the environmentally conscious distillery runs a tour that covers everything from the sugar cane to the finished product.
Tours run daily, and operate on the hour from 12pm to 5pm.
Bookings are recommended, and can be made via the Ocean Vodka website, but they do aim to accommodate drop-ins.
If you don't have time for a tour, visitors are welcome to take a look around the café and gift shop. And yes, they do stock more than just vodka. 
Old Lahaina Rum
Old Lahaina Rum is operated by Kolani distilleries, and crafts its products from an old sugar mill in Paia.
The premium handcrafted rums are ideal for crafting cocktails (say hello to your best ever Mai Tai), and for sipping in the sunshine.
Old Lahaina Rum has a taste like no other, thanks to the exclusive Maui molasses used in the distilling process.
Can You Tour The Old Lahaina Rum Distillery?
Tours of the Old Lahaina Rum Distillery are not currently available due to the small size of the premises.
But Old Lahaina Rum has indicated that they'd like to offer tours in the future, so any rum fans should keep their eye out for developments!
Still Thirsty?
If that wasn't enough for you, Maui is home to even more opportunities to grab yourself a local creation. For a classic taste of the island (and some surprisingly good pizzas) head to Maui Brewing Company. They also offer tours of their Kihei location.
Or try the Kohola Brewery Taproom in Lahaina, close to the Lahaina location of the Waikiki Brewing Company!
And for something completely different, check out MauiWine.
Maui's distilleries offer a unique taste of the island, and a chance to see local ingredients and craftsmanship at work. Enjoy a tour, or simply grab yourself a bottle to toast the sunset!