Turo is a car sharing company that's making waves on Maui, due to its convenience, ease of use, and seemingly never-ending vehicle options.
One of the best things to do on Maui is travel around, explore the hidden spots, and watch as the island unfurls before you.
If you're curious about the app, and whether it's different to the mainland, this guide has everything you have to know.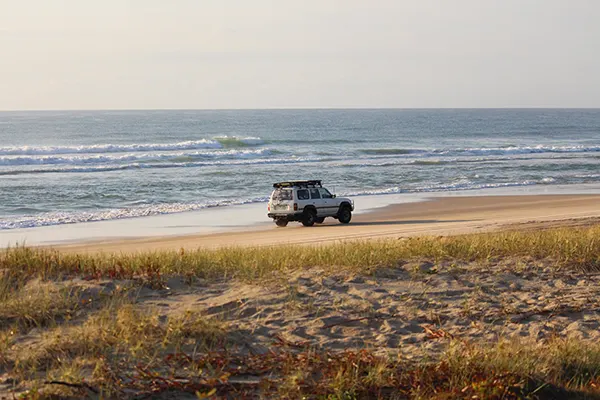 What Is Turo?
Turo is a peer-to-peer car sharing company.
A person can list their car up for rent, and interested parties then assume ownership of the car for a limited time.
It's essentially a car rental service without having to use a car rental company.
Is Turo On Maui?
Yes, Turo is on Maui. 
Although only recently adopted on Maui, Turo is a big business. If you chat with residents, you're likely to find that many of them have put their cars up for rent on Turo.
Turo hit the headlines when a rental car shortage in Maui led to tourists missing out. Residents began listing their cars, and Turo took off.
However, this wasn't the beginning of Turo on Maui. The app has been operating for some time. In its original form, Turo was used primarily for renting out luxury vehicles. 
Many users have established themselves as trustworthy and helpful, with good vehicles available. 
How Does Turo On Maui Differ From The Mainland?
Turo on Maui is pretty similar to that on the mainland. The process for using it is the same, and anyone with experience of Turo on the mainland should be comfortable using it on Maui.
At one point, Turo on Maui was nothing but luxury vehicles for the picky renter. Nowadays, everything with wheels has found its way onto the app. 
There's a differing reputation between Turo on Maui and Turo on the mainland, likely due to its sudden rise in popularity. People are wary of the app, and users on both sides of the rental agreement are worried about being taken advantage of.
However, as usage continues to grow, and bad users start to collect negative reviews, this opinion will like change for the better.
What's It Like Renting A Car On Maui Via Turo?
What kind of thing can you expect when you try renting via Turo?
First, expect some high prices. Rental cars are in demand at the moment, and residents are making the most of the limited market.

Also, expect to see cars that have never been rented before. As more residents become aware of this potential moneymaker, more vehicles become available for hire.
Check to see if the owner has any other vehicles with good reviews.
Insurance can really drive the prices up, which can make Turo a significantly costly option compared to traditional rentals.
Then it's just a case of choosing your car, adding insurance, and sorting everything with the owner.
If you have no experience driving on Maui, you're likely going to want to pay for good insurance.
Everyone's experience using Turo is likely to be different, due to the nature of the service. In many ways, it's like Airbnb.
Some have fantastic hosts and unforgettable stays. Others are left disappointed and out of pocket. Checking reviews is the best way to ensure a good service.
Why Has Turo Suddenly Gotten So Popular On Maui?
Rental cars on Maui have become an institution over the years, as vacationers look for an easy way to travel. However, when visitor numbers hit an incredible low in 2020, the rental car industry saw a huge loss in profits.
Cars were sold, scrapped, or stopped working due to lack of use. With visitors returning, there just aren't enough rental cars to meet demands. 
Turo became the answer. Residents with unused cars, barely used cars, or a nose for profit, began listing their vehicles for hire. Visitors took notice, and Turo exploded in popularity.
Are There Issues Using Turo Cars At Kahului Airport?
One of the best places to rent a car used to be directly from the airport.
With Turo growing in popularity, users have, on occasion, reported having issues with airport staff.
This seems to be a rare occurrence, and fairly easy to navigate. Turo is allowed to drop off rental vehicles at Kahului airport, so you can pick one up and head straight to your resort.
Should You Use Turo On Maui?
Sticking with the big rental companies is often a good choice, but well reviewed users on Turo shouldn't be ignored.
As with any car rental company, there's sure to be some vehicles that aren't worth the hassle. How well it's dealt with depends on just how much you're willing to pay for insurance. 
Much of Maui is only accessible via road, and while buses and rideshares are popular, rental cars remain the top choice for many.