To make the most of your vacation on Maui, you need a way to get about.
Rental cars are the obvious choice, but rideshare services such as Lyft offer new opportunities for easy adventure.
In this guide, we'll cover everything you need to know about Lyft on Maui, and all the best ways to use it.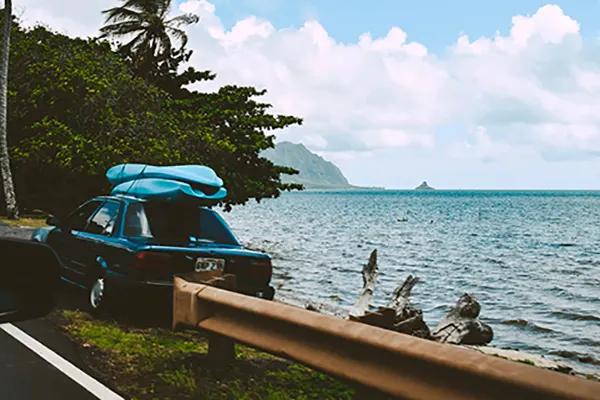 What Is Lyft?
Lyft is a ridesharing company that allows drivers to sign up with their own cars to give lifts to travelers. 
Is Lyft On Maui?
Since 2017, Lyft has been operating on Maui. As a small island with an extensive road system, it's easy to see the appeal of Lyft. 
But Lyft on Maui isn't quite as ubiquitous as it is on Oahu, so although it is useful, don't expect Lyft to be on hand for every trip. 
Driving around the island is the best way to explore all the hidden areas, fascinating towns, and gorgeous sights. But renting a car can get expensive, especially over longer stays.
Busy parking lots can ruin a nice day out. And if you enjoy stopping for a Mai Tai on your travels, having to drive back to the resort does limit what you can do. 
Being able to use a rideshare app makes travel easier when you want an easy way to get about. 
How Should You Use Lyft On Maui?
Using Lyft on Maui is pretty much the same as using a rideshare app on the mainland, although there are a few dos and don'ts to be aware of. 
First, how you should be using a Lyft when you're on Maui.
If you haven't booked yourself a car or a shuttle, then the first thing you're likely to use Lyft for is to get out of the airport. It's generally easy to catch a rideshare from Kahului airport to whichever resort you're staying at.
Kahului is the main airport on Maui, and where the international flights arrive. With so many tourists coming and going, it's generally quick enough to find a Lyft.
Traveling Around With Lyft
Traveling from major town to major town is also fairly easy with Lyft. There are more drivers in the larger areas, who are used to helping tourists get about.
However, try and schedule a ride whenever you can! This handy feature ensures the driver is there when you need them, which can be a real help on rushed mornings.
Taking the time to schedule a pick-up is a game changer if you've been struggling to catch a ride.
Maui has some incredible restaurants and bars to try, and using a rideshare company like Lyft means you don't have to hold back at happy hour. So, you can enjoy a Mai Tai at Monkeypod, and every second of the happy hour at Ohana Seafood Bar and Grill, without worrying about getting back.
Start A Conversation
Make sure to strike up a conversation with your Lyft driver (if they're happy to talk). It's generally long-term residents who do the driving, and they have a fantastic knowledge of the island. 
If you've had a few good experiences with a driver, then it might be worth asking if there's a way to hire them directly.
Opening a dialogue with the driver can get you a personalized service, and they might be willing to take you to some out of the way places.
How Shouldn't You Use Lyft On Maui?
Lyft is an incredibly useful service, but it isn't always what you need on Maui. Before you ruin your trip waiting around on Lyfts and rideshares that never turn up, take a look at the things you shouldn't do.
Don't try and use Lyft to get you to remote areas and small towns.
Even if they can get you there, you're likely to get stuck on your way back. Lyft operates primarily in the bigger tourist resorts, where there are more people around. 
If you do find a Lyft driver to take you to some of Maui's hidden gems, make sure you have a way to get back. A Lyft driver won't want to hang around all day so you can explore, they'll head off and try to find fares elsewhere.
Don't Get Stranded!
Which might leave you stranded. As well as a lack of drivers, a lack of cell phone service can make this kind of travel difficult. Either try and negotiate a journey back, or plan another way back to the hotel.
Avoid using Lyft over long distances, or you'll very quickly find yourself out of pocket. If you couldn't tear yourself away from happy hour in Lahaina, taking a Lyft back to Ka'anapali is a cost-effective way to travel.
But if you're considering lunch in Hana, and you plan on using a rideshare to get back to Kapalua, expect the costs to very quickly add up.
Don't try to use Lyft as your private tour bus, unless you've discussed it in advance.
There are some Lyft drivers who will be happy to take you around the island, dropping you off at local spots, picking you up when you've had your fill, and then driving to the next destination.
But don't book for a single ride, then spring the whole day on them.
Is Lyft The Only Rideshare Company On Maui?
Lyft and Uber both operate on Maui, and tend to occupy the same areas.
There's also a local service, known as Holoholo, that operates in a similar way. Holoholo is a great choice if you want to support local businesses.
Don't forget about Maui buses! The bus runs fairly regularly, is very cheap, and covers most of the major destinations.
If early rideshare trips have left your wallet a little light, then consider catching a bus and saving some cash.