If breakfast is the most important meal of the day, then brunch is the best way to celebrate it.
Brunch is all about taking it easy and enjoying some good food. In Kihei, there's plenty of that to be found.
Breakfast is a big deal on Maui, with many cafés and restaurants opening early. We've found the hottest spots in Kihei, so you can start your day just right.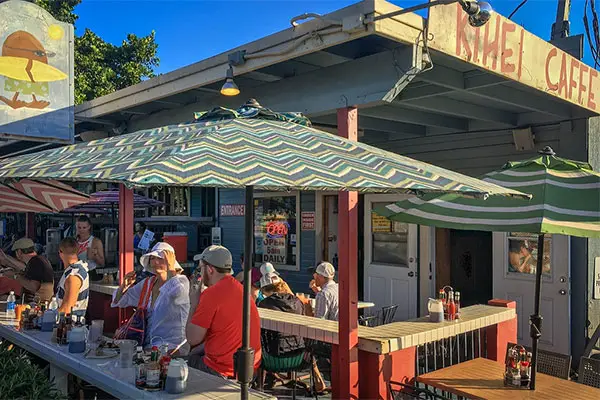 Where to Find brunch in Kihei?
Most restaurants serving breakfast in Kihei do a type of brunch, they just don't really think of it that way. Brunch is a slow and easy meal that fills you up, involving lots of chatter and no worries.
On Maui, that's just how breakfast is. You may not be able to get bottomless mimosas, but you do get lots of great food, all morning long.
Maui breakfast foods tend to be filling, hearty meals with lots of flavor. Classic Hawaiian dishes include loco moco—the Hawaiian breakfast plate—and mac nut pancakes.
Expect to find lots of seafood as well, and local meats served with eggs. A Kihei brunch should fill you up until evening (or at least until an afternoon shave ice).
Kihei Caffe
Kihei Caffe calls itself "the best breakfast in Kihei", so a trip is really a necessity to verify the truth of those claims. It isn't just about the food. Kihei Caffe's motto is "eat, talk, share, and eat some more."
A relaxed attitude captures what makes Kihei such a special place to visit, and you can easily spend a morning soaking up the atmosphere at Kihei Caffe.
Brunch in Kihei Caffe is a big deal, so expect to find a line if you turn up at peak hours.
You can use this time to browse the large menu, and make difficult decisions like, "Loco moco or blackened fish and eggs?" If you still have room, order the blended mac nut frappé. It's delicious, and very filling.
Open daily, 6am to 2pm.
Nalu's South Shore Grill
A casual restaurant with quality food, Nalu's South Shore Grill is a popular restaurant with an incredible brunch. An aloha attitude is found across the open seating area of Nalu's, letting you sit back and relax as you enjoy a large portion of the Big Kahuna Omelette.
Nalu's is a healthier option than many brunch places. The Nalu loco moco uses a tofu patty and piles of vegetables, and the jasmine brown rice adds a healthy spin to the classic loco moco.
Brunch should be a guilt-free meal—guilt is against the brunch vibe—and at Nalu's you can enjoy a hearty dish without the extra calories. Their super food bowls allow you to enjoy the best of the fresh fruit this tropical destination has to offer.
Stick around past brunch to enjoy the live music.
Open daily for breakfast, 8am to 2.30pm. 
Piko Café
If you believe no breakfast is complete without coffee, then Piko Café is the place to go. This is a relatively new brunch destination, but the quality coffee and breakfast treats has made Piko Café a favorite for many already.
At Piko Café, you'll find a good balance of healthy and hearty, with some unusual breakfast items that stand out from the classics.
The Hawaiian French Toast is definitely a highlight, using taro sweet bread and a custard coating. And don't forget the coffee on the side. Expect a bit of a wait, but the friendly and helpful staff will have you served in no time.
Open daily, 8am to 3pm.
Maui Bread Company
This isn't your traditional brunch restaurant, but the food at Maui Bread Company deserves a mention. The freshly baked breakfast treats combine Western and Eastern flavoring perfectly—a German bakery with some distinctly Maui influences.
Using traditional German baking techniques, the Maui Bread Company creates soft and delicious dough that melts in the mouth. Then comes that Hawaiian flavor. Lilikoi, Portuguese sausage, and pineapple are all used (among others) to bring local tastes to the bakery.
They're known on the island as the authority on gluten-free, so if you have any allergies, this is the place to go. 
Open Friday – Tuesday, 7am to 1pm.
Ohana Seafood Bar and Grill
The brilliance of brunch is that it accommodates both a long lie-in and a hearty breakfast. Ohana Seafood Bar and Grill opens at 10am for brunch, allowing you to follow a lazy morning with an unforgettable Kalua Pork Benedict. It immediately captures that holiday feeling.
Ohana is admired for having the longest happy hour on Maui—which is excellent news for brunch lovers. From 10am to 6pm, Mai-Tai mimosas are sold at a bargain price.
Not quite bottomless, but we're not complaining.
Open daily 10am to 10pm. Happy hour from 10am to 6pm.
'Ami 'Ami Bar and Grill
As nice as a long brunch is, if you're vacationing on Maui, you want to spend as much time exploring as possible. At 'Ami 'Ami, breakfast runs from 7am to 11am. Plenty of time to rest, eat, and catch up, without spending all day indoors.
Not that it wouldn't be easy to spend a morning at 'Ami 'Ami. The elegant interiors are spacious and welcoming, with large windows letting golden sunlight pour in.
The menu is simple but classic: Hawaiian specialties and brunch favorites. Those with a sweet tooth should try the banana fosters pancakes. The brown sugar cognac caramel topping is luxurious.
Open for breakfast daily from 7am to 11am. All day menu, 11am to 8pm.
5 Palms Restaurant
For brunch with a view, head to 5 Palms Restaurant. Their gorgeous patio looks out across the stunning vistas of Kihei, creating the perfect pairing for their elegant brunch dishes.
This is a classic brunch menu. Mimosas and Bellini's are served alongside fresh favorites such as avocado toast.
The attractively plated food feels celebratory: be sure to make 5 Palms your brunch place of choice for any special occasions.
Open for brunch daily 8am to 2.30pm. Open for dinner daily from 5pm to 9pm.