Maui doesn't have any actual water parks, but don't worry if you're a fan of aquatic adventure! If you really enjoy the swoosh and splash of the waterslide, there are many resorts and hotels to meet your needs. 
Family-friendly resorts and hotels across West and South Maui often have massive pool complexes with activities for keiki and adults.
Check out our guide to Maui hotels with waterslides, and get ready to take the plunge on your vacation!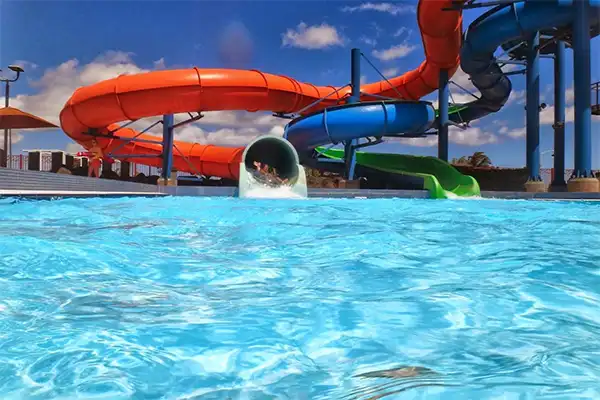 South Maui
Wailea Beach Resort
Wailea Beach Resort doesn't just have a waterslide, it has the longest waterslide on Maui.
Traveling an incredible 325 feet, the Wailea Beach Resort waterslide takes you through twists and turns, before splashing you into the NALU Adventure Pool. Here you can find three more water slides, a splash zone, and even an upper diving pool complete with certified diving instructors.
When the excitement gets a bit too much, guests can turn to the 'Ohi Pools, oceanfront pools that are open for all ages, but a little more low-key. 
Despite the name, Wailea Beach Resort isn't on the beachfront. However, it is tucked between Ulua Beach and Wailea Beach.
And with such an exceptional pool complex waiting for you, there's enough water activities to keep families happy.
Grand Wailea
You can't talk about pools on Maui without mentioning Grand Wailea. The Grand Wailea Canyon Activity Pool is considered by most to be the best pool on Maui. It's basically a water park. (You'll need to stay at the Grand Wailea to access the pool, there's no day pass.)
One of the (many, many) highlights of the Canyon Activity Pool is the lava tube slide.
It covers 262 feet, reaches speeds of up to 22 miles per hour, and drops over 30 feet. It's a waterslide to really get your heart in your mouth! 
The Canyon Activity Pool also has 5 intertwining slides, a Tarzan rope swing, and way too much else to list. Located behind Wailea Beach, Grand Wailea is one of the most family-friendly luxury resorts on Maui.
Fairmont Kea Lani
Don't you hate the moment when you want to travel from one lagoon-style pool to the next, and you have to get up and walk all the way over? It completely ruins the fun!
Thankfully, Fairmont Kea Lani have connected their two lagoon pools via a 140-foot waterslide, zooming you all the way from the top pool to the bottom!\ Fairmont Kea Lani doesn't have the water park excitement you can find in other resorts, but they do have an awesome waterslide.
There's also two whirlpools and a basketball hoop, plus pool toys available on request. And it has the largest standard rooms of all the Wailea resorts!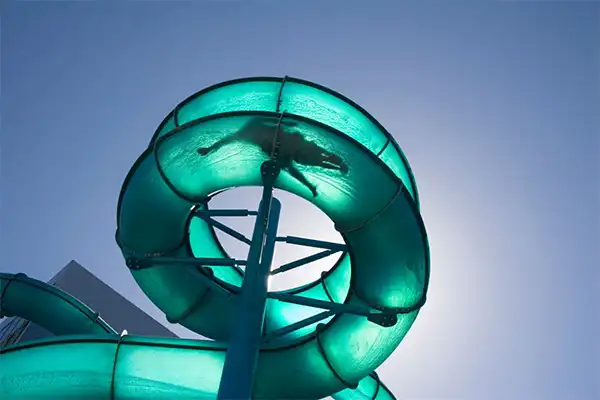 West Maui
Hyatt Regency Maui Resort And Spa
There are six free-form pool areas at Hyatt Regency Maui Resort and Spa, so you can expect quite a range of aquatic excitement.
And, yes, that includes a waterslide. A 150-foot lava tube waterslide zooms you around the Ka'anapali resort, reaching incredible speeds and taking your heart rate up a gear!
Ka'anapali is a family-friendly resort area, and the Hyatt Regency Maui Resort and Spa has plenty to make keiki smile.
As well as the waterslide, they can enjoy whirlpools, rope bridges, and an interactive children's pool. 
Honua Kai Resort And Spa
Sitting directly behind Ka'anapali Beach. Honua Kai Resort and Spa has a lot to do to live up to the natural setting! With a 3-acre aquatic adventure park, we think they do a pretty great job.
As well as waterslides, Honua Kai Resort and Spa has waterfalls, fountains, caves, an actual sandy beach, and five hot tubs to play in!
Honua Kai Resort and Spa is an excellent option for families who want a fun-filled Maui vacation.
The aquatic activity pool is combined with spacious rooms and a convenient setting, and is fantastic for younger and older children.
Westin Maui Resort & Spa, Ka'anapali
The pool at Westin Maui Resort and Spa, Ka'anapali, covers an impressive 87,000 square feet.
Well, we say pool. This is actually the Kawaiola Aquatic Playground, made up of six pools, including a serene adults-only infinity pool, and an interactive splash zone for keiki.
At the heart of the Kawaiola Aquatic Playground is the Westin's iconic 270-foot waterslide. It twirls, spins, and dips, creating a thrilling experience for anyone who takes the (literal) plunge.
Sheraton Maui Resort And Spa
The Sheraton Maui Resort and Spa is designed to connect to the natural environment, with an emphasis on the oceanfront setting.
But while Ka'anapali Beach has a lot, it doesn't have a waterslide. Luckily, the Sheraton Maui has you covered. 
The Sheraton Oceanfront Lagoon Pool is set among the lush gardens of the resort, with several pool areas connected by lava-rock walkways. If you prefer to travel at speed, the waterslide is exhilarating fun.
Marriott's Maui Ocean Club
For families looking for something serene, the Marriott's Maui Ocean Club is an ownership resort located on Ka'anapali Beach.
With large rooms and condos providing families with ample space, this is an excellent destination for tranquility.
Now, "tranquility" and "waterslide" might not naturally go together, but Marriott's Maui Ocean Club makes it work! The pool area is expansive, and you'll feel like you could spend all day exploring it.
Westin Nanea Ocean Villas, Ka'anapali
Westin Nanea Ocean Villas, Ka'anapali, doesn't have the thrills and spills of other waterslides, but it does have a fantastic aquatic park for younger children, and peaceful pools for adults.
Don't expect a water park experience, but at laid-back Westin Nanea Ocean Villas, you can still have a good time. And located just behind Ka'anapali Beach, there's no end of aquatic opportunities to keep everyone happy.
Final Thoughts
We've rounded up the best waterslides on Maui, from those that wouldn't be out of place at a water park, to smaller slides perfect for keiki.
There aren't any water parks on Maui, so if you do want that exhilaration, then you should look at what the hotel pool can provide!
We've tried to cover all the waterslides on Maui, but be aware that we might have missed some smaller options!