Nine individual pools, six different levels, five intertwining slides, four jungle pools, three jacuzzies, a whitewater rapids slide, and the first ever water elevator, the Canyon Activity pool at the Grand Wailea is spectacular.
Guests at the Grand Wailea can enjoy the activity pool throughout the day (when they aren't out exploring Maui, of course). But what about the non-guests?
Sadly, if you want to try the Grand Wailea pool, you need to book a stay at the Grand Wailea.
Read on to find out the details.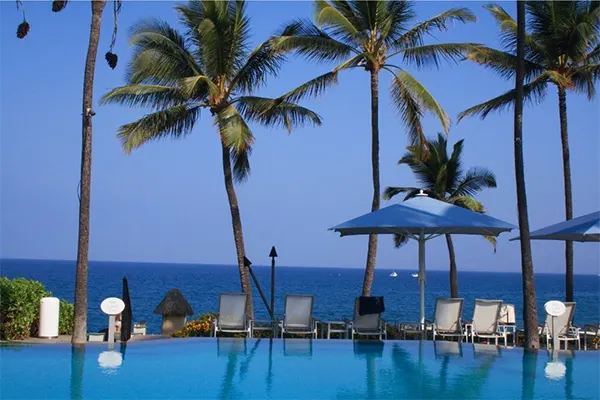 Can Non-Guests Use The Grand Wailea Pool?
The Canyon Activity pool at the Grand Wailea is one of the major attractions of the resort, featuring slides, activities, and even several waterfalls.
Unfortunately, the pool at the Grand Wailea is only available to those staying at the hotel.
The spectacular pool complex is often considered to be the best pool on Maui, so it's no wonder many non-guests want to try it. But to dip your toes into the Grand Wailea pool, you need to be a guest at the hotel.
Can You Pay To Use The Grand Wailea Pool?
Although in the past the Grand Wailea has offered one-day pool passes, that service is rarely available. Most times, you can't pay just to use the Grand Wailea pool.
A stay at the Grand Wailea can be a magical vacation, but not everyone has the budget for this luxury hotel.
And while there are many reasons to stay at the Grand Wailea, there are plenty of other luxury Maui resorts that might catch your eye.
However, nowhere else on Maui has a pool quite like the Grand Wailea. The Canyon Activity pool is a water park adventure, and even the calming adults-only hibiscus pool is high quality.
If you're staying elsewhere on the island, you might be curious about trying out the Grand Wailea pool, without committing to a room.
Try The Pool Pass
The Grand Wailea has, on occasion, sold a pool pass. This pass would allow non-guests a chance to experience the water park, without having to pay for a room.
However, it has been a while since these day passes were regularly on sale, and it's never been a sure thing. Whether the Grand Wailea has day passes available is likely determined by how busy the hotel is, and the reality is that they rarely have an off season.
The Canyon Activity pool at the Grand Wailea can get incredibly busy. Because of this, there's no space for non-guests. The pool has to be reserved for guests, so they can enjoy the slides and activities in comfort.
If you are curious about passes, try contacting the Grand Wailea. On the rare occasion the resort is quiet, you may have a chance to buy a pass.
Another option to consider is booking a short stay at the Grand Wailea. That allows you to spend as much time in the pool as you like!
Save money by spending the rest of your vacation in a smaller resort, and making the most of Maui's numerous free beaches.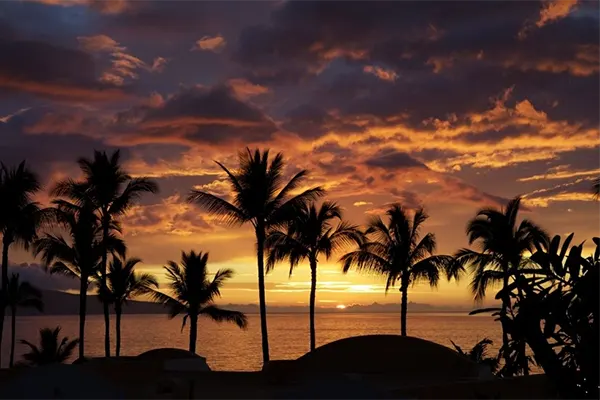 Can You Walk Through The Grand Wailea?
Yes, but a wristband is needed for the pool. 
The Grand Wailea is an attractive resort with some incredible amenities, including a fabulous pool. If you want to get a better look at the hotel, then you should probably book a meal at one of the on-site restaurants.
Hawaiian cuisine is found at Humuhumunukunukuapua'a, the premier restaurant at the Grand Wailea. This award-winning restaurant overlooks a beachfront lagoon, and serves Hawaiian flavors with an artful twist.
Bistro Molokini blends American flavors with Mediterranean inspiration for a delicious dining experience.
And, of course, Grand Wailea offers a luau.
Visit one of the Grand Wailea restaurants, and you can have a chance to sneak a peek at the resort, or check out other places to eat in Wailea. But even restaurant-goers don't get the opportunity to experience the pool! That's exclusively reserved for guests.
My Friend Is Staying At The Grand Wailea, Can I Use The Pool?
If you have friends staying at the Grand Wailea, they may, very kindly, offer you a chance to try out the pool. But as tempting as it may be, you should turn them down.
Not only do you risk getting kicked out if you're caught, but your friends could face some serious consequences.
The Grand Wailea typically uses a wristband system for guests who wish to use the pool. The guest heads down to reception, provides their name, room number, and key, and gets given a wristband.
The wristband will probably be applied by a member of staff, but you may get a chance to put it on yourself. Wristband colors change daily, to stop people from stealing old bands.
If your friend doesn't intend to use the pool, they might suggest that you go and claim the wristband. But security guards around the pool are likely to catch you, and you won't get to spend the day with your friend (who won't be able to claim another wristband).
Those using the Grand Wailea pool without a wristband will get caught quickly, and asked to leave. If you still fancy taking the risk, you should try and keep your wrists below the water at all times.
(Find out if staying at the Grand Wailea is worth it for you.)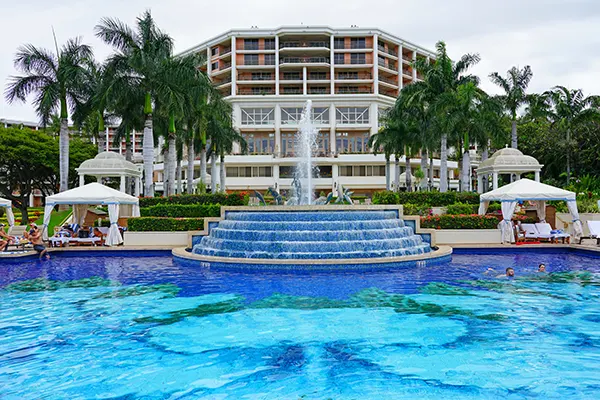 Can You Get A Day Pass For The Grand Wailea Spa?
For a little more relaxation on your vacation, you might enjoy the opportunity to check into a spa.
Maui is known for having some excellent spa facilities, thanks to the combination of natural resources and luxury resorts.
Non-guests are invited to use Mohalu by Spa Grande at the Grand Wailea. The Mohalu spa offers massage and aromatherapy treatments, facials, and nail treatments.
You can even book some healing sessions, which include wellness assessments and healing transformations!
As you would expect from a spa in this level of resort, the treatments aren't exactly for those on a tight budget. And the bad news is, access to the spa doesn't grant you access to any of the hotel's other services.
So, if you want to reinvigorate with a quick go on the water slides, you will have to pay for a room.
Those who've booked a visit to the spa are welcome to visit the retail space, and book dinner at one of the Grand Wailea's restaurants.
Can You Get A Day Pass For The Grand Wailea Beach?
If you've found yourself eagerly pouring over pictures and videos of the Grand Wailea beach, you might wonder how you can get a chance to experience this exceptional location.
Wailea Beach, the strip of coast directly in front of the Grand Wailea resort, is a highlight in an area that already has a lot going for it.
Also, as a popular haunt of the rich and famous, it's the perfect beach for celebrity spotting (and livening up your Instagram feed).
Wailea Beach, like all the beaches of Maui, is public access. So, even if you aren't a guest at the Grand Wailea or the Four Seasons, you're more than welcome to lay down a towel.
Do Any Maui Hotels Offer Day Passes?
Day passes aren't common on Maui, but travelers can sometimes buy them.
The Fairmont Kea Lani and the Andaz Maui have both offered day passes, and other Hyatt and Aston resorts have also been known to sell passes.
In resort towns such as Wailea and Ka'anapali, a day pass can be an excellent chance to relax in a little luxury, and out of the heat.
Resorts generally have restaurants and even retail spaces that can be accessed by the public, but a day pass provides access to the pool and lounge areas.
Day passes are often sold when there are empty rooms in the resort. This is a time when you can expect a slightly quieter pool area, leaving space for non-guests who want to visit.
Unfortunately, Maui doesn't have a traditional low season. You might find it easier to book a pass in the quieter months around February or March, and September or October.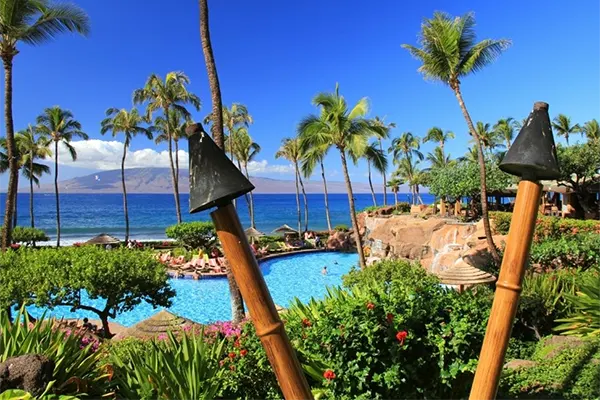 Which Maui Resort Has The Best Pool?
It's impossible to give a definitive answer to the best pool on Maui, but most people will agree that the Grand Wailea is tough to beat.
The Canyon Activity pool at the Grand Wailea is more than just a pool — it's a water park built into a hotel.
There are six waterfalls. It's home to the world's first water elevator. There's a lazy river, a rope swing, and five intertwining slides. There's even a sandy beach area.
Guests at the Grand Wailea have been known to say "there are beaches on Maui?" after spending an entire vacation in the Grand Wailea pool.
Okay, maybe nothing can distract from the Maui beaches, but the Canyon Activity pool comes pretty close.
In terms of size, the pool at the Ritz-Carlton in Kapalua is spectacular. With three-levels covering over 10,000 square feet, there's ample room for every sun lounger and inflatable.
The Montage is another Kapalua Bay resort with an impressive pool. The fantastic design blends seamlessly with the gorgeous landscape.
In nearby Ka'anapali, the Fantasy Pool at the Hyatt Regency is a dreamy destination for adults and children.
Other Wailea pools worth seeing can be found at the Fairmont Kea Lani, the Four Seasons Maui, and the Andaz Resort. These luxury destinations are home to opulent pool complexes.
An Occasional Luxury
Although the Grand Wailea does on occasion offer day passes, they're a rare thing. And if you can get your hands on one, it might cost you almost as much as a room in the hotel.
For families, it can be worth it for a chance to experience the incredible pool. Otherwise, you might prefer to head to free Wailea beach, which is widely considered among the best on South Maui.
Other Places To Stay In Maui
We've written quite a bit about all of Maui's available lodging, and continue to do so, but we wanted to share a few more places to stay from our friends at Booking.com. 
A Resort Stay: The Four Seasons Resort in Wailea is the cream of the crop of resort stays, with restaurants, ocean views, an on-site spa, and the Shops at Wailea are just down the road. Couples particularly love The Four Seasons!
Bed and Breakfast: Sometimes, it's all in a name, and Adventure in Paradise is exactly what it sounds like, located in Haiku on Maui's north shore. Wake up to a 180 degree view of Haleakala summit every morning from your private patio.
Hotel: The highly rated Maui Sunset hotel combines laid-back atmosphere and the beach of Waipuilani Park. Also, it's only 1.7 miles from the Elleair Maui Gold Club!
Vacation Home: Find your home away from home at Puu Koa Palms, six minutes from Hookipa Beach, and near the Hana Highway. Also particularly great for couples!
Villas: If you're looking to vacation in style with your own villa try the Andaz Maui, which include all the expected amenities along with grills and plunge pools.