Maui has never been known as a budget-friendly location, but first time visitors might be surprised by the price of a hotel room.
A single nigh can set you back several hundred dollars, with luxury resorts charging more than $1000 for only a short stay. A Maui hotel isn't cheap, to say the least.
The reasons for this become clear when you look at where these hotels are, what's included in the price, and the average price of amenities on Maui. Hotel prices may be high, but they are comparable to other necessities in Hawaii.
To find out more about why Maui hotels are expensive, and whether you can find a cheaper stay, read this guide.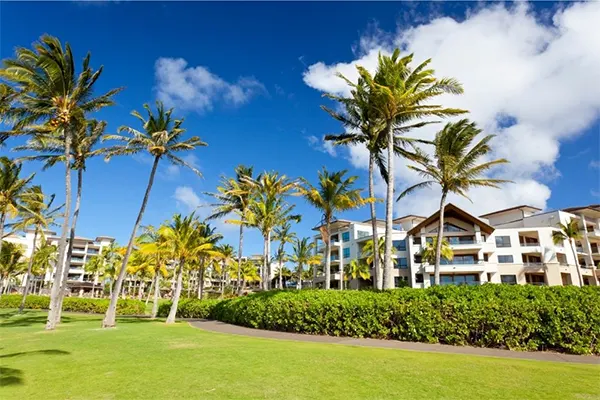 There's Plenty Of Demand
Maui is a dream destination for people, with sunshine, surf, and adventure all contained on one gorgeous island. So, hotels don't worry about filling rooms that can be found in other tourist destinations.
Instead of discounting rooms to attract visitors, they can increase costs.
And to add on to that, Maui doesn't experience an off season.
There are a few quiet months at either end of the summer, but no real lull in visitor numbers.
Hotels choose their prices based on supply and demand. But with so much demand for Maui, hotel rooms are consistently full, and prices stay consistently high.
And speaking of supply and demand, that brings us to the next point.
Maui's Hotels Are On Premium Locations
Step outside the front door of your Maui hotel, and you're likely to find yourself a few feet away from one of the greatest beaches in the world.
Many of Maui's resorts and hotels are located right by the ocean, in unforgettable locations with spectacular views. And that all adds to the price.
Maui is not a large destination. Although it's the second largest of the Hawaiian islands, it's still only 735 square miles. 
And when you consider that a lot of Maui is windward, and covered in lush greenery with consistent rain, then the potential areas for hotels gets even smaller.
The Upcountry and East Maui may have some amazing destinations, and a few places to stay, but the areas don't cater to the resort stays of West and South Maui.
Hotel owners tend to flock to the beach fronts of Maui, which is what we all would do if we could. The end result is fewer budget hotels in less desirable locations, and more expensive resorts located right on the beach.
This is part of the reason why Maui hotels are expensive compared to other Hawaiian islands. There just isn't the same number of budget options tucked in out-of-the-way places.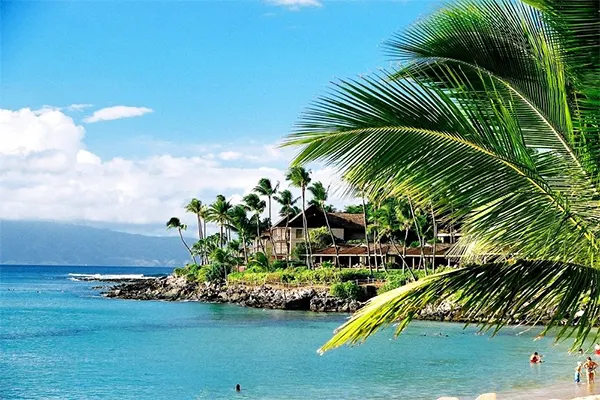 Many Of The Hotels Are Luxury Resorts
If you want to stay in the Grand Wailea or the Four Seasons, you aren't just getting a room with a bed. Instead, you get access to premium accommodations, a range of activities, some of the best restaurants on Maui, and luxurious pools.
In fact, if you stay in the Grand Wailea, you have an entire water park on your doorstep. But all these features are included in the costs.
Although there are some hotels and areas that are slightly more budget friendly, the big tourist resorts tend to deal in luxury. If you're hoping to stay in tourist towns such as Wailea or Ka'anapali, then you have limited options, and a small price range.
(Almost) Everything Is Expensive On Maui
Take a look at the map, and you'll notice just how far away from the mainland United States that Maui is. 
Because of this distance, transporting food, drinks, building materials etc. comes at a cost. If you've been to Maui, you've likely noticed that everything from breakfast in the morning to a taxi ride at night is expensive.
This adds to the expense of hotels. For a start, the hotel has to pay more to keep supplies stocked and guests happy. This is reflected in the final price tag.
Second, when flights and general costs are higher, it limits who can come to Maui. Those with a larger budget are less likely to be looking for cheaper hotels.
Are There Any Budget Hotels On Maui?
It is possible to find a cheap hotel on Maui, but you have to prepare in advance. You're unlikely to come across any last minute deals if you leave it too late. Instead, prices will rise as rooms start to fill.
That's the first thing you need to do: book early. Start your planning far enough in advance that there is a wider choice of hotels, and therefore a wider price range.
Second, consider the area you're looking in.
A Wailea oceanfront resort may be a dream, but it will never be a budget location.
Instead, consider hotels further away from the beach, and in quieter areas. Try looking outside West and South Maui, in Central Maui or the North Shore. There are hotels in East Maui as well, which can generally be cheaper.
Maui doesn't have a traditional off season, as it's packed with visitors year round. But April to May, and September to November, tend to be slightly quieter. At this time of the year, Maui hotels are a little more affordable.
Other Places To Stay In Maui
We've written quite a bit about all of Maui's available lodging, and continue to do so, but we wanted to share a few more places to stay from our friends at Booking.com. 
A Resort Stay: The Four Seasons Resort in Wailea is the cream of the crop of resort stays, with restaurants, ocean views, an on-site spa, and the Shops at Wailea are just down the road. Couples particularly love The Four Seasons!
Bed and Breakfast: Sometimes, it's all in a name, and Adventure in Paradise is exactly what it sounds like, located in Haiku on Maui's north shore. Wake up to a 180 degree view of Haleakala summit every morning from your private patio.
Hotel: The highly rated Maui Sunset hotel combines laid-back atmosphere and the beach of Waipuilani Park. Also, it's only 1.7 miles from the Elleair Maui Gold Club!
Vacation Home: Find your home away from home at Puu Koa Palms, six minutes from Hookipa Beach, and near the Hana Highway. Also particularly great for couples!
Villas: If you're looking to vacation in style with your own villa try the Andaz Maui, which include all the expected amenities along with grills and plunge pools.