Kapalua is home to some of Maui's finest dining — and we don't just mean the luxury resort restaurants! Everything from burgers to sushi are excellent in Kapalua, and it has some of the best coffee around.
Take a look at our guide to the best places to eat in Kapalua.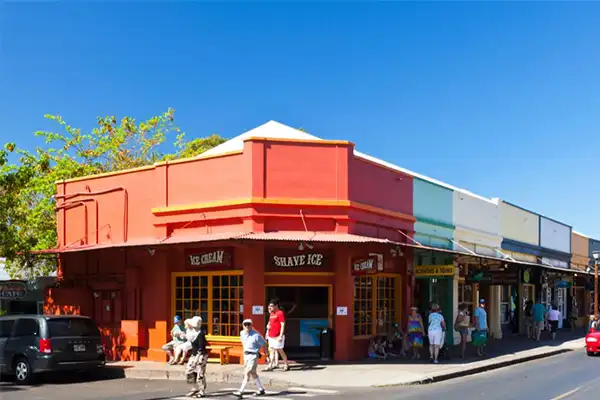 Sansei Seafood Restaurant And Sushi Bar
You'll start to get an idea of just how good the food is at Sansei when you see the queue that's typically coming out the doors.
Sansei Seafood Restaurant and Sushi Bar is one of the best places to get sushi on Maui, thanks to a large menu that blends classic simplicity with creative originality.
Bring a large group, and sample as many of the rolls as you can. And don't worry if you have some non-sushi fans with you.
Sansei steaks are delicious, and the varied menu should have something to please all tastes. The prices are reasonable for quality sushi, making this an excellent spot for a celebration. 
Open daily from 5pm to 8:30pm.
Merriman's Maui
Merriman's is a champion of farm to table dining, which means at this Kapalua location you can find a menu packed with fresh seafood, juicy meats, and the best seasonal produce.
Expect a warm aloha atmosphere, and a menu that draws inspiration from the cultural mix of Maui.
The changing menu makes the most of what the Maui landscape has to offer, and complements local flavors with an incredible oceanfront setting.
This is a wonderful date night restaurant, but the keiki menu offers something for families hoping to enjoy a special occasion. 
Open daily from 4pm to 8:30pm.
The Banyan Tree
Vibrant flavor is key to the menu at the Banyan Tree, one of the Ritz-Carlton Kapalua's luxury restaurants. The food is inspired by the location, with an emphasis on sustainable seafood.
The Banyan Tree has a friendly and buzzing atmosphere, with a gorgeous wrap-around wooden bar and outside seating with views along the coast.
Creative plating means the food looks as good as it tastes. Save room for a cocktail (or two, or three). The cocktail list is small, but like the food, they make the most of the local flavors.
We recommend the Banyan Tree Mai Tai as an essential addition to any meal.
Open daily from 5pm to 9pm. 
The Pour House Italian Kitchen And Wine Bar
A family-run restaurant serving authentic Italian cuisine, The Pour House is the place to go in Kapalua for pasta. The menu focuses on Italian classics, combining Italian ingredients with fresh local produce.
We recommend trying something from the burrata bar, before diving into a fresh plate of pasta. The Pour House is the perfect place to enjoy an evening with friends—and a bottle of wine—but advanced booking is highly recommended.
Stop by in the morning for crêpes at the sidewalk café, or treat yourself to a hearty lunch.
Open daily for dinner from 5pm to 9pm. Open Tuesday to Sunday for breakfast 7:30am to 2pm, lunch 11:30am to 2:30pm.
Cane And Canoe
Cane & Canoe is the signature restaurant at the Montage resort in Kapalua. With interiors inspired by traditional canoe houses and a setting overlooking Kapalua bay, this is luxury dining.
Hawaiian influences and local produce are used to craft creative entrées. The quality of the ingredients and the skill of the chef brings the modern menu to life. Just as good as the food is the drinks list.
Choose your wine from the curated list, and finish your meal with a selection from the cocktail menu. Cane & Canoe is a restaurant infused with elegance, so book a table when you're looking for a romantic evening. 
Open daily from 5:30pm to 9pm.
The Plantation House Restaurant
After a round of championship-level golf, grab a bite to eat at the Plantation House Restaurant. Although, the food here is so good you might be tempted to leave out the golf altogether.
There's something to appeal to everyone on the large menu, including a keiki selection that's more than just chicken nuggets.
For kids who are happy to try something new, the Plantation House serves Maui and Hawaiian short rib, followed by a delicious pineapple upside down cake!
The Plantation House also has a fantastic breakfast and brunch menu, sure to prepare you for the trickiest of tees.
Open daily for brunch from 8am to 2pm, for dinner from 4:45pm to 8pm.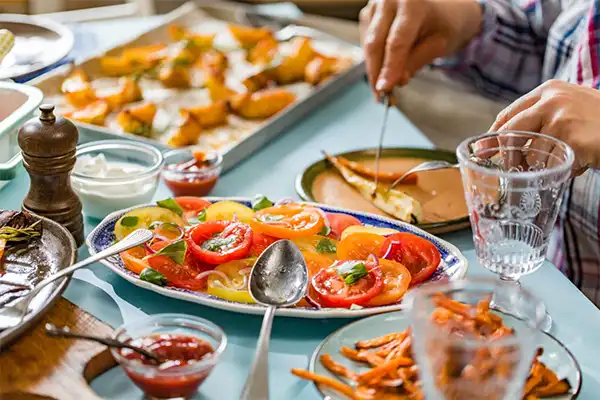 Taverna
You're greeted by tiki torches as you make your way to Taverna, so you might be surprised to find the classic Italian fare that makes up the menu.
House-made pasta and wood-fired pizzas form the heart of a menu that provides comfort food flavors. We love the craft cocktail bar, but the wine list is equally impressive.
Try and grab a table outside, where you can enjoy attractive mountain views. A great family restaurant with a nice keiki menu, stop by for brunch on a Sunday morning, or dinner after a long day out.
Open for dinner daily from 9pm to 5pm. 
Burger Shack
Burger Shack serves loaded burgers with a beachfront view. Located by D.T. Fleming Beach, Burger Shack is just what you need after a morning spent exploring the Kapalua Coastal Trail.
If you need to cool down after relaxing in the sunshine, try one of their amazing shakes. Or sink into island life with a Burger Shack cocktail. 
Open daily from 11am to 4pm. 
Honolua Store
Plate lunches and island style breakfasts are available at Honolua Store, a Maui deli that caters to big appetites.
Stop by before a busy day exploring to grab yourself a sandwich on the go, or try the Island Breakfast Deluxe. As good as the breakfast is the coffee, and the chilled out aloha atmosphere.
Deli open daily from 7am to 2pm. 
Final Thoughts
Kapalua is home to some of the best restaurants on Maui. Even the deli stores are high quality!
Settle in for breakfast, brunch, lunch, and dinner in Kapalua.