With glimmering seas surrounding the Hawaiian islands, it's no wonder that cruise ships often make a stop on Maui. 
Cruise ships visiting Maui either dock at Kahului, or Lahaina, two very different towns. Visitors to Maui will find plenty to keep them occupied in either area, from the shopping hubs at Kahului to the historical heart of Lahaina.
To learn more about where cruise ships dock on Maui, and what visitors can do to make the most of their time, read on.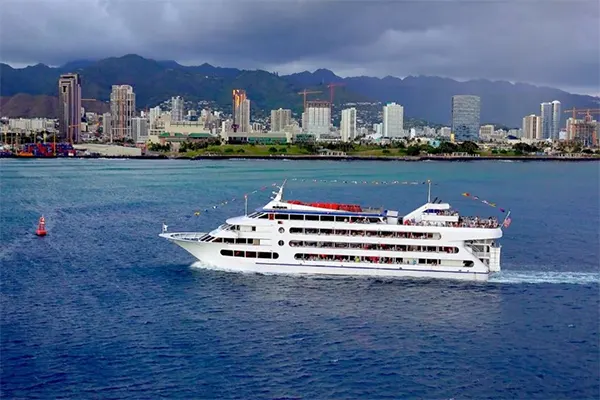 Kahului
Kahului is a town on Maui with a deep-water port, and this is where large cruise ships dock when they visit Maui. Kahului is a commercial hub, and as well as the port it's also home to Maui's major airport (OGG). 
Kahului is a residential area of Maui with light industry and plenty of shopping. Although it isn't considered to be a tourist town, there's still plenty to do in Kahului. Many visitors will enjoy exploring the shops, trying the local foods, and taking a trip over to the beach.
There are also regular public buses leaving from Kahului to the historic tourist town of Lahaina. Buses are typically cheap, but they can be busy. 
Things To Do In Kahului:
Kanaha Beach County Park. A beach trip is the perfect way to spend a day on Maui, and Kanaha Beach Park is a bit of an undiscovered gem. Like nearly all of Maui's beaches, it's world-class, with sparkling waters surrounded by sea cliffs. Lay back, and watch the kite surfers navigate the waves.
Kanaha Pond State Wildlife Sanctuary. Formerly a royal fishpond, the Kanaha Pond is now a wildlife sanctuary for Maui's incredible waterfowl. A quiet and peaceful place, take a moment to spot interesting fish and rare birds. 
Maui Nui Botanical Gardens. Dedicated to preserving and protecting the fauna of Maui, the Maui Nui Botanical Gardens are a serene spot to discover more about Maui history and culture. Your entry fee goes towards growing and supporting the collection.
Baldwin Beach Park. Along the road from Kahului and on the way to the charming town of Paia is Baldwin Beach Park. Known for attracting windsurfers and bodyboarders, lucky visitors might get a chance to spot sea turtles on the sand. Head to Baby Beach, an enclosed cove of Baldwin Beach Park, for somewhere to swim.
Maui Arts and Cultural Center. The Maui Arts and Cultural Center, aka MACC, boasts performances from global superstars and local innovators. Be sure to check out the Schaefer gallery, which hosts exhibitions throughout the year. 
Grab a bite to eat. Restaurants and cafés are growing in Kahului, and visitors may be surprised by the range of food on offer. Bistro Casanova is the best Italian on Maui, while Tin Roof offers plate lunches that are a cut above.
Shop. Kahului is perhaps best known as the place to shop on Maui. The Maui Mall and the Queen Ka'ahumanu Center are home to a mixture of local Maui stores and chain shops, so you can get all your gifts (and a whole new wardrobe) in one place. Visiting on a Saturday? Make sure to stop at the Maui Swap Meet. Get there early to find the best crafts and foods.
Tasaka Guri-Guri. What is Guri-Guri? A mixture of soda, condensed milk, and juice, Guri-Guri is commonly described as blending sherbet and ice cream. But exactly what Guri-Guri consists of is a closely guarded secret. Be prepared to queue for a scoopful of this unforgettable dessert at the Maui Mall, which has collected fans from around the globe.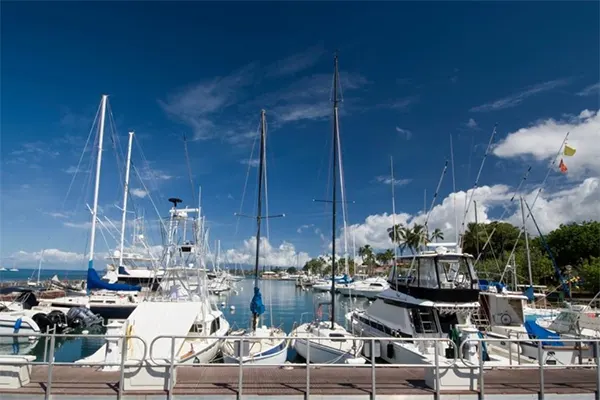 Lahaina
The busiest town on Maui gets busier when cruise ships dock at Lahaina Harbor. Historic Lahaina was once the capital of the Kingdom of Hawaii, and a rich sense of culture can still be found on the streets of this tourist town.
Cruise ships anchor in the harbor at Lahaina, and passengers can tender to the cultural hub. Buses run from Lahaina up West Maui, and there are typically plenty of taxis around. But there's no need to leave Lahaina! Fantastic restaurants and cultural delights are found across the town. 
Things To Do In Lahaina:
Wander Front Street. Historic Front Street is home to some of the best restaurants and shops on Maui. Laid back visitors can spend an entire day exploring everything that Front Street has to offer. Stop for a bite to eat, wander through the galleries, and pick up all the souvenirs you need.
Take a historic walking tour. Lahaina was once the capital of the kingdom of Hawaii, and it's history as a royal residence stretches through the centuries. Take a self-guided walking tour, which can direct you to numerous interesting sites across Lahaina. 
Old Lahaina Luau. If you're staying for an evening, then a luau is a wonderful way to immerse yourself in Maui culture. The Old Lahaina Luau is the most authentic luau experience around, pairing classic Hawaiian foods with traditional dance and music.
Banyan Tree Court. The Banyan tree is the oldest living tree on Maui, and the expansive trunk system is a lovely place to sit and soak up the atmosphere. Come on the right day, and you might find a market beneath the shaded branches.
Ka'anapali Beach. North of Lahaina town is Ka'anapali, a resort area known for having one of the best beaches in the world. Maui's beaches are in a class of their own, and Ka'anapali combines soft sands, clear seas, and a vibrant atmosphere. It's a very short drive from Lahaina, or a longer walk.
Baldwin Home Museum. The oldest house on Maui, the Baldwin Home Museum is a fascinating look at how missionaries influenced Maui. Friday nights are often host to live music, and candlelight tours of the house.
West Maui Mountains. The diverse landscape of Maui makes it a remarkable place to explore on foot, by car, or even from the air. The West Maui Mountains are home  to some of Maui's most amazing natural features, and they're accessible from Lahaina.
Whether your cruise docks in Kahului or Lahaina, there's always plenty to discover on Maui!