Hawaii is the home of surfing, with some of the world's best breaks to be found crashing onto the beaches of the various islands. While the Oahu North Shore may get the most attention, the swells of Maui can more than hold their own. Particularly Jaws, the most famous of the Maui breaks.
Jaws, breaking off the North Shore of Maui, is a wave with a reputation as ferocious as its name. Only experienced surfers are recommended to tackle this beast, but most visitors will get a thrill watching the talented few take on the break. 
If you want a chance to see Jaws for yourself, preferably from the distance of the lookout, read this guide. We have everything you need to know about his North Shore wave.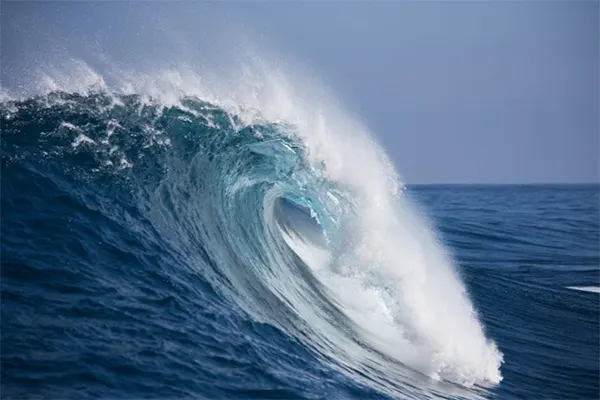 What Is Jaws?
Jaws, otherwise known as Pe'ahi, is one of Maui's most famous residents.
Despite spending sometimes less than a week a year visiting the island, the reputation of Jaws has visitors flocking from around the globe whenever the giant wave makes a visit.
Jaws is a world-famous surfing break, known for immense height and speed.
But Jaws isn't just about size. Underwater reefs cause a clean barrel, while left and right winds lead to a versatile swell. Jaws is also known for being unpredictable, breathtaking, and incredibly intimidating.
Where Is Jaws On Maui?
Jaws is found on the North Shore of Maui, on a quiet stretch of the coast just past Haiku.
Visitors on the Road to Hana can take the opportunity for a spot of surf watching, but on days when Jaws is at its finest, crowds get big from early in the morning. 
How Do You Get To Jaws On Maui?
Jaws can be accessed from West and South Maui by following the Hana Highway. Pass through Paia, and carry on along Route 36. The road leads you through the town of Haiku.
At this point, you'll pass the Haiku Community Center. These are the last restrooms before Jaws, so we recommend making a stop.
Past Haiku, the road begins a steady incline. Pass the "Valley Isle Cemetery" and you reach the typical parking area for Jaws. If the wave is hitting that day, you'll know you've reached your destination by the crowds of parked cars.
To get to the viewing point, you need 4×4 or sensible footwear.
We highly recommend walking rather than attempting to drive down. Sudden rainfall can leave the road slicker than ice, and if you get your vehicle stuck, be prepared for some unhappy residents.
If you do plan on walking, park alongside Pe'ahi Road, East Kuiaha Road, or Hahana Road, and follow the dirt track. On days when Jaws is at its best, you're likely to find a crowd to follow.
Keep a close eye on the road—distracted and excited drivers can make the journey almost as dangerous as the wave itself.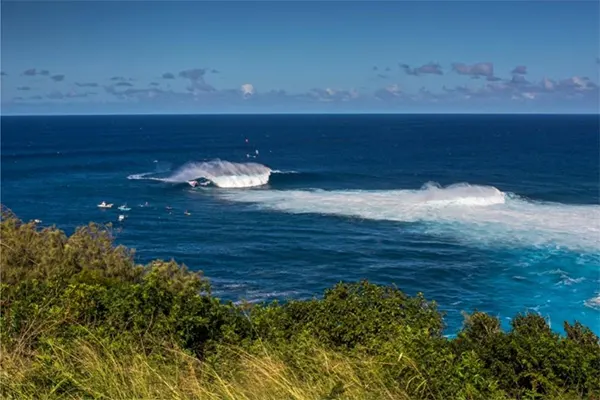 The viewing area is located around a mile away from the highway. Pack plenty of water and snacks, as it can get hot.
There aren't any facilities nearby, and the cliff edge is dangerous, so think twice before bringing children. But don't hesitate to bring your binoculars and a camera with a telescopic lens!
As for actually getting to the wave, Jaws is best known as a tow-in break. In fact, it was at Jaws that surfing superstar Laird Hamilton, among others, first demonstrated tow-in surfing.
Tow-in surfing uses a jet ski or watercraft, or even helicopter, to drop the surfer off right in front of the wave. It allows the surfer to catch big swells that break at a distance.
Nowadays, paddling is a popular way to tackle Jaws. It's only recommended for those with an impressive amount of arm strength, and a significant amount of confidence. You can set off from the shores of Pe'ahi, or paddle in from Maliko Gulch. 
Why Do They Call It Jaws?
Jaws in Maui is one of the best-known surf breaks around, with a name that conjures up images of a ferocious swell packed with teeth. 
Honestly, this is pretty accurate. Jaws took its name from Spielberg's 1975 shark-attack classic because the terror you feel in the face of the incredible break is akin to what you might feel being preyed on by a giant shark.
Jaws is huge, pushing up to 70 feet and barreling along at speeds up to 30 miles per hour. And it doesn't come quietly. The roar of Jaws can rattle the bones of even distant spectators. It's unpredictable, shifting, and rarely what you expect. 
Jaws goes by a couple of names, so watch out for all three if you plan on visiting. "Pe'ahi" is a name used to honor the traditional Hawaiian culture, and translates to "beckon." 
Jaws is also referred to as "Ke Kai 'o Waitakulu", meaning "The Teary Eye." This is the traditional name for the wave.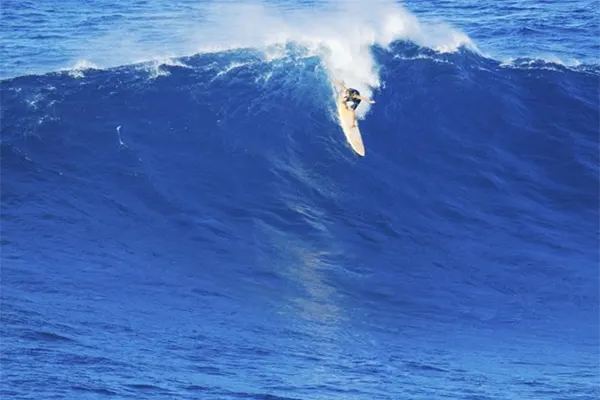 Can You Surf Jaws On Maui?
Jaws is only to be attempted by surfers with skill and experience. This is not a break for the faint-hearted, and only surfers who really know what they're doing should point their boards at Jaws.
For the rest of us, watching from a distance should provide enough of a thrill.
If you still think you can handle Jaws, then prepare to spend a lot of time on Maui waiting for it to hit. Although more time on Maui could never be described as a problem, waiting around for Jaws can take a while.
Keep an eye on the Pacific Island Ocean Observing System charts, to see when Jaws is expected to arrive.
When Can You See Jaws On Maui?
The best time to visit Jaws is between November to March, but it isn't a common occurrence.
Sometimes, Jaws appears on as few as two days a year. For thrill-seekers, it's more than worth the wait.