Banana Bungalow Maui hostel is a Central Maui hostel for backpackers who want to get out and explore, then come home and party.
Centrally located, it runs frequent tours and offers plenty of amenities for anyone who visits.
Backpackers to Maui have plenty of options to choose from. So, what makes Banana Bungalow stand out?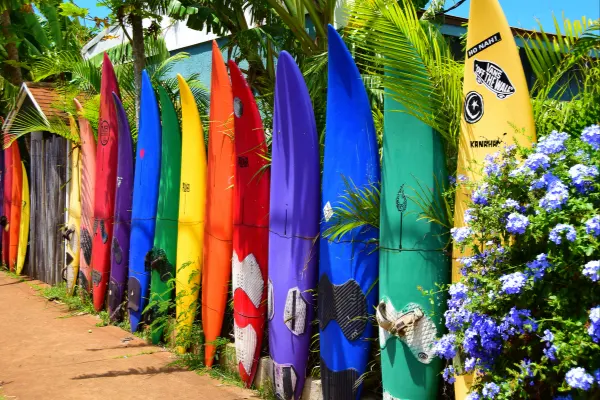 Where Is The Banana Bungalow Maui Hostel?
The Banana Bungalow Maui Hostel is open for backpackers in Wailuku, in Central Maui. Banana Bungalow is one of Maui's most popular hostels, catering to backpackers looking for a friendly and lively base for their Maui tours.
Wailuku can get overlooked by visitors to Maui, but this central town is having a bit of a comeback. Banana Bungalow is one of several businesses bringing a younger atmosphere to the area which is steeped in Hawaiian history.
From Banana Bungalow, you're within walking distance of the shops, bars and restaurants of Wailuku.
Wailuku is also a fantastic location for exploring the island. Close to the airport, it has quick access to the major highways. And Banana Bungalow is just 30 meters away from the bus stop.
How Close Is Banana Bungalow To The Airport?
Banana Bungalow is located in Wailuku, just 3 miles from Kahului airport (the Maui international airport).
This is roughly a 20-minute drive, and will cost around $25 by taxi.
Banana Bungalow also offers a free drop-off and collection shuttle service to the airport. If you want to drive yourself, Banana Bungalow has free on-site parking. 
What Are The Rooms Like At Banana Bungalow Maui?
Banana Bungalow offers both dorm rooms and private rooms. Travelers with children over 12 must book a private room. Women Only dorm rooms are also available. Dorms have four or six beds, and there are ten showers across the property. 
The rooms are comfortable but fairly small, and the décor is not top priority. These are rooms designed for falling asleep in at the end of a busy day, and not much else. 
Banana Bungalow is a hostel, so bathrooms are shared, and the rooms don't include the extras you might expect in a hotel. 
Does Banana Bungalow Have A Kitchen?
Yes, Banana Bungalow does have a kitchen, and it's pretty well-equipped. There's also an outdoor barbecue grill, with picnic tables and hammocks to enjoy your meals from.
Hostel kitchens can come with a poor reputation, but Banana Bungalow has enough amenities for you to actually enjoy the local produce you can get your hands on.
Two gas cooktops allow several budding chefs to work at once, and with three refrigerators, there's plenty of room for your grocery store hauls. 
Lunch and dinner aren't included in the price, but all guests have a chance to join the make-your-own pancake and coffee breakfast. 
It is a hostel kitchen, so don't expect to do any serious cooking. And while it's a decent size, it can still get cramped if too many people are working at the same time.
What Are The Banana Bungalow Tours?
Exploring Maui without a car can be a feat of organization, but Banana Bungalow makes it easy for backpackers looking to cut costs. The hostel offers free group tours, every day of the week, to Maui's best attractions.
And if the tour that day doesn't catch your eye, they also have regular shuttles to the beach.
So, where do the Banana Bungalow tours take you? Short answer: almost everywhere.
Long answer: Iao Valley, Hana, West Maui, Turtle Town, North Shore, Haleakala, and Makena. Tours are scheduled by the day, and generally last from morning until sunset.
The tours are typically free, but any park entry fees or activity costs are the responsibility of the guest.
What Are The Banana Bungalow Amenities?
Banana Bungalow claims to be the hostel with the most amenities on Maui, and it's hard to argue with that. Banana Bungalow offers free Wi-Fi, computers, a 60 inch large screen TV, and both international channels and movie channels.
They also provide a large Jacuzzi hot tub, a pool table, ping pong table, and dartboard.
Every Friday night there's a keg party, and every Monday night there's a free Happy Hour.
You can also find a laundry room, and plenty of outdoor seating.
Does Banana Bungalow Maui Have A Pool?
Banana Bungalow doesn't have a pool, but it does have a 7-person jacuzzi hot tub in the large tropical garden.
Perhaps not ideal for swimming in, it's the best place to relax after a busy Banana Bungalow tour (or a night at the Banana Bungalow keg party). 
What Attractions Are Close To Banana Bungalow Maui?
Banana Bungalow is in Wailuku, a fairly residential town in Central Maui. Wailuku has some interesting Maui history, but it's been overlooked by most tourist developments.
Expect to find some decent restaurants and shops, but not the range available at Wailea of Ka'anapali.
Banana Bungalow is close to the Historic Iao Theater, Hale Ho'ike'ike at the Bailey House, Mystery Maui Escape Room, and the Maui Academy of Performing Arts.
Solo Travelers, Groups, Or Families?
Banana Bungalow is a hostel that primarily caters to backpackers. It also has a Friday night keg party, which should tell you something about the atmosphere. This is a hostel for younger travelers who like a drink and enjoy socializing.
If you're traveling solo, Banana Bungalow will make you feel welcome.
The hostel tours are a great opportunity for solo adventurers to explore Maui without any difficulties. Group travelers should also fit right in with the Banana Bungalow atmosphere.
Families are welcome at Banana Bungalow, although children have to be over 12 and you must book a private room. But families aren't really the target audience. Banana Bungalow does call itself "THE party hostel of Maui" for a reason.
A Party Hostel With An Opportunity To Explore
One of the main attractions to a hostel is the atmosphere. Banana Bungalow has that classic combination of Maui aloha and backpacker friendliness, creating a space that you want to spend time in.
Although, you're likely to only find yourself in the hostel in the mornings and evenings. They offer too many opportunities to explore Maui to stay in your room.
Other Places To Stay In Maui
We've written quite a bit about all of Maui's available lodging, and continue to do so, but we wanted to share a few more places to stay from our friends at Booking.com. 
A Resort Stay: The Four Seasons Resort in Wailea is the cream of the crop of resort stays, with restaurants, ocean views, an on-site spa, and the Shops at Wailea are just down the road. Couples particularly love The Four Seasons!
Bed and Breakfast: Sometimes, it's all in a name, and Adventure in Paradise is exactly what it sounds like, located in Haiku on Maui's north shore. Wake up to a 180 degree view of Haleakala summit every morning from your private patio.
Hotel: The highly rated Maui Sunset hotel combines laid-back atmosphere and the beach of Waipuilani Park. Also, it's only 1.7 miles from the Elleair Maui Gold Club!
Vacation Home: Find your home away from home at Puu Koa Palms, six minutes from Hookipa Beach, and near the Hana Highway. Also particularly great for couples!
Villas: If you're looking to vacation in style with your own villa try the Andaz Maui, which include all the expected amenities along with grills and plunge pools.