Hiking 13 Crossings, Maui, can be a fun and rewarding experience. This West Maui hike ends with the chance to see two waterfalls, and you get to pass through a bamboo forest.
The hardest part? Finding the trail in the first place.
Check out this guide for directions to 13 Crossings hike, Maui, and what to do when you get there.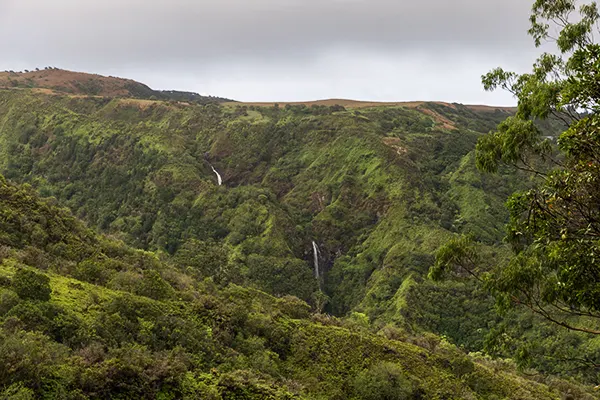 What Is 13 Crossings, Maui?
Maui is famous for its many hiking trails, but one you might not be so acquainted with is 13 Crossings.
Found in the West Maui mountains and accessed via a North Maui road, 13 Crossings is the lesser known companion to the Waihee Ridge Trail.
Following the Makamaka'ole stream to the Makamaka'ole Falls, 13 Crossings takes hikers through a bamboo forest to two impressive waterfalls.
How Long A Hike Is 13 Crossings?
13 Crossings trail is roughly 2 miles, there and back.
This can take one to two hours, and we recommend patience.
The rocks and crossings can slow you down, because they tend to be very slippery. 13 Crossings is suitable for beginners and intermediate hikers, but make sure to watch your footing.
Directions To 13 Crossings Hike, Maui
13 Crossings can be a pretty difficult trail to find, and used to be something of a local secret. Older maps are unlikely to have the trail marked, and even newer maps can miss it out.
The easiest thing to do is to look for where Makamaka'ole Stream and Kahekili Highway intersect. That's where the trail starts.
As you drive along Kahekili Highway, you'll see signs saying "No Shoulder" and "One Lane Road". Eventually, you'll come across a shoulder on the side of the road, and a bridge. This is the start of the trail!
Look for an opening in the trees that marks the trailhead entrance. It's right behind the bridge, facing towards the mountains, away from the ocean.
13 Crossings is roughly a one hour drive away from Ka'anapali and Wailea.
Where To Park For 13 Crossings Hike
Parking can be the trickiest part of this hike. 13 Crossings has only a small parking area, which is technically the shoulder at Kahekili Highway.
There are spots right by the bridge that marks the trail, but these can fill up early. If there's no space here, look for shoulder areas further along.
Another option for parking is at the overflow lot for the Waihee Ridge Trail. It'll add on another 20 minutes walk to either end of your hike, but saves the stress of navigating Maui's less developed roads.
What Do You See On The 13 Crossings Hike?
The hike at 13 Crossings mostly hugs Makamaka'ole stream. You'll pass a banyan tree that marks the first crossing, and then it's a case of following the trail to the next crossing. The crossings themselves are rock paths.
One of the highlights of the trail is the bamboo forest. The towering bamboos create a dense wall on either side, and you feel like you're walking an ancient footpath. It only lasts for a few hundred feet, but it's an interesting sight.
Especially if you can't make it to the larger bamboo forest on the Pipiwai trail.
Eventually, you'll come to a fork in the trail. Both paths lead to a waterfall, and we recommend visiting them both! But if you only have time to do one, definitely head to the right.
To the left is a grassy ravine that leads you to a small fall. The pool at the bottom isn't particularly deep, but this is a good spot for relaxing in.
Makamaka'ole Falls
Head right, follow the trail for roughly 0.1 miles, and you'll find yourself at Makamaka'ole Falls! The plunge pool is regularly deep enough for swimming, and the cascading waters provide an atmospheric backdrop.
From the trail, you can only view the lower cascades of Makamaka'ole Falls. If you want to view the upper cascades, head to the Waihee Ridge Trail. You can see the waterfall from an early look-out point, nestled within the mountains.
What To Wear To Hike 13 Crossings?
The ground can be tough going at points on the trail, so the most important thing is to wear good shoes. Water shoes are fantastic if you want to get into the pools and cool down. Otherwise, look for something sturdy but breathable.
Wear clothing you don't mind getting wet!
The rocks can be slippery at points, and you might find yourself soaked if you aren't careful. Even if you are careful, the rocks can take you by surprise. Trekking poles can definitely come in handy.
Swimming is allowed at the pool of Makamaka'ole Falls. Carry a swimsuit and towel with you, so you can take a dip. 13 Crossings may not be the longest Maui hike, but it can get hot. A swim in the waters can cool you down, and prepare you for the hike back.
Make sure to pack yourself some water and snacks, to keep you fueled on the hike.
How Difficult Is The 13 Crossings Hike?
The difficulty of the 13 Crossings hike can change considerably depending on the weather conditions. The hike isn't particularly long, roughly 2 miles, and the path is fairly well-marked.
However, you're required to cross Makamaka'ole stream multiple times, and this can get slippery.
13 Crossings gets its name from the 13 times the trail crosses over Makamaka'ole. Expect some scrambling across the rocks even on a relatively dry day. When it's wet and muddy, these crossings can get significantly more difficult.
13 Crossings is a fun trail to get the adrenaline going, especially if you don't mind getting a bit damp and muddy. If you are worried about the conditions, try asking a local guide for information about the recent weather at Makemake'ole.
Is The 13 Crossings Hike Worth Doing?
A short hike that allows you to get up close and personal with some of Maui's waterfalls, 13 Crossings is a fun choice for hiking enthusiasts looking for a shorter climb.
And if you don't enjoy hiking but still want to explore, 13 Crossings is relatively easy-going.
With a bamboo forest and several waterfalls, 13 Crossings is also a fantastic choice for anyone who doesn't plan on touring the Road to Hana!