Hawaii is famous for its history of surfing, and as you watch others tackle the swells, you might feel the call of the waves yourself.
Although Maui does have some incredibly powerful breaks that are strictly expert-only, there are also many beginners surfing spots along the miles of coastline. 
Find the best surfing in Maui for beginners with our guide!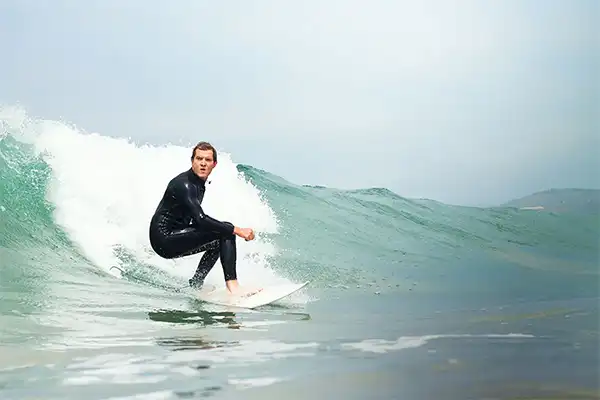 Best Places To Surf In Maui For Beginners
Cove Park
The Cove beach park in Kihei is the ultimate Maui surfing destination for beginners. Even those without any surfing experience can try the Cove, as the gentle and consistent waves make it an excellent place to learn.
Many Maui surf schools offer lessons at the Cove. That's just how perfectly suited for learners this spot is.
It's just a short paddle to the peaks at the Cove, and the breaks are both left and right in shallow water. Expect to find quite a crowd, particularly on the weekend.
Every so often, the currents bring larger waves to Cove Park, and it becomes an intermediate surf spot. However, this is rare, and you're much more likely to find gentle and consistent waves.
Ka'anapali Beach
If you're looking for a convenient surf destination on Maui, then you won't find much better than Ka'anapali Beach. At the heart of a thriving resort area, Ka'anapali Beach comes with ample facilities and clear turquoise waters.
Ka'anapali Beach is one of the most scenic places you can surf. If you want to document your first time on a board, you'll get some swoon-worthy snaps. Ka'anapali Beach gets consistent waves that break left and offer short rides. There are very few rocks around, so those inevitable falls are less painful.
If you've never stood up on a board, Ka'anapali is an excellent place to give it a go, and practice finding your feet.
Surf schools often run beginner lessons from Ka'anapali Beach, so expect to find more than a few beginners on the gentle waves.
Paia Bay
The North Shore is where you'll find the most difficult surf spots on Maui, including Ho'okipa Beach (you might see turtles at Ho'okipa Beach) and the famous Jaws break.
But it's also home to Paia Beach, a surprisingly beginner-friendly spot on the North Shore. While nearby Ho'okipa Beach is getting massive swells, protected Paia Bay tends to experience a more gentle wave.
Ideal, if you're only just learning (or if you need a little time to reacquaint yourself with the board). 
Paia Bay experiences both right and left breaks, and the best surfing area is to the east of the beach. With few rocks and reefs, beginners don't have to worry so much about uncomfortable crashes. 
For much of winter, Paia Bay offers the rare calm break on the North Shore. However, this is still the Maui North Shore, and sometimes those breaks can pack a punch. Check the conditions before heading in.
Breakwall
For beginner surfers, Breakwall is a hit or miss spot. Just off Lahaina's famous Front Street, on good days, Breakwall gets consistent waves that are small and fun for beginners.
Even during the summer, the bigger swells can be accompanied by smaller breaks close to shore.
However, at times the currents at Breakwall can go a little crazy, transforming this beginners spot to an expert-only destination.
One major advantage to Breakwall is that even when it's flat further along the coast, Breakwall tends to get waves. Surf schools often operate at Breakwall.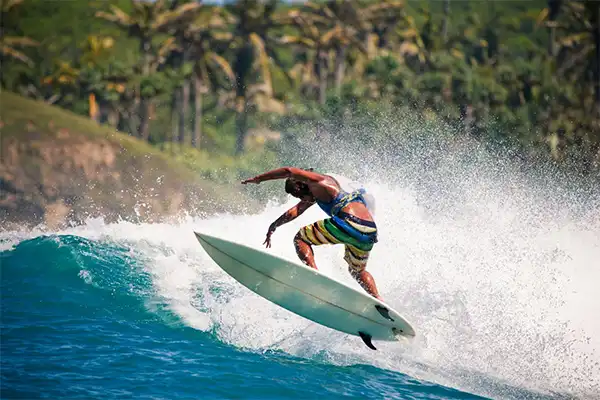 Launiupoko Beach
Launiupoko Beach isn't the most picturesque Maui beach, but it is an excellent area for beginner surfers. It does tend to get busy, but as a long beach, you still have room to experience the waves.
For beginners who are nervous of getting in the way, the peak to the left of the beach is a fun ride that more experienced surfers rarely bother with.
Avoid visiting Launiupoko during low tide, as the waters are relatively shallow, and exposed rocks can make surfing tricky.
However, this is a good all-round beach, with a protected pool that's perfect for keiki looking to play. Stick around to the evening, and enjoy surfing with the sunset.
Guardrails
If you want to head to Guardrails, keep an eye out for mile markers 18 and 19. In between these two points, you should spot a guardrail running along the road—this is where you'll find the good breaks.
It's roughly a 5-minute drive south of Lahaina, down from Launiupoko Beach.
Guardrails offers a fun break for beginner to intermediate surfers, especially as it tends to be quiet. However, we recommend visiting with a few expert surfers.
Getting in and out of the water can be difficult, and it helps to have an experienced eye.
Ukumehame Beach (Thousand Peaks)
Ukumehame Beach earned the name Thousand Peaks thanks to the incredible number of breaks that can be found at this southwest spot.
You have to paddle out to find the best of them, which requires a combination of strength and stamina. But you're rewarded with a serene atmosphere and enough peaks that you're likely to find a wave all to yourself. 
The breaks at Thousand Peaks are clean, with large channels. The hardest part is the long paddle out, so beginners will want to wait until they've had some experience before heading to Thousand Peaks.
Olowalu Beach
When you're starting to get a feel for the waves, take a trip to Olowalu Beach. An easy-to-access surf destination, Olowalu offers a beginner/intermediate break that hits steadily.
There are lefts and rights at Olowalu, and the rolling waves provide a medium-length ride.
Right on the cusp between beginners and intermediates, Olowalu Beach isn't for absolute first-timers. But over summer, the smaller waves are regular, and with a road right by the beach, it's an easy spot to visit. 
Final Thoughts
Maui might have some powerful swells, but it's also home to many beginner-friendly breaks.
The long coast of West and South Maui have several beginner surf spots, and there are even some surprisingly gentle North Shore breaks. These picturesque locations offer an excellent place to learn.