Bringing the whole family to Maui can be so much fun, but it's also hard work! Sometimes, you just want to find a beach with safe waves and soft sands, and let them do their thing!
Luckily, Maui is a family-friendly island, although you must keep an eye on the currents whatever beach you visit.
Whether you want beginner's snorkeling, sandcastle heaven, or simply room to run around, these beaches will fill your family with the aloha spirit.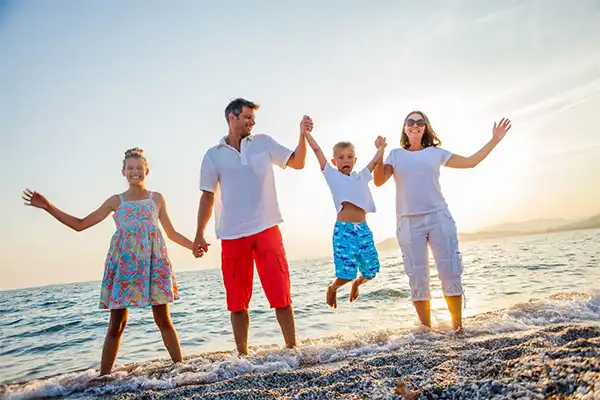 West Maui Family Beaches
Kapalua Bay Beach
The sandy crescent of Kapalua Bay Beach is protected on either side by far-reaching rocks, so that it sits in a natural cove that reduces the worst of the currents.
So that, in the morning, the waters at Kapalua Bay Beach are beautifully still, and teeming with marine life. Families wanting to snorkel should definitely explore Kapalua Bay Beach. 
Ka'anapali Beach
For many families, Ka'anapali Beach will be the most convenient beach to visit. It's bordered by some of the most family-friendly resorts and hotels on Maui!
But it isn't just the short walk that makes Ka'anapali Beach popular with parents and kids.
Cushion soft sands, clear seas, and ample conveniences mark Ka'anapali as one of the best Maui beaches for families (and snorkeling). Visit in the morning, and explore the marine life at the rocky ends of the beach.
Kahekili Beach Park
At the northern tip of Ka'anapali, Kahekili Beach Park is a resort-level beach that rarely attracts big crowds. Most people don't think to head that far up, which is a shame, because Kahekili really is something else.
The reef comes almost right up to the shore, so first-time snorkelers can explore with ease. Parents will love the convenience of nearby restrooms, showers, and restaurants, while kids will love running about on the grassy park area. 
Napili Bay Beach
Many families will love Napili Bay Beach for its old-school atmosphere. It's low-key and laid back, thanks to the lack of major resorts in the area.
If you want a little peace and quiet after several days at Ka'anapali, Napili Bay Beach offers all that, plus a delightfully clear sea.
The waters tend to be calm, although beginner bodyboarders might be able to catch the waves on occasion. In the morning, Napili Bay Beach has impressive visibility for snorkeling.
Baby Beach Lahaina
There are so many amazing beaches on Maui that Baby Beach in Lahaina rarely gets more than a passing glance.
But Maui locals love Baby Beach as a family beach, thanks to an exposed offshore reef that protects the water from strong currents.
Kids can play happily in the shallow waters, and parents won't have to worry about the waves. Restrooms and showers make it convenient, and it's just a skip away from Lahaina town.
South Maui Family Beaches
Wailea Beach
Some of the best resorts on Maui are situated either side of Wailea Beach, and it really is easy to see why. The sand is oh-so soft, and barely any rocks interrupt your play.
The water is typically calm, and even the afternoon waves aren't too powerful. And for parents looking to relax, the views are spectacular.
Restrooms and showers make it a convenient beach to visit (particularly if you're staying in Wailea), but watch out for the crowds.
Mokapu & Ulua Beach
Mokapu and Ulua are two connected beaches at the start of the Wailea coastal strip, and we recommend them both to families.
Head to Mokapu for better swimming and a chance to bodyboard, plus a longer stretch of sand to play on.
Ulua Beach is excellent for snorkeling, and the tidepools are irresistible for little adventurers. Pack your beach shoes, and enjoy exploring the rocks.
Kamaole Beach Park (I, II, & III)
Kamaole Beach Park is made up of three family-friendly beaches in South Kihei. Kam I is the biggest and the calmest, and appealing to swimmers.
Kam II is better for snorkeling, as it's bordered by rocky outcrops that are intriguing to explore. Kam III gets bigger waves for bodyboarders, but mostly attracts families for the large grassy park.
Go to Kam III if you want picnics and ball games.
Kalepolepo Beach
Tucked away in North Kihei, it's easy to drive past Kalepolepo Beach. And so many visitors do, making it an excellent spot for families looking for calm.
Kalepolepo has a fascinating history, and was once the home of an ancient Hawaiian royal fishpond! Kids can learn something about pre-contact Hawaii, and enjoy a splash in the quiet waters.
The Hawaiian Islands Humpback Whale National Marine Sanctuary Visitor Center is also in the area, and worth a visit.
Makena Landing Beach
There are advantages and disadvantages to Makena Landing Beach, but it has enough family appeal to warrant a mention. Makena Landing Beach has only a small sandy area, and it sits right by the road.
However, you have to look past this, and head straight for the water. The enclosed beach opens up into a rich sea, with a shallow slope that's great for splashing about in.
Take the snorkel gear, and have fun spotting the fish (and hopefully turtles).
Other Maui Family Beaches
Baby Beach Paia
The beaches of Paia tend to attract big waves, and surfers with them. Good for families who like to sit on the sand and watch, but perhaps not what the keiki are interested in.
But Baby Beach, just outside Paia, is completely different. An exposed reef connects around to the beach, creating a sheltered lagoon that stays calm even when the winds are heavy.
It's a charming beach bordered by sand dunes, and kids and parents will enjoy splashing in the water. A large sandy area is excellent for relaxing, even if Baby Beach does lack facilities.
Final Thoughts: Family Beach Safety
Most of the beaches of Maui are generally safe for children, but parents have to pay attention to the currents. Maui feels heavy winds most days, and these can turn a quiet beach into a surfers' paradise.
Stay aware of changing conditions, and families can enjoy nearly all the beaches Maui has to offer.