Traveling south from Kihei, Mokapu Beach is one of the first chances to see the glorious Wailea coastline come to life.
Popular for snorkeling and swimming, Mokapu Beach is a small pocket of sand with enough facilities for families. Although, you have to get there early if you want a good place to lay out your towel.
Plan your visit to Mokapu Beach with this guide to how to get there, and what you can do when you're there.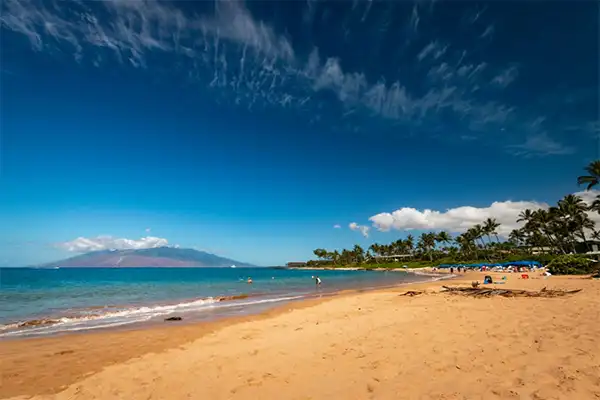 Getting To Mokapu Beach
Mokapu Beach is the first beach you come to on the Wailea Coastal Walkway, and many consider it to be the first real beach of Wailea (but nearby Keawakapu might just beat it to the title). 
For access, follow the Wailea Alanui Drive, and take the Ulua Beach Road turning on the ocean side of the road.
This will lead you to the Mokapu and Ulua public parking. Parking is free, but finding a space can be tricky.
As Mokapu shares the lot with the adjacent Ulua Beach, parking does fill up fast. Both beaches are popular, although Ulua tends to attract a slightly larger crowd.
For a good parking spot, it's better to turn up early. Alternatively, you can park at the Keawakapu Beach parking lot to the north, and walk across to Mokapu.
The beaches are connected by a walkway, and it's a pleasant stroll with some exceptional views.
If you're staying in Andaz Maui, Mokapu Beach is just a brief walk away. Mokapu fronts the resort, and is very popular with those staying at the Hyatt property.
(And check out our guide comparing Andaz Maui and Waldorf Maui.)
There are also plenty of condos nearby with immediate access to Mokapu beach, which is one of the reasons it gets so busy. 
What To Do At Mokapu Beach
Mokapu Beach attracts visitors for sunbathing, swimming, snorkeling, and even a little bit of boogie boarding.
It's a family friendly beach, with plenty of facilities and easy accessibility. Some shaded areas near the trees offer spots for relaxing, and even if you don't feel like swimming, it's a nice place for a quick paddle.
The gentle sandy slope of the sea floor means you can easily avoid going too deep.
Quieter winds and calm seas make the morning the best time to visit Mokapu. Swimming, and particularly snorkeling, benefit from a still Maui morning.
Mokapu is enjoyable throughout the day, but keep an eye on the waves if you plan on swimming in the afternoon.
Sunset is always a good time to visit the beaches of Wailea, and Mokapu is no exception.
If you're looking for a relaxing way to spend an evening, we recommend walking from Mokapu to Keawakapu, and seeing the sun as it sets. Make sure to take a picture of the sunset!
Mokapu is only small, roughly a quarter of a mile, but it's still a good walking beach. The easy access to Keawakapu Beach to the north, plus the Wailea Coastal Walkway to the south, offers gentle strolls for anyone looking to stretch their legs. 
Snorkeling At Mokapu Beach
Visit in the mornings, and the quiet and clear seas surrounding the lava outcrops at the south of Mokapu Beach are ideal for snorkeling.
Close to the rocks, you can spot schools of brightly colored fish, including goatfish and Hawaiian dascyllus. Further out, you can often spot the Hawaiian turtle hanging around.
There's plenty to explore, as the reef system stretches out between Mokapu and Ulua Beach.
We recommend starting at one beach, and making your way around the coral to turn up at the other. You can then follow the walkway back, or head back into the water for another look.
As well as snorkeling, Mokapu Beach is a popular destination for those learning to dive. The sea gets to around fifteen feet deep, and there's a sandy bottom that allows for easy entrance and exit.
A few diving schools operate beginner lessons from Mokapu and Ulua, so keep an eye out if you're interested. 
Facilities At Mokapu Beach
Mokapu Beach has a good amount of facilities, including outdoor showers and public restrooms.
There are also trash cans and recycle bins nearby. Families should find visiting Mokapu Beach to be easy and comfortable.
As with many Wailea beaches, Mokapu is just a short walk from shops and restaurants.
With Andaz Maui directly bordering the beach, you might want to visit the resort's restaurants such as Morimoto Maui, or Ka'ana Kitchen. 
Anything Else To Know?
Mokapu does catch the wind more than the other beaches on the Wailea stretch. The breeze shouldn't be too disturbing, but it's worth being aware of if you're looking forward to a picnic on the sand.
Of course, the stiffer winds have an advantage for those looking for bodyboarding. 
Mokapu Beach is named for the Hawaiian term "Moku Kapu", which translates to "sacred island". There used to be a small rocky outcrop visible from the beach, which gave it this name.
However, like many of the beaches of Maui, Mokapu was used as a practice landing zone by American soldiers during WWII.
The Mokapu island was blown up, and all that remains are a few rocky outcrops that are just about visible from the beach, if you look very closely. 
There are often beach chairs and umbrellas decorating the sands at Mokapu, but unless you're a guest at the Andaz Maui, these aren't for public use.
The beach can get busy, particularly with guests from the resorts. At times, it can be tricky to find a spot to relax 
Incredible Snorkeling At Mokapu Beach
The snorkeling is one of the prime attractions at Mokapu Beach, with the expansive reef system offering valleys and hills for exploration.
Follow the reef around, and you'll soon discover Mokapu's neighbor: Ulua Beach, good for snorkeling.  But it isn't just snorkeling that makes Mokapu a beach to visit.
The adjacent facilities and nearby restaurants appeal to families, although you might struggle to find space among the resort guests.
On the bright side, if the beach ever seems too crowded, you can simply stroll across to Ulua or Keawakapu, which are both nearby.