Tucked away from the road, small Chang's Beach is one that many Maui visitors fail to notice.
But those who do know this hidden gem are drawn to the impressive snorkeling, and a compact beach that rarely struggles with crowds. 
On the road from Wailea to Makena, Chang's Beach offers bodyboarding, snorkeling, and sunbathing.
But only for a few people at any one time. To find your way to one of Maui's best hidden sports, take a look at this guide.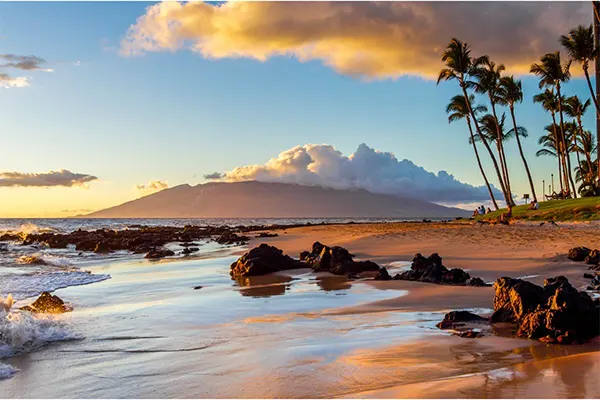 Getting To Chang's Beach
Many visitors manage to overlook Chang's Beach because it's just so easy to drive past on the way from Wailea to Makena.
Even those traveling with the express purpose of Chang's Beach can blink at the wrong moment, and find they've gone right by it.
It isn't always labeled correctly on maps, either, with some marking Chang's Beach as an extension of Po'olenalena Beach.
But Chang's Beach is actually further on, around the reef, and hidden in a corner of the shoreline. 
To get to Chang's Beach, follow Makena Alanui south until you've reached the Makena Surf Resort.
The parking lot for Chang's Beach is here, although there's only room for about 8 cars.
However, as the beach is so frequently quiet, you should be able to get a spot. If there's no room, head to the overflow lot just up the road which serves both Po'olenalena and Chang's Beach.
You'll have to walk further, but it isn't too far. 
Holiday home developments in the area have made it tricky to spot Chang's Beach from the road.
Keep an eye out for the parking lot, because once you've parked, it's easy enough to find the trail leading to the sand. 
What To Do At Chang's Beach
Chang's Beach is compact and hidden, and mostly attracts visitors who are looking for a quieter place to snorkel.
But as it is so private, some visitors head to Chang's Beach just for some serenity while they sunbathe and swim.
You can soak up some good views as well, particularly if you visit during sunset.
There's also some decent bodyboarding at Chang's Beach, but only when the swells are hitting right.
Still, when the waves are good, they're fun for beginners and intermediates to bounce across.
Just watch out for the rocks either side of the small cove. Large waves as the result of Kona winds can be a problem, so be careful in the water.
Sunbathing is good at Chang's Beach, but a quick dip in the water is pretty much the only way to cool down. There's very little shade at Chang's, and no showers. 
Can You Snorkel At Chang's Beach?
One of the primary attractions at Chang's Beach is the snorkeling. Specifically, the combination of good snorkeling, and quiet beach.
If you're after just good snorkeling, it's better to carry on south to 5 Graves. If you just want to relax on the beach, head north to Po'olenalena.
But if you want the best of both and a little privacy, it has to be Chang's. 
There's good snorkeling all the way across Chang's Beach, with places to explore to both the north and south.
Fish and turtles are often spotted in the area, and the sloped sandy shore provides easy entry. 
For strong swimmers and avid snorkelers, snorkeling at Chang's Beach carries on down past 5 Graves, and even all the way to Makena Landing.
If you only want one superb snorkel spot, 5 Graves is the better choice. 
Snorkeling is best in the morning, when the sea is calm and you have better visibility. At times, the water can be murky.
It's worth noting that tiger sharks are sometimes seen in the area, particularly after a south swell. (But not great white sharks, thankfully.)
Shark attacks are really rare, but part of the reason for that is because people are careful. When the water is murky, stick to the sand. 
Facilities At Chang's Beach
Chang's Beach has no facilities, and the nearest toilets are at Po'olenalena. This isn't too far away, but it's worth keeping in mind if you're planning a family trip.
The toilets at Po'olenalena are at the north end of the beach, so they can be tricky to access from Chang's.
There are no lifeguards at Chang's Beach. 
Anything Else To Know?
Chang's Beach is named after the Chang family, who were well known in the area, living and farming on this part of the coast.
The beach is also sometimes called Ulupikanui, a Hawaiian phrase referring to a large fig tree that used to be on the cliff. But most people call it Chang's Beach. 
There are developments along the coast of Chang's Beach, which can make actually spotting the coast difficult. Once you've found the parking lot, the walk down to the beach should be easy enough to spot.
There's also a public footpath that leads you to archeological ruins of a canoe house from pre-contact Hawaii.
The ruins are on lawns to the south of the beach, but they are on a public access route.
Chang's Beach is typically quiet, but just a few guests can really crowd the place out.
Luckily, you're on South Maui, so there are beaches just a short drive away that might have the crowds, but will also have room to handle them.
You're unlikely to see many people on Chang's on a weekday, but the weekends can be busier. 
Final Thoughts
On a coast with plenty of good snorkeling, Chang's Beach stands out because it's so peaceful.
Hidden from the road, you might not have the place to yourself, but you're unlikely to be bothered by crowds.
And with a well-developed reef system, and a sea that teems with marine life, snorkeling at Chang's can be pretty spectacular.
The beach is good too, offering sand for relaxing when you need a break from the water, or as you wait for the waves to pick up for bodyboarding.