West Maui is one of the best areas on the island, with easy access to a range of activities, and accommodations to suit everyone. But with so much to offer, it can be difficult to decide where to stay.
Lahaina and Napili may be only a short drive from each other, but each has its own unique charm. Which one is best for you will depend on the type of Maui holiday you're after. Do you want calm serenity as a base for exploring? Or do you like to find yourself right at the center of the action?
In this guide, we'll tell you everything you need to know about Lahaina and Napili, so you can choose the destination that's just right for you.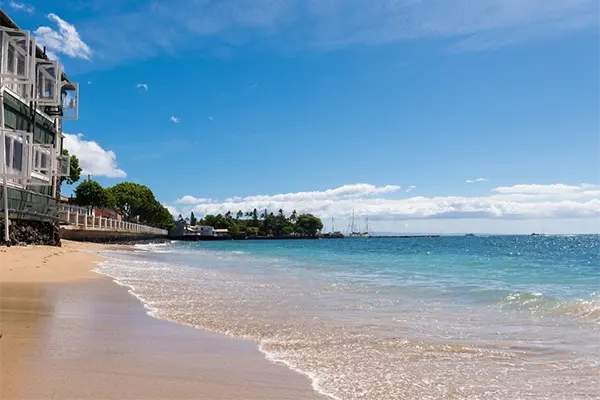 Lahaina vs Napili
No trip to Maui is complete without spending at least a day in Lahaina. The thriving tourist town is one of the best places to immerse yourself in Maui history, and the nightlife is an opportunity to blow off steam after a heavy day of culture.
Lahaina attracts scores of visitors, who enjoy wandering down the iconic Front Street, and sampling fresh local foods. 
What Lahaina lacks is plenty of hotels to stay in. But if you find the right place, everything you need is literally a few minutes walk away.
Things to do in Lahaina
Front Street: spend the day wandering around restaurants and shops.
The Banyan Tree: the oldest living tree on Maui, and a fantastic spot to people watch.
The Baldwin Home Museum: a glimpse into Maui's history.
Old Lahaina Luau: the most authentic Hawaiian Luau, an unmissable experience.
Wahikuli Wayside Park: an underrated beach with calm waters and a lovely barbecue area.
Lahaina Beach: watch the waves at this attractive beach.
Atlantis Submarine: see below the water without having to learn to snorkel.
Where is Lahaina?
Lahaina is located on West Maui. It's one of the most popular tourist destinations, so prepare for crowds and busy roads.
But it also makes a great central destination, with plenty of access to some places further away.
All About Napili
A family holiday on Maui is the stuff of dreams, until you actually have to organize it. Which is why Napili represents such a great opportunity. With ocean view condos packed full of home conveniences, it's a Maui holiday without the stress of rallying the kids.
Napili isn't the bustling hub of other Maui resorts. Instead, condos back directly on to the ocean, and you can really take your vacation into your own hands.
With lovely indoor conveniences, you won't mind that Napili gets a little more rain than other coastlines.
Things to do in Napili
Napili Bay: a quieter beach with gentle waves that are ideal for children.
Breakfast at the Gazebo: breakfast is a big deal on Maui, where a hearty meal can set you up for a busy day. Try the best of the best at Napili's Gazebo.
The Slack Key Show: a world-renowned performance of Hawaiian music, and some of the most fun you can have on the island.
Napili Farmers Market: shop for local produce, every Wednesday and Saturday.
Maui Brewing Company: pub food, great beer, and unbeatable views.
Honolua Bay and Marine Reserve: a protected area of natural beauty.

Where is Napili?
Napili is between Ka'anapali and Kapalua, just north of Lahaina on West Maui.
With condo complexes rather than large resorts, it can seem hidden from the road. This just adds to the serene charm that makes Napili special.
How Far Are Lahaina and Napili from the Airport?
Lahaina is roughly 24 miles from Kahului airport (OGG). A journey by car or taxi is likely to take around 35 minutes, and cost around $60 to $70.
Napili is further on from Lahaina, so expect a longer journey. Napili is around 31 miles from the airport, and it takes about 45 minutes to drive.
Where Are the Best Beaches, Lahaina or Napili?
The beach at Napili is tucked out of the way, hidden behind condo complexes and out of sight of busy restaurants. Although it's still not exactly quiet, there's a serenity that's hard to find at more popular Maui beaches. And with calm waves, clear blue seas, and soft sands, it really feels like a hidden gem.
Lahaina is much more about the town, with the beach offering a place to relax away from the bustling streets.
If you plan on spending your days relaxing on the sand, then Napili is the place for you. A great place to try snorkeling and bodyboarding, without having to dodge the crowds. 
Both Napili and Lahaina also offer easy access to popular beaches at Ka'anapali, Kapalua, and Honolua Bay.
Is it Cheaper to Stay in Lahaina or Napili?
Napili is definitely the place to stay if you're looking to save money. The condos range in size and quality, so it's possible to get a good bargain. With kitchens to cook in, it's much easier to keep costs down.
Lahaina is a tourist destination, so prices are high. With a minimal number of properties in the town, finding a place to stay can be difficult as well. 
If you're willing to look around, you can find cheaper places to eat in Lahaina. However, many of the better known restaurants are pricey.
Busy Town or Gamily Getaway?
Napili is a quiet place, with beachfront condos aimed at those who are interested in getting away from the more built-up areas.
The calm beach is ideal for families, and the good location provides easy access for day trips out. Be prepared for some rain, but enjoy a break from the crowds.
At Lahaina, crowds are everywhere which is why there's such an incredible atmosphere. 
Which One is Best for you?
It might be difficult choosing where to stay, but a good vacation on Maui can easily encompass both Lahaina and Napili.
With just a short drive, you can be enjoying solitude on Napili beach, or soaking up the crowds on Lahaina's Front Street.