For such a small island, there are some vastly different places on Maui. Spend a week in Wailea and then a holiday in Lahaina, and you'll feel like you've traveled to a whole new island. 
Deciding to go to Lahaina or Wailea is about finding what experiences you want to have on Maui. Whether that's days and nights packed with interest, or an unbeatable sense of luxury.
It's not an easy choice to make, so we're taking a look at what makes these places both so different (and so great!).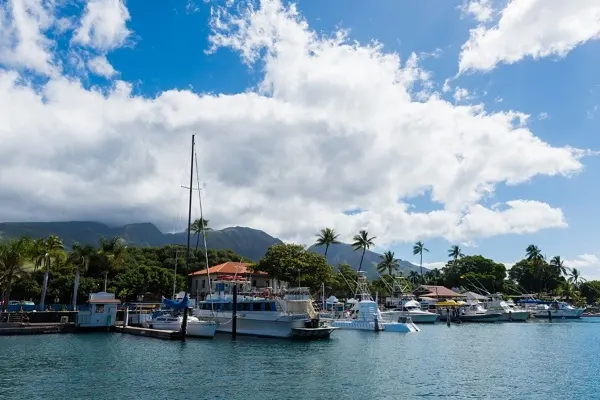 Lahaina vs Wailea
The best way to describe Lahaina is vibrant. A historic whaling town that was once the capital of the Kingdom of Hawaii, it's now a tourist town that bursts with life.
Lahaina has plenty of restaurants, hotels, cafés, and shops to keep any visitor busy. There's a real sense of aloha permeating the bustling streets of Lahaina.
And when you want to chill out for a bit, historic Lahaina has plenty of culture to explore.
Things to do in Lahaina
Front Street: the main street of Lahaina is always buzzing with life.
Banyan Tree: the Banyan Tree was planted in 1873, and it's still going. Sit in its vast shade and enjoy a bite to eat, or explore the weekend market.
Baldwin Home Museum: the oldest house on Maui.
The West Maui Mountains: dramatic scenery formed from ancient eruptions.
Lahaina beach: perfect for sunbathing.
Old Lahaina Luau: the most authentic luau on Maui.
Whale watching tours: come in the right season, and watch the whales.
Where is Lahaina
Lahaina is on West Maui. It's a busy area, packed full of tourists, and feels more like a city than other locations on Maui.
Lahaina town is only a small stretch of West Maui, but some hotels and resorts further along are classed as Lahaina.
If you plan to stay in Lahaina, make sure to check on the map exactly where you'll be.
All About Wailea
Located in South Maui, Wailea gets plenty of gorgeous sunshine with lots of beaches to enjoy it from. 
Wailea also buzzes with life, but the luxury resorts of this incredible town have a calmer atmosphere. If you can afford a trip, it really feels like an escape. With stunning vistas available from the gleaming windows of high-end resorts, Wailea is a dream away from everyday life.
Things to do in Wailea
The beaches: you never run out of beaches in Wailea, and if you do, there are more just a short drive away. 
Golf: the Wailea golf courses are championship quality, with scenery to match.
Wailea Tennis Club: take an afternoon away from the beach to enjoy this fabulous tennis club.
Wailea Healing Center: an escape in an escape, the Wailea Healing Center leaves you completely refreshed.
The Shops at Wailea: a luxury shopping center.
La Perouse Bay: see the spinner dolphins, or hike the lava paths.
Makena Beach State Park: awe-inspiring views on beaches that are natural beauties.

Where is Wailea?
Wailea is at the far end of South Maui, just past Kihei. In recent years it's grown to become one of the most popular spots on the island. 
How far are Lahaina and Wailea from the airport?
Wailea is around 30 minutes drive from Kahului airport (OGG), and a taxi will cost you around $50. Transport from Kahului airport is readily available, with many of the resorts offering their own shuttle service.
Lahaina isn't much further away (if in a completely different direction). Kahului to Lahaina might take around 35 to 40 minutes in a taxi, which is likely to cost upwards of $60. Many of the resorts and hotels will arrange shuttle transportation.
Be aware that the traffic into Lahaina can be described as a nightmare. Congestion is a real problem, and this tourist hotspot is known for busy roads, so parking can be tough as well. 
Where To Go for Beaches, Lahaina or Wailea?
If you're after the classic Maui beach experience, then Wailea is by far the best option.
The coast at Wailea is incredible, with five crescent beaches providing you with plenty of options. Should you manage to visit them all. And a short drive will take you to Kihei, or Makena, where there are more sands to explore.
Wailea beaches do get busy, so you want to turn up early to get a good spot. Snorkeling is fantastic, and you have to grab the opportunity to discover sea turtles.
Lahaina beach is nice—it's still a Maui beach, after all. However, it isn't the heart of Lahaina. A trip to Lahaina is all about the town.
Near Lahaina town are a few beaches that definitely make the trip worth it. Ka'anapali beach, Kanalua beach, and Napili beach are all close, and spectacular. 
Which is More Expensive, Lahaina or Wailea?
Neither area is particularly cheap, but you can probably expect to spend a bit more in Wailea. 
Lahaina may be expensive, but it's also a thriving town. If you're willing to do your homework, and don't mind trying something different, then you can get good food and a great place to stay for slightly cheaper.
Wailea is really all about luxury, which means budget options are few and far between.
Vibrant Tourism or Incredible Luxury?
Lahaina buzzes with atmosphere, and also with the throngs of tourists who pass through every year. In Lahaina, you can find culture, nightlife, history, and beaches. 
Wailea, on the other hand, does luxury—and does it well. The beaches are busy, and the shops are expensive.
Where To stay, Lahaina or Wailea?
It would be impossible to pick between Lahaina and Wailea, if they weren't so incredibly different. They both cater to a very contrasting style of vacation.
Wherever you stay, it's worth making a day trip to visit Lahaina. The town feels like nowhere else, and it's easy to see why 2 million tourists pass through every year.