Maui is all about sun and sand and surf, and then great food to wrap up the day.
Kaanapali Beach is the ideal place to enjoy all of the above. With many beautiful resorts lining the beach, Kaanapali has plenty of amazing restaurants to satisfy your palette and fill your belly.
However, there are a few places that only the locals know about.
Below are some of the best local spots in Kaanapali for delicious Maui food.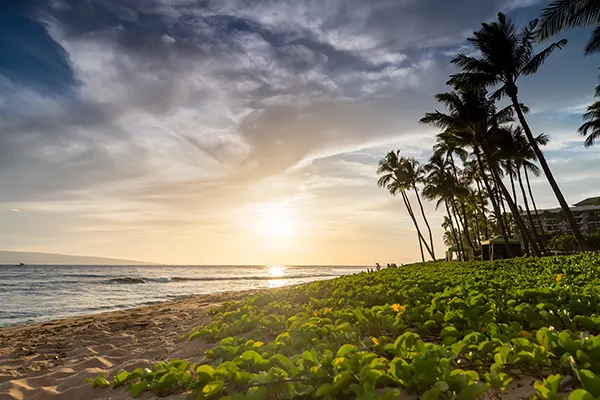 1. Spencer's
Spencer's is located on the lower level of the Westin Maui Resort and Spa across the street from Whaler's Village and offers a wide selection of American dishes from breakfast through dinner.
(And we've put together a guide so you know whether Westin Maui or Grand Wailea, both luxury resorts, is right for you.)
It is one of the few places on Maui that serves Eggs Benedict every day.
Spencer's also offers favorite happy hour specials with two-for-one drinks and a $5 pupu platter (appetizers).
2. Sangrita Grill and Cantina
Sangrita Grill and Cantina is a lively little Mexican restaurant has only been around for a few years, but it's quickly become a local favorite.
Sangrita serves authentic Mexican dishes like tacos, enchiladas, and fajitas with fresh local fish and seasonal produce.
(If you're in Lahaina check out the best fish tacos in the area.)
They also have some excellent margaritas, and you should try their house-made tamarind blend.
3. Java Jazz and Grill
Java Jazz and Grill is located in the strip mall between Cannery Mall and the Kaanapali Parkway. It's not much to look at from the outside, but they have delicious food, good coffee, and friendly service.
Java Jazz and Grill opens early, which is great if you want to grab breakfast before an early morning whale watching trip—if you're visiting in December.
You might also want to try their Macadamia Nut Pancakes or their Mango French Toast.
4. Maui Tacos
Maui Tacos is located across from Whalers Village on Front Street in the Fairway Shops.
There's outdoor seating available if you want to enjoy your tacos on the lawn while taking in the ocean view.
They have a wide variety of taco options, salads, and burritos. Most of all, their Kahuna Burrito is amazing.
5. The Cane and Taro
The Cane and Taro offers a unique experience for those looking for something new. You're immersed in Hawaiian culture as you settle into their open-air restaurant.
The menu features local dishes with a twist, such as their panko-crusted Mahi-mahi.
The Cane and Taro is great for those who want an authentic Hawaiian experience.
6. Leilani's
Leilani's is open for lunch and dinner, but it can get busy during its peak hours. You'll need to plan if you want to dine at Leilani's.
(Also a great place to for a date at night in Kaanapali.)
Leilani's has a warm atmosphere with great views of the ocean, so schedule your reservation according to when you want to enjoy your meal, sunset or otherwise.
The menu at Leilani's is varied, offering a wide array of seafood dishes as well as steaks and sandwiches.
7. Sansei Seafood Restaurant and Sushi Bar
Known for its creative sushi and Japanese-Hawaiian fusion dishes, Sansei is a favorite of locals, celebrities, and visitors worldwide.
The happy-hour specials are an especially great deal, although you can save even more by sharing one of their monster-sized sushi rolls with a friend.
Located at 600 Office Road in Lahaina, near Lahaina Cannery Mall, it's open for dinner only.
8. Lahaina Coolers
Lahaina Coolers is local chain that offers sandwiches, pizza, and salads at reasonable prices for quick bites on the go.
Locals love the breakfast burritos and rice bowls.
There are four locations on Maui: two in Lahaina near Front Street, one in Napili Plaza, and one in Kahana Gateway Shopping Center across from Times Supermarket.
They're mostly open from 11 AM to 8 PM, but opening hours vary by location.
9. BJ's Chicago Pizzeria & Brewhouse
BJ's Chicago Pizzeria & Brewhouse is known for its delicious pizza, but they also have excellent burgers and sandwiches.
You can sit inside or outside on their patio overlooking the water.
They have several locations in Maui and throughout California, Arizona, Texas, and Utah.
10. Duke's Beach House
If you're looking for an oceanfront restaurant with great food, this has got to be it.
Duke's is located on the beach at the Honua Kai Resort, a few miles north of Kaanapali Beach Hotel.
You can sit outside and enjoy views of the islands of Lanai and Molokai or inside near their open kitchen.
This restaurant is popular with locals because they offer amazing views, and you can watch whales breaching from here at the right season (December to May).
11. The Gazebo
Located in Napili Plaza, this restaurant is known for pancakes. We're talking about pancakes piled high with fruit, bacon, or even peanut butter. Try them for breakfast or lunch.
Also, if you're into poi made from taro root, try the Poi Pancakes with coconut syrup.
They also have an amazing salad bar and fresh fish.
12. Honokowai Okazuya
You can't go wrong at Honokowai Okazuya. This local eatery is famous for its plate lunches served with a scoop of rice and macaroni salad. There are dozens of options to choose from, including beef stew, shrimp tempura, kalua pork, chicken katsu, and many more.
Most dishes are under $7, and you can get two plates for $12.
The dining room is spacious, and the service is fast. Check out the specials board when you arrive to see what fresh fish is available. The restaurant also serves breakfast daily from 7 AM to 10 AM.
Honokowai Okazuya is located at 3600 Lower Honoapiilani Road in Lahaina, about a 15 minute drive from Kaanapali. The restaurant is open from Monday to Saturday from 7 AM to 2:30 PM and from 7 AM to 1:30 PM on Sunday.
13. Leoda's Kitchen and Pie Shop
Another great place to get local food is Leoda's Kitchen and Pie Shop in Olowalu.
This restaurant serves up comfort food classics like chicken pot pie and meatloaf, along with pies that run from apple and cherry to coconut cream and key lime.
The pies are made in-house and are absolutely scrumptious.
Don't Pass Up On The Local Spots
There is no shortage of small family-owned restaurants on Maui and a number of them are in Kaanapali.
It's easy for tourists to assume that the restaurants are all high-end and expensive. But this couldn't be further from the truth.
Kaanapali is one of Maui's premier resort destinations, and as such, its residents have little problem finding great food at reasonable prices.