The bigger the wave, the more thrilling the surf. While Maui is renowned for plenty, from its beaches to its resorts to its beautiful jungles, surfing is not one of them.
However, there are still big waves to be caught on Maui. The biggest waves can be found at Peʻahi, otherwise known as Jaws, with waves ranging from 30 to 80 feet.
But Jaws isn't the only place to surf either. Below we detail all about where the biggest waves are to be had on Maui.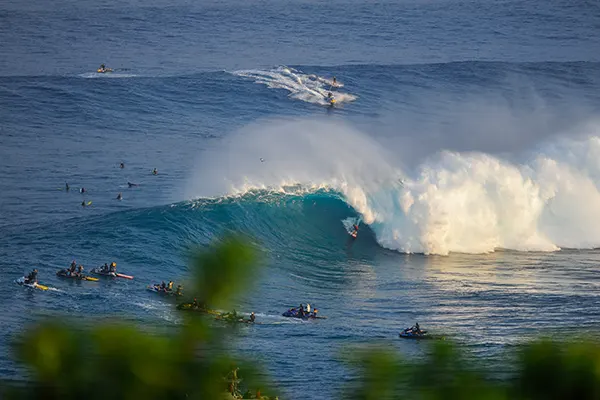 What's The Surfing Like At Peʻahi
Peʻahi, found on the north shore of Maui, has the strongest—and most impressive waves—on the whole of the island. (It's about three miles east of Paia.) Be warned. They are only for the most experienced surfers.
In Hawaiian "Peʻahi" means simply, "wave," but in the sense of the motion of a hand, as if the ocean slapped surfers towards the shore. But it's equally well known as Jaws.
Visitors from all over the world can be found paddling in the waters of Peʻahi, waiting for the adrenaline rush of catching a big wave.
But don't be dissuaded if you don't have a board. Non surfers typically line up along the beach to watch the epic display, which for land lovers is entertainment enough.
How High Do The Waves Get At Pe'ahi (Jaws)?
The big waves at Peʻahi usually range from 30 to 80 feet, depending on the season. The leak period
The conditions here change rather quickly, so pay attention to the weather. But know that the best season for the waves is usually winter, between November and March.
Are There Sharks At Jaws?
Pe'ahi is known as "Jaws" for a good reason, but not because of sharks and Spielberg's film, not directly at least. The reason is more metaphorical.
Jaws refers more to the feeling people have staring at the huge wave barreling towards the beach, the same adrenaline rush one may feel seeing a fin break the surface of the water.
But, be aware, sharks are known to visit Maui.
Each year Great White Sharks migrate from Mexico and the west coast of the United States to make a home in the coastal waters off Maui. Not that they bother people.
Other sharks include…
Hammerhead Shark
White Reef Tip
Black Reef Tip
Sandbar Shark
Generally speaking, sharks leave people alone, so it's not something you need to worry about. Just take precautions—mainly meaning, be aware—and you should be fine.
(We've covered sharks on Maui a few times before, for a more in-depth check our post on sharks in Turtle Town.)
Where Else In Maui Are The Waves Good For Surfing ?
We've covered the pros and cons of surfing in Maui before, so here we just want to highlight some beaches with waves to check out if you've grabbed your board.
Ho'okipa Beach is also found on the north shore and well known for its wind surfing. But there is some danger here for surfers. There are rocks in the waters that can prove a deadly hazard if you're surfing and not paying attention. Recommended for experienced surfers.
Lahaina Beach is a great space for surfers at different levels of expertise, found at the west coast Maui. Popular surfing breaks throughout Lahaina beach include kammies, shark pit, and break wall.
Honolua Bay, with its characteristic hollow reefs and top tier waves, is largely considered the best surfing spot in Maui and Hawaii in general. Mark Richards, a four time world champion once called it "the best wave in the world."
Olowalu beach is the most accessible of all the surfing spots, barely 2 minutes off the Honoapiilani highway. It also has very hollow reefs and is suitable for non-expert surfers.
What Other Water Sports Can Be Done On Maui's Waves?
Despite the appropriateness of Maui's waves for surfing, it's not the only way to spend your time hanging out in the waves.
Kiteboarding is an adrenaline stimulator that's ideal for friends or families because it helps build and foster team spirit. Rental spots typically provide all the equipment necessary alongside a guide to help you get started.
Scuba diving doesn't require much imagination, but needs to be experienced to be fully appreciated. There are plenty of reefs and tropical fish to see as you explore the underwater world surrounding Maui.
Kayaking can either be done solo or in groups. Adventure junkies kayak about 4km into the ocean where they can have a view of rare fish species, the Hawaiian green turtle, and possibly swim with the turtles. Waters are pristine and shallow.
Snorkeling is an easy way to get started exploring the waters of Maui. Snorkeling gear can be rented and snorkeling can be done in a group if you prefer. Guides may help show you the best spots.
Submarine adventure: if you've ever considered going under water in a submarine, then don't miss your chance while in Maui. These adventures are usually an hour long but totally worth it. A one of a kind experience.