Located on the west side of Maui, Kaanapali is home to a beautiful stretch of pristine beaches, and muliple resorts.
After a day of sunbathing on the beach and appreciating the beautiful sights, it's time to do something exciting after dark.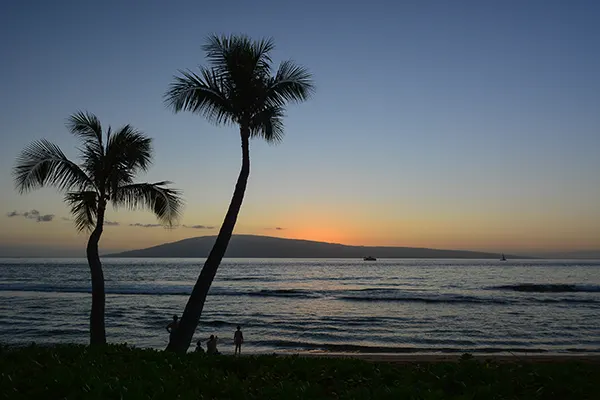 Does Kaanapali Have Good Nightlife?
Since Kaanapali is so close to the heart of Lahaina, there are plenty of things to do to keep you entertained.
So, the answer is yes and no. Kaanapali has a good nightlife if you're willing to travel a little ways away from Kaanapali.
Enjoy Live Music at Fleetwood's
Fleetwood's is on Front Street, a ten-minute drive from Kaanapali Beach. If you're wondering why the name is Fleetwood's, it's because the owner is Mick Fleetwood, Fleetwood Mac's drummer.
Fleetwood's is always crowded with tourists who come to listen to live music and kick back with their friends. There are also special shows available, which can be reserved via the Fleetwood's website.
The restaurant has a traditional feel to it. The space is large, and you can choose to sit inside, outside, or on the rooftop. You may want to head there before the sun has slipped beyond the horizon, as it tends to get quite crowded during peak seasons.
Grab some Mai Tai from Monkeypod
Monkeypod has everything you'd expect from a Hawaiian bar:
Colorful vintage surfboards adorn the walls.
Enthusiastic locals play music in the corner.
Waiters wander the floor, bringing foamy tropical cocktails to visitors.
Interestingly, everyone blends together in this spot: an impressive array of regulars, locals, and lovely young honeymooners from the neighboring resorts enjoy spending their evenings at Monkeypod.
Despite its laid-back vibes, the crew doesn't mess around with drinks. Their signature Mai Tai is a must-try, as are their other classic cocktails with tropical twists.
Soothe Your Body with The Lomi Lomi Massage
Lomi Lomi is a Hawaiian tradition that combines massage techniques, essential oils, and ancient prayers.
The relaxing and nurturing touch experience is also known as the "loving hands" massage. The massage's long, continuous strokes are intended to help the body get over its twisted patterns, which cause stress and strain on the muscles.
Many people believe that the first Polynesian settlers brought the healing art of Lomi Lomi to Hawaii. Nowadays, it has spunoff into various version, so you may encounter different techniques all across Kaanapali.
Dance Around at The Dirty Monkey
Dirty Monkey is yet another popular tourist attraction on historic Front Street. This hotspot hosts a variety of West Maui nightlife events and performances every night of the week.
Dirty Monkey is the quintessential sports bar in tropical paradise, with flowing beers, sports on TVs, and a buzzy and rowdy atmosphere. On the weekends DJs spin tunes to draw in the younger crowd.
The bar is also one of the best in town. There are over 100 different types of whiskey from around the world. There's also an insightful draft beer menu sourced largely from microbreweries on the island.
Experience The Friday Town Parties
The Friday Town Parties are a unique Maui tradition that takes place every second Friday in Lahaina. This is without a doubt one of the best ways to learn more about Maui's culture, society, art, and entertainment.
(Also, if you're headed to a Friday Town Party you may want to check out our post on Lahaina's Best Bars.)
Friday Town Parties bring the community together while showcasing the uniqueness of the legendary Lahaina. Local Hawaiian music, food vendors, art exhibitions, and education booths are on display.
Depending on the season you're visiting Kaanapali, you may also get a chance to experience a holiday celebrations.
Enjoy A Romantic Date at Leilani's
If you want tropical romance without any tack, Leilani's is the place to go on Kaanapali Beach, thanks to its airy and sprawling ambiance.
Suppose you've come to drink the night away. In that case, head to the lanai and order a cocktail from their menu. Grab a stool and immerse yourself in the open-air beach bar atmosphere with live ukulele and dazzling views of Kaanapali Beach.
The food at Leilani is mostly casual and focuses on seafood. You can also order a slice of the famous Hula Pie as Leilani's is is part of the Duke's restaurant family.
Spend The Night Stargazing at Haleakala
Haleakala provides a one-of-a-kind opportunity to have one of the most spectacular stargazing experiences of your life. This family-friendly tour begins around 5 p.m., when you will be taken to see the magnificent sunset from Haleakala's summit.
Though Haleakala is on the other side of the island from Kaanapali so you'll have to make a trip. 
The tour includes a telescope to view star constellations, galaxies, and observable planets.
Temperatures do drop significantly at this elevation, so bring proper clothing. Also, bring some water with you because altitude sickness is typical near the summit.
Have A Family Dinner at Lahaina Grill
For decades, Lahaina Grill, which opened in 1990, has been a West Maui favorite. Customers rave about the romanticism of this New American bistro's European feel.
It's an award-winning eatery with a menu full of locally sourced food items. Make reservations ahead of time because tables usually fill up quickly.
Seared Ahi, Wagyu Beef Ravioli, Sautéed Local Mahi Mahi, and Kona Coffee Roasted Lamb Rack are among the superstar menu items. Lahaina Grill offers island-style twists on their cocktail menu with a mixologist on staff.