Maui is an excellent destination for honeymooners, featuring gorgeous beaches and scenery, and plenty of places to stay that cater to the recently married.
But what are the best places for honeymooners? Which part of the island? What if you prefer resorts? What if you prefer secluded hideaways?
Below we discuss the best places to stay for honeymooners across the island, so that you can celebrate your vows worry-free.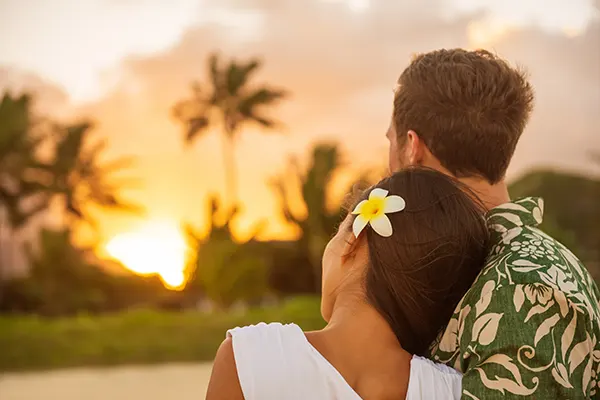 What Are The Best Resorts For Honeymooners?
Hana-Maui Resort
Hana Maui Resort is near the South-Eastern shore of Hana, and largely considered one of the best all-inclusive resorts on the Island.
The resort features a private lanai, with views of the serene ocean and verdant palms.
Hana Maui Resort has an all-inclusive package that includes non-alcoholic drinks, snacks, three meals, snorkeling, horseback riding, and more. The resort also has a spa, and the resort offers classes on hula dancing, coconut cracking, and even how to throw a fishing net. The hotel also offers a shuttle to take guests around the Hana area.
Are The Rooms Nice?
There are 74 rooms or suites to choose between, some of which include kitchens, and others are ocean-facing bungalows. Rooms are clean and spacious. All suites face the ocean except for the Garden Suite.
The rooms range from 499 ft² up to 835 ft², and suites range between 600 ft² and 942 ft², but no matter which room you choose there's plenty of room for honeymooners.
What's The Cost?
This will be repeated throughout this article, but this is Maui so there are few cheap options, especially when it comes to resorts. Honeymooners can expect to pay between anywhere between $600 and over $1000 a night, depending on the time of the year and what kind of room you choose to stay at.
What To Do Nearby?
There's plenty of activities to fill up your calendar when you stay at the Hana-Maui resort, between hiking, dining, and—of course—beaches.
The hotel shuttle will pick you up from the resort and plop you off at Hamoa Beach, only a about seven minute ride from your bedroom. Or if you prefer to catch the sun a bit closer there's Kapueokai Bay (also known as Hāna Beach Park). Whereas guests who want to be active should check out Honokalani Black Sand Beach,, only 3 miles away.
For local dining, Braddah Hutts BBQ Grill food truck and Shaka Pops are close to the resort, the latter being great for both adults and kids. Or, if you want to venture out into Maui then try The Bamboo Hale at Hana Farm.
And for hiking, we would be remiss if we didn't mention the Hana Lava Tube and Black Sand Beach. Two sights you wont find anywhere else in the world, but in Maui near the Hana-Maui Resort.
Wailea Beach Resort
Wailea Beach Resort, part of the Marriott chain of resorts, is only a few meters away from beautiful Wailea beach.
It has suites and rooms with balconies for you to enjoy the beautiful ocean view. There are also five different pools so you and your significant other can always take a dip.
Their restaurants offer world-class delicacies. And Wailea Beach Resort offers romantic couple services like the Lomi Lomi massage at the Mandara spa.
The Rooms
There are several rooms to choose between at Wailea Beach Resort, but each is spacious and comfortable. Honeymooners have a choice between ocean and garden views, with various amenities depending on how much luxury you want to indulge in.
Every room includes an outdoor balcony (or lanai) and modern technologies to make your stay comfortable and serene.
If you're interested in splurging check out the Sundeck Collection rooms, which feature an additional 150 ft² of outdoor living space.
(Still not sure if Wailea Beach Resort is right for you? Check our our guide comparing Andaz Maui and Wailea Beach Resort.)
What's The Cost?
Wailea Beach Resort tends towards the higher price side of Maui's resorts, hovering around $900 a night and up, with the lowest prices tending not to dip below $800 a night. If you're lucky we've some prices sometimes get as low as $694, but not often.
What To Do Nearby
Wailea Beach Resort aims to be the complete package, so there's plenty to do in and around the resort.
As the sun sets, check out the Te Au Moana Luau for culture and festivities.
There is of course the enormous NALU pools, with four water slides for young and old. There are grottos and bars and even a food truck.
If you and your significant other like golf, there are two courses nearby, Wailea Emerald Course and Wailea Gold Course.
And if you're visiting at the right time of year, in the winter months between December 15th and March 15th, keep your eyes peeled on the waters as you may spot a migrating humpback whale.
Wailea Beach Resort also features an a digital portal to make booking activities and reservations as simple as swiping up on your phone.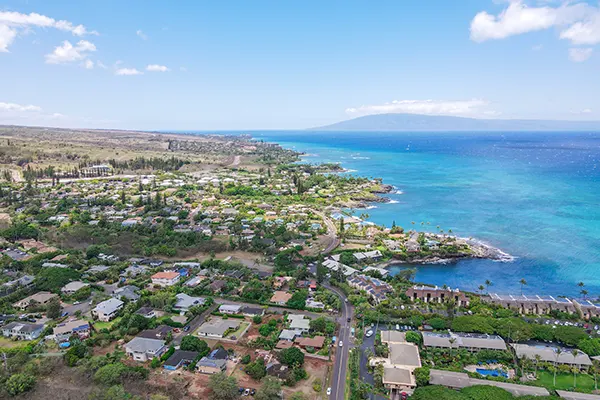 Ritz-Carlton Kapalua
Ritz-Carlton Kapalua is the most remote resort on Maui, located on the island's northwest shore, and it's also one of the most elegant resorts on Maui.
There are three tiers of pools, and the top tier is specially reserved for adults, so honeymooners can have some privacy away from kids and they're privy to some spectacular views.
You can see amazing views of the island of Molokai and the Pacific from the resort. Their rooms have more than enough space, and they have plenty of restaurants. They offer a lot of activities like snorkeling, whale watching, etc. Their couples' services are also splendid.
(For more information, check our in-depth review comparing Grand Wailea vs Ritz Carlton Maui.)
How Are The Rooms
Honeymooners can choose between standard rooms and suites. And there are also luxury residential suites.
There's also a honeymoon package which includes a daily breakfast at Ulana Restaurant, accomodations in a Deluxe or Deluxe Ocean View guestroom, and one day in the VIP Poolside Cabana, so you can honeymoon in ease and comfort.
How Much Do The Rooms Cost?
The Ritz-Cartlon in Kapalua is far from cheap, with prices starting around $1,586 a night. Put one way, a week at the Ritz-Carlton Kapalua the equivalent of a down payment for a house in some cities around America. And honeymooners want to splurge and include Club Access in their reservation they'll need to expand their wallets to about $2,419 a night.
And for the big spenders among us, the Royal Pacific Suite with Club lounge access, costs $9,995 a night.
All rates are flexible, depending on the time of year.
What To Do Near The Ritz-Carlton Kapalua?
Located at the Northwestern coast of Maui, in the midst of Kapalua, there's plenty to do right in the vicinity of the Ritz-Carlton.
The West coast of Maui is littered with beautiful beaches, including…
Honolua Bay
Mokule'ia Bay
Oneloa Bay
Namalu Bay
Napili Bay
But if you want to skip feeling salt water on your skin, then the resort's 20,000 sq. ft. deck features pools, and, of course, cabanas, and a 24-hour heated pool (but do you really need more heat considering the sun?).
Honeymooners might want to dare each other and Zipline two miles across the West Maui mountains. Or, take a private horseback ride at Ironwood Branch. The more adventurous might prefer to off-road in an ATV, or see who can make par at either one of Kapalua's famous golf courses.
What Are The Best Honeymoon Hotels in Maui?
Fairmont Kea Lani
Fairmont Kea Lani is a secluded hotel—even though it is on the tourist side of Maui—and the only hotel with a 22 acres beachfront.
Fairmont Kea Lani provides luxury accommodations for honeymooners that want to splurge.
Know that Fairmont Kea Lani also offers a Grand Romance Package: a 3-night stay in a suite or an estate with care-services.
Rooms
Some of the biggest rooms in Wailea are at the Fairmont Kea Lani.  Every single suite starts at 860 ft² and goes up from there. While room start at 640 ft² and come with king beds. Plenty of room for a celebrating couple.
But if you need more there are also villas. The smallest of which starts at 3200 ft², and is fittingly opulent. Villas even include a plunge pool.
(Still not sure? Check out our review comparing Fairmont Kea Lan and Grand Wailea.)
Andaz Maui
Andaz Maui is a luxury hotel, part of the Hyatt family chain of resorts. There is a beach in front of the hotel called Mokapu Beach, also known as Golden sand beach because of its—you guessed it—gold-like color. Andaz Maui in Wailea is only a 10 minute walk from Kihei.
Another essential feature of Andaz Maui is that it is pet-friendly. They have three pools, which are differentiated in terms of age. Andaz Maui also offers quality food and top-notch services like the 6-hour unite spa in the Awili spa couples suite.
(We've written an in-depth comparison guide for Andaz Maui and The Four Seasons.)
Rooms
The suites and villas at Andaz Maui are all luxury, a with neutral tones for opulent sophistication.
Rooms range bet ween 380 and 420 ft², and include either two queens or a single king bed. (If you go for the queens you can always push them together!) So, by resort standards rooms are a little small compared to other resorts in Wailea.
If you pay for an ocean view you'll have a lovely view of Mokapu beach.
The suites start at 850 ft², while the premier suites at 1500 ft²—but there are only two premier suites on the property. Be aware that the standard suites do not include a kitchenette, only the premier suites do.
Whereas, for the indulgent, the villas range from 1000 to 4070 ft², offering a kingly accommodation looking out at the ocean.
What About Condos In Maui?
The Penthouse Maui
The Penthouse Maui is a 2,824 ft² penthouse (as the name suggests) located in South Maui. With 3 king bedrooms it might be a bit excessive for some honeymooners, but if you're on your honeymoon, and can afford the price, then why not?
Maui's South shore is linked to gorgeous beaches, a hot spot for all couples. And, the Makena Landing in this region is famous for scuba diving.
You can actually spend your whole day viewing and enjoying these sights from the comfort of Boutique Beachfront Penthouse.
Check out the Penthouse Maui website for more pictures and the floor plan.
Rooms
The Penthouse Maui is a big living space, as the word "Penthouse" suggests. There are four bedrooms to choose between, so if you and your significant other get bored with the master suite feel free to move from room to room.
The penthouse includes a study, four bathrooms, and a wraparound lanai opening up onto superb views.
See for yourself in the video below:
Heavenly Hana Paradise
Heavenly Hana Paradise is a studio that offers a heavenly honeymoon, just ten minutes from the beach along the Road to Hana. Nearby lies Charles Lindbergh's grave and the Seven Sacred Pools.
The King Suite bed is large and comfortable, and the studio is embedded in nature so you wake to the peace, beautiful sounds of the jungle.
Imagine waking up next to your partner with a view of black sand beach and overlooking Hana Bay.
Well, you don't have to imagine if you book your trip to this romantic getaway.
Rooms
There are two rooms to choose between: the King room with Garden View (and no kitchen) is 288 ft², and includes a refrigerator and private bathroom.
Whereas the Studio is 525 ft², and has a terrace which is covered and a wicker dining area.  There's even a second terrace as well.
There are many pictures on the Booking.com listing for you to peruse and decide which room works for you.
What About Bed And Breakfasts For A Honeymoon?
Bed and breakfast services are cheaper than the resorts and hotel services. If you want to spend your honeymoon in Maui and you don't want to break your bank, take a look at some of the bed and breakfasts below:
The Plantation Inn
The Plantation Inn is a personalized hotel with just 14 rooms and four suites. It's adults only, perfect for honeymooners. The inn has a jacuzzi and a pool, and the staff serve breakfast each day. It is a sister hotel to the Kaanapali Beach Hotel, meaning, guests of The Plantation Inn can make use of the beach at the Kaanapali Beach Hotel.
(We've put together an in-depth guide on The Plantation Inn.)
Paia's Blue Tile Beach House
Paia's Blue Tile Beach House is on the northern shore of Maui on a beautiful beach. The house has four rooms and two suites. Their rooms and suites have splendid services, but it is best to go for their suites.
Haiku Plantation Inn
Haiku Plantation Inn is a remote Bed and Breakfast residence built in the 1870s. The Inn has four rooms, and is located just a few meters away from Paia.
Ocean Breeze Hideaway
Ocean Breeze Hideaway is in Kihei, and you can see the Maalaea Bay from the lanai of the house. They have a garden where they grow organic plants and flowers. Snorkel activities are one of the services they offer to customers, and they deliver breakfast in baskets each morning to guests.
Wailuku's Iao Valley Inn
Want to wake up next to your partner under a rainbow? Wailuku's Iao Valley Inn is the perfect place for you.
It is situated over the Iao Valley State Park and offers enchanting views of the West mountains and river.
Other Places To Stay In Maui
We've written quite a bit about all of Maui's available lodging, and continue to do so, but we wanted to share a few more places to stay from our friends at Booking.com. 
A Resort Stay: The Four Seasons Resort in Wailea is the cream of the crop of resort stays, with restaurants, ocean views, an on-site spa, and the Shops at Wailea are just down the road. Couples particularly love The Four Seasons!
Bed and Breakfast: Sometimes, it's all in a name, and Adventure in Paradise is exactly what it sounds like, located in Haiku on Maui's north shore. Wake up to a 180 degree view of Haleakala summit every morning from your private patio.
Hotel: The highly rated Maui Sunset hotel combines laid-back atmosphere and the beach of Waipuilani Park. Also, it's only 1.7 miles from the Elleair Maui Gold Club!
Vacation Home: Find your home away from home at Puu Koa Palms, six minutes from Hookipa Beach, and near the Hana Highway. Also particularly great for couples!
Villas: If you're looking to vacation in style with your own villa try the Andaz Maui, which include all the expected amenities along with grills and plunge pools.