When you go to Maui, it's important to find a way to get around the island with ease. Your mode of transportation will determine where you can go and what you can do.
And Maui is a huge island with lots to see and explore.
Depending on where you stay and what your budget is, there are several good ways to explore the island.
Here are some tips on how you can get around and enjoy the island of Maui.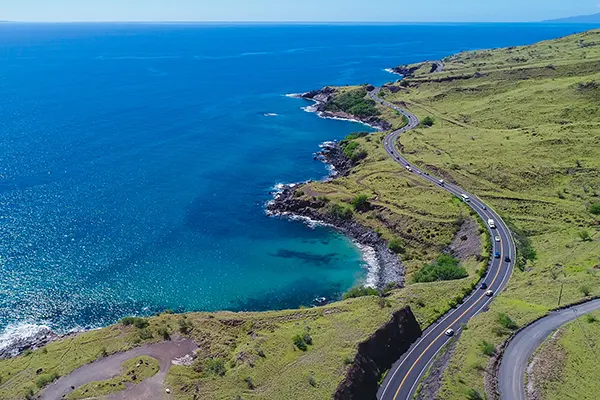 1. Public transit
The Maui Bus is a cheap, easy way to get around the island. Ten routes run daily throughout Maui—except on Thanksgiving and on Christmas.
Hop on the bus in Kahului and head out to the beach resort areas of Kihei and Wailea. Or take the Lahaina Islander route from Kahului down to Lahaina.
The Hana Highway route travels from Kahului to Paia to Hana.
2. Car Rental
Maui is the second-largest island in the Hawaiian chain, and it can take quite a while to get around. A rental car is recommended if you want to explore more than just one part of the island.
If you're staying in South Maui, you don't need a rental car except for day trips.
However, if you're staying on the West or North side of the island, a rental car is highly recommended.
3. Motorcycle
If you're looking for an exciting way to get around Maui, consider renting a motorcycle or scooter from one of several companies that specialize in motorcycle rentals.
Motorcycles and scooters are fun and make getting around easier since parking is typically much easier. Just be sure you have an appropriate helmet and protective clothing along with some riding experience before taking off.
4. Taxis
Taxis are available on all islands and provide door-to-door service.
Rates are usually metered or set by zones, with an average rate of $3 to $4 per mile in Honolulu.
Some taxis offer flat rates between popular tourist destinations.
5. Shuttles
Shuttles are available on all islands and provide door-to-door service.
They are offered by most hotels and resorts for hotel guests. Rates are based on distance and typically start at $15 per person.
What is the best way to Travel Around Maui?
The best way to get around Maui is by car, but there are plenty of other options. Buses and taxis are available, as are rental cars, motorcycles, and shuttle services. Rental cars can be reserved at the Kahului Airport or at various locations around the island.
If you're more into self-guided tours of Maui, you can rent a motorcycle or even a scooter.
Many visitors take public transportation during their time on Maui, which can be a great way to relax after an exhausting flight.
The Maui Bus provides daily service across the island in four separate zones: West Maui, Central Maui, Haiku-Paia, and South Maui (which includes Kihei and Wailea).
What is the Cheapest way to get Around Maui?
To enjoy Maui on a budget, don't drive a car. There is a shuttle bus called the Maui Bus that is super affordable and also very convenient. Not only are the shuttles cheap, but there is also no better way to see Maui's many charms.
Maui's bus will take you to many of the tourist destinations in Maui and stop at several places within these locations so you can get out and do your sightseeing or adventure activities.
There is one caveat that applies regardless of the island you're on: rental car prices can be a little funky since they're set by several factors, like occupancy and rental agency policies.
Can you visit Maui Without a car?
While many visitors want a car to explore Maui, others do just fine without one.
Depending on where you stay and what you want to do, you may not need a car at all when visiting Maui. Some visitors prefer public transportation or walking.
Renting a car gives you more flexibility, but it also adds more time and cost.
Here are some tips for how to get around Maui without a car:
Rent a bike and explore your resort area.
Rent a moped.
Hop on the bus.
Are car rentals on Maui expensive?
Renting a car is the most convenient way to get around Maui and other Hawaiian islands. You can stop when and where you want and control your schedule (within the rental agency's guidelines).
If you like the idea of independence, this is the way to go. Be aware that traffic in Maui can be unpredictable, so add some extra time between activities whenever possible.
However, renting a car isn't cheap. Travelers who are on a budget or who don't plan on leaving their hotel much may want to skip it. Also keep in mind that parking is limited at many hotels, restaurants, beaches, and attractions in Hawaii
Is Maui walkable?
You can't easily walk through all of Maui's most popular areas. Even though Maui is smaller than other vacation destinations it has a complex topography.
The islands of West Maui and Haleakala are so large that it takes more than one day to cross them by foot.
The best way to see Maui is to drive around the island and stop at places that look interesting.
If you want to walk along the beach or hike into the mountains, you'll need to be prepared with the right shoes and clothing.
However, even though you can't walk from one end of the island to the other, there are plenty of walking paths along the coast and in some areas that allow for long walks without leaving the resort grounds.