When people think of Hawaii they envision  beaches, flower necklaces (leis), and coconut water.
But did you know, Hawaii also has a lot more to offer? Like farms, botanical gardens, food, and culture! If you want everything in one place go to Kula, Maui!
If you're planning a trip to Kula Maui, Hawaii, read on for everything you need to know.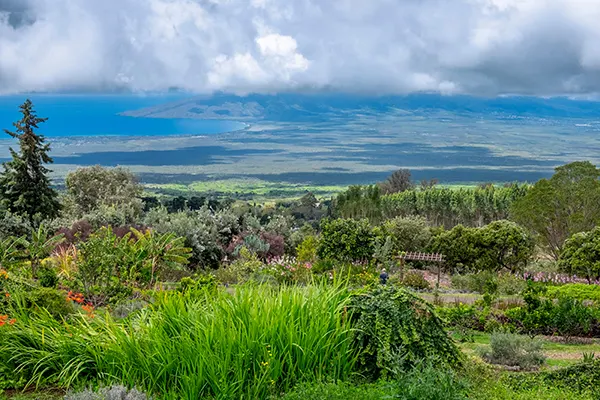 Where exactly is Kula?
Kula translates to "open country" in Hawaiian.
It's located in the upcountry region of Maui, at approximately 8000 to 10000 feet elevation.
To get to Kula, you head towards Hwy 377, pass the exit to Haleakala summit and continue towards the open lands of Kula.
What side of Maui is Kula?
The Kula district stretches across the up-country region of Maui on the western-facing slopes of Haleakala.
It stretches from Makawao to Ulupalakua.
What is Kula known for?
Kula is one of the quaint communities in Maui. It's often a go-to place for locals when they want to escape the heat and noise of Maui.
It's known for its old farms, cowboys, artists, lavender, orchids, tropics, and of course the food: Kula's goat cheese, protea, and coffee that you can enjoy at the many cafes along the roadside.
How far is Kula from the airport?
Kula is approximately 10 miles away from Kahului Airport (OGG).
It takes about 26 minutes to travel from Kahului airport to Kula by car.
Is Kula Maui safe to visit?
Yes! According to areavibes.com Kula is extremely safe at all times of the day.
However, as a tourist, it's best to be safe and take precautions to avoid any unpleasant incidents.
How is the climate in Kula Maui?
The weather in Kula is usually warm, windy, and humid.
In the summer months, the weather ranges from 64-77F. In the winter months, the temperature ranges from 60-73F, which is pleasant for tourists.
What county is Kula in?
Kula is a part of Maui county. It's a county located in the U.S. state of Hawaii.
Other regions around Kula include the Island of Maui, Lānaʻi, Molokaʻi, Kahoʻolawe, and Molokini.
What altitude is Kula at?
Kula is located at 914 meters (3000 feet) above sea level on the fertile slopes of the Haleakala Volcano.
What towns are in Upcountry Maui?
Along with Kula, other towns in upcountry Maui include Haiku, Makawo, and Pukalani.
The weather is relatively colder and offers quite a bit of agricultural and cultural exposure for tourists and residents.
​​What's in Kula Maui?
Kula offers a variety of experiences for visitors. The town has cafes with scenic views, historic monuments, agricultural parks and so much more.
Is Haleakala an active volcano?
Haleakala is an active volcano. But it last erupted 400-600 years ago.
Given the age of the volcano, experts say it's unlikely that the volcano will erupt again anytime soon.
Is Kihei a good area to stay in Maui?
Yes, Kihei is a good place to stay when in Maui. It's a beachfront town known for its budget-friendly accommodations and simplicity.
Some reasons why you might want to stay in Kihei include:
Easy access to other areas of Maui via road. Even the airport is only about 20 minutess away so you can always fly to other islands if you want.
Kihe has many beaches and parks for picnics, walks in the evening, and also snorkeling .
It has a lot of food options: from food trucks to roadside chicken to restaurants.
It has some of the most beautiful sunsets thanks to its western orientation.
Most importantly, Kula is affordable.
Where are the best hangouts in Kula, Maui?
From wineries to coffee shops to parks, there are plenty of amazing places you should visit in Kula Maui. Check these out when you're there:
Maui's Winery
Maui's Winery is the largest winery in all of Hawaii, originally established as the Tedeschi Vineyards in 1974. It's located a mile past Hwy 31 road.
The Maui Blanc Pineapple wine is unique to their vineyard but you must also try their Maui Splash which is a combination of pineapple and passion fruit.
Shim Coffee Farm
Located on 625 Middle Road, the Shim Coffee Farm is a protea, coffee, and botanical farm.
You can book a tour and have the experience of picking coffee beans, seeing the plumping process live and viewing one of the best scenery Kula has to offer.
Grandma's Coffee Shop
Once you walk through the doors of Grandma's Coffee Shop you get to experience vintage-style seating, old coffee picking memorabilia, and of course, the smell of freshly roasted coffee.
If you ask the locals, Grandma's offers some of the best coffee you can drink on the Island. They make lattes, cappuccinos, espresso, and drip coffee.
If you're in the mood for food, you can try some of Grandma's pasta bakes, waffles, stuffed omelets, and more.
Rice Park
If you're tired of the hustle and need a break, head over to the Rice Park on Waipoli Road. They have tables, restrooms, and grills so you can plan an entire picnic while you're there.
Or if you just want some peace and quiet, take a seat and enjoy the beautiful sunset.
Kula Sandalwoods
In the mood for food with a view? Kula Sandalwoods is the place to be.
It's located on the Haleka HWY. They have a gazebo and a terrace where guests can enjoy brie-stuffed french toast, omelets, freshly baked bread, jams, jellies, and coffee. Guests can do all this while enjoying the spectacular ocean views.
Surfing Goat Dairy
If you've tried and loved Maui goat cheese, visit the Surfing Goat Dairy to see how they cultivate and make goat cheese.
They offer a variety of tours including a casual tour where you can meet the goats, or you can book a more detailed tour to see the evening chores on the farm and milk the goats if you get a chance.
Kula Bistro
Hoping to find some food with Italian flair in Hawaii? Head over to the Kula Bistro where they specialize in home-style food in a variety of styles and cuisines including pizzas, pasta, and desserts. They also have vegan, vegetarian, gluten-free, and healthy options.
The bistro is located on the slopes of Haleakala, so you get the complete package of food with a view.
Ocean Vodka
Made with organic ocean water and sugar cane, the Ocean Vodka of Maui is something you can not miss.
You can visit the farm to visit the distillery and gift shop to see how the vodka is made.
Kula Lodge and Restaurant
For a relaxing experience and the ultimate cozy vibes, you can book a stay at the Kula Lodge and Restaurant. Go to sleep after warming up next to the fireside and wake up with a view of the spectacular sunrise.
Once you wake up you can enjoy a delicious loco moco while admiring the art gallery downstairs. Afterwards, take a walk in the garden and enjoy the greenery of the hills and the valley.
Ulupalakua Ranch Store
If you visit Maui's winery, go to the Ulupalakua Ranch Store for lunch afterward.
They have a small deli that offers goods like sandwiches or specials that include grilled beef, grilled elk, and chicken. Enjoy your food inside or take it outside on the veranda for a pleasant experience.
Ali'i Kula Lavender Farm
If you're a lavender fan, this place is a must-visit for you! The Ali'i Kula Lavender Farm offers all things lavender. It's located atop the bicoastal views of the West Maui Mountains and the North Shore.
They have a range of lavender products like oil, soap, and edibles like lavender-infused biscuits. Once you visit the farm you can also get a treasure map from the gift shop to go search for 10 of the hidden treasures on the farm.
Once you find all 10 spots, you can go back to the gift shop to claim your prize.
You can also book a cart tour or the walking tour of the farm if you want.
Oo Farm
O'o Farm is a great place to visit for anyone that is invested in what goes into their food. The farm sits atop the mountains and offers a farming and eating experience in one.
Once you visit the farm you get a tour of the farms with an explanation of fruits, vegetables, and other plantations that they have on their farms.
After that, you can choose to eat from their expertly prepared dishes that include salads and a variety of other healthy mains.
Church Of Holy Ghost
The Church of the Holy Ghost was originally built in 1894 as a gift from the king and queen of Portugal to the Portuguese plantation workers on the island of Maui.
It's one of the most beautiful landmarks in Kula, a white octagon-shaped Roman Catholic church perched atop the Waiakea hills.