Andaz Maui and Fairmont Kea Lani are appealing resorts with plenty of style and amenities packed in, comfortable for couples with space for families.
If you're trying to decide between the Andaz and the Fairmont Maui, take a look at our comparison.
There are more similarities than you might realize!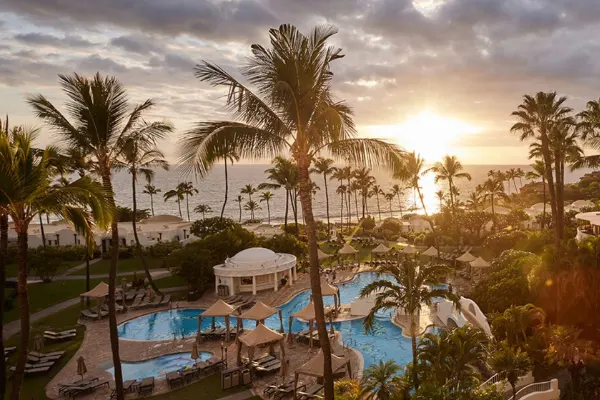 Which Has The Better Location: Andaz Maui Or Fairmont Kea Lani?
Andaz Maui and Fairmont Kea Lani are at either ends of Wailea, South Maui.
They're both beachfront properties, and they both border beaches that are slightly chilled out in comparison to hectic Wailea beach.
Fairmont Kea Lani sits on Polo beach, a family beach enjoyed for gorgeous natural scenery and a tranquil vibe. Fairmont Kea Lani is close to Makena, an untouched strip of coast with fantastic beaches and hiking trails.
Andaz Maui looks over Mokapu beach, a great place for snorkeling (here's where you can rent snorkel gear). From Andaz Maui, there's easier access to West Maui, and a slightly easier starting place if you plan on tackling the Road to Hana.
What Can You Expect From A Room At Andaz Maui Or Fairmont Kea Lani?
Rooms at the Fairmont Kea Lani are something a bit different. For a start, the Fairmont Kea Lani doesn't deal in standard spaces. Instead, every room is actually a suite.
That means Fairmont Kea Lani is technically home to the biggest basic rooms in Wailea.
Add to that the extra size of the private lanai, and a room at the Fairmont Kea Lani can comfortably accommodate families for longer stays.
The décor combines splashes of color with standard hotel room neutrals, and some added amenities help create a luxury space.
The Andaz, on the other hand, is at the opposite end of the scale. Rooms at Andaz Maui are between 380 and 420 feet, so under half the size of a standard at the Fairmont.
However, modern décor does give them a slight edge when it comes to styling. Andaz rooms also include a private lanai but, as with the room itself, these are a little on the small side.
While the standard rooms at Andaz Maui are small, it has the advantage of options. If a room isn't enough space, there are multiple sizes of suites, and even a few villas available to rent.
What Is The Pool Like At Andaz Maui And Fairmont Kea Lani?
Both Andaz Maui and Fairmont Kea Lani have multiple pool options for visitors.
The Andaz Maui pool is actually four tiers of cascading infinity pool. The top pool is popular with grown-ups, thanks to the Lehua Lounge and Pacific Ocean views.
The bottom pool attracts families, although it does lack slides and excitement. Andaz Maui also has an adults-only pool, a smaller pool tucked away from the crowds.
At the Fairmont, guests have the choice between two lagoon pools, two whirlpools, a kids pool, and an adults-only serenity pool.
A stand-out feature is the 140′ waterslide that connects the two lagoon pools, but the Upper Lagoon Pool swim-up bar is pretty exciting as well.
In terms of options, the Fairmont Kea Lani is the winner. However, there's definitely something to be said for the connected pools at Andaz Maui, which are elegantly arranged for epic views.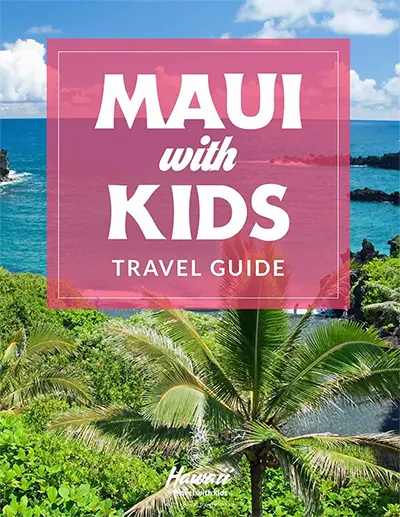 On-Site Restaurants At Andaz Maui And Fairmont Kea Lani
Vacationers who enjoy sampling the local cuisine will be happy at both Fairmont and Andaz.
The Fairmont Kea Lani is home to Ko, an authentic and sustainable restaurant that serves food inspired by generations of family restaurants.
At Andaz Maui, Ka'ana Kitchen dishes up farm to table delicacies, served family style. There are also plenty of great restaurants near Andaz Maui.
If you prefer fresh seafood straight from the waters of Hawaii, Fairmont presents Nick's Fish Market.
This is a great place for a date night, thanks to the elegant design and exceptional service. The Hyatt Andaz can also bring you the day's best catch. Book a table at Morimoto Maui, and enjoy a wonderful sushi menu.
Fairmont Kea Lani and Andaz Maui both have excellent bars and poolside cafés, so guests can really dine in style throughout the day.
It's hard to choose between either resort when it comes to restaurants.
If there's one thing to give Andaz Maui a slight edge, it's the on-site luau. Feast at Mokapu combines luxury with tradition, for a sophisticated take on a luau.
Is There A Spa?
Awili at Andaz Maui Wailea is a salon and spa that uses a unique apothecary journey to add personalization to the experience. It's a lavish spa, which is individualized for something a bit special.
However, the Willow Stream Spa at Fairmont Kea Lani is exceptional. It's award-winning, and uses the latest in spa technology to create an experience that will leave you feeling brand new.
Maui-sourced ingredients and Hawaiian tradition are combined with these cutting-edge technologies, for a remarkable spa that you'll struggle to beat on Maui.
What's Better At Andaz Maui?
Andaz Maui offers some variety for potential guests, with various room options, including small standard sizes and multi-roomed villas.
The overall atmosphere is very "boutique hotel" which is unusual in such a large resort. It creates something quite unique, in a town that's full of luxurious places to stay.
What's Better At Fairmont Kea Lani?
The rooms at the Fairmont Kea Lani are a step-up, as the largest standard size in Wailea.
This is ideal for families, who can then head out and enjoy the 140′ water slide that connects the Upper Lagoon Pool to the Lower Lagoon Pool.
At least, the kids can enjoy this, while the adults enjoy the swim-up bar at the top. This really encapsulates the appeal of the Fairmont Kea Lani—it has something for everyone.
Understated Elegance Or Spacious Welcome?
There are quite a few similarities to the Fairmont Kea Lani and Andaz Maui.
They both have a stylish and sleek finish, with restaurants that emphasize the local ingredients, and high quality spas. The Fairmont has the advantage for families, but Andaz has more options for room sizes.
Other Places To Stay In Maui
We've written quite a bit about all of Maui's available lodging, and continue to do so, but we wanted to share a few more places to stay from our friends at Booking.com. 
A Resort Stay: The Four Seasons Resort in Wailea is the cream of the crop of resort stays, with restaurants, ocean views, an on-site spa, and the Shops at Wailea are just down the road. Couples particularly love The Four Seasons!
Bed and Breakfast: Sometimes, it's all in a name, and Adventure in Paradise is exactly what it sounds like, located in Haiku on Maui's north shore. Wake up to a 180 degree view of Haleakala summit every morning from your private patio.
Hotel: The highly rated Maui Sunset hotel combines laid-back atmosphere and the beach of Waipuilani Park. Also, it's only 1.7 miles from the Elleair Maui Gold Club!
Vacation Home: Find your home away from home at Puu Koa Palms, six minutes from Hookipa Beach, and near the Hana Highway. Also particularly great for couples!
Villas: If you're looking to vacation in style with your own villa try the Andaz Maui, which include all the expected amenities along with grills and plunge pools.