Driving on Maui is a bit of a mixed bag. Drivers have to take it slowly, but most roads are easy to navigate. However, there are some spots where even confident drivers will feel on the edge.
And in many cases, we mean that quite literally. 
Take a look at this guide to find out which roads on Maui are best avoided, and which might be worth the effort.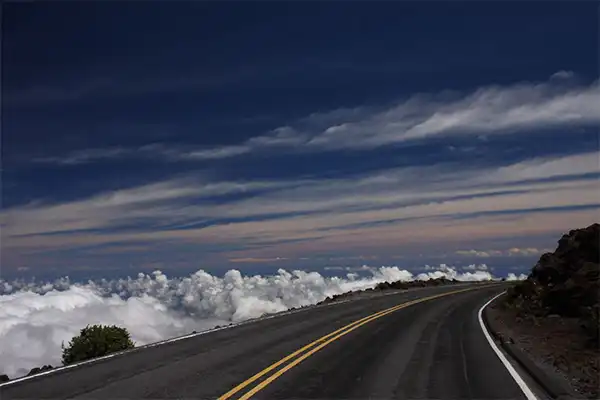 Is It Safe To Drive On Maui?
Maui's roads have undergone improvements over recent years, with tourists and locals finding the major highways safer and easier to traverse.
However, Maui is an island with a lush and varied landscape, and some spaces aren't suitable for a paved two-lane highway.
Even popular Maui destinations can often only be accessed via a dirt track or a gravel path.
Also, know that sometimes there can be traffic on Maui. 
For the most part, driving on Maui is safe if drivers are careful. Take roads slowly, pay attention to other cars, and keep your eyes on the road, not on the scenery. 
Is The Road To Hana Safe?
The Road to Hana, Hwy 360, encompasses some of Maui's greatest scenery, but the dangerous drive also brings tight turns and one way roads.
Drivers have to plan in advance, go carefully, and pay close attention to cars around them. As well as being a difficult journey, the highway is also a busy one.
Driving the Road to Hana is one of the most popular activities on Maui, with an estimated 500,000 people a year making the trip.
But while some have a happy and relaxing drive, most visitors complete the journey with no small amount of terror.
In fact, the frequent arguments caused by the confusing journey has earned the Road to Hana the nickname "divorce highway."
Despite the risks, Hana Highway remains a must-see Maui day trip. But if you prefer your sightseeing without an edge of fear, consider booking a tour. 
Is Kahekili Highway Safe?
Kahekili Highway is known to be the most dangerous road on Maui, and one of the most dangerous roads in all of Hawaii.
A mostly one-lane road, to the one side is precarious rock, and to the other is the steep drop of a cliff edge.
And even the two lane sections are so narrow that many drivers treat them as just one. 
Kahekili Highway, Hwy 340, starts on the very edge of West Maui, as the popular beachfront destinations give way to largely untouched Central Maui.
The highway is mostly used by those hoping to see the trails and features at the far reaches of the West Maui mountains.
There's no denying that the scenery on Kahekili Highway is impressive, but you probably won't take it in properly as you cling to the edge of your seat.
Anyone wishing to drive the Kahekili Highway must go slowly. When approaching one of the many blind spots, drivers are recommended to honk their horn to alert oncoming traffic.
And as drivers keep an eye on the road, they should also stay alert for tumbling rock fall. 
Is Piilani Highway Safe?
Piilani Highway is the back road that some take as an alternative route home from the Road to Hana.
Piilani Highway, Hwy 31, skirts East Maui, before heading into the upcountry, and is considered one of the most dangerous roads on Maui.
Rental companies will often caution you against using this road, as it's isolated, narrow, and has many blind turns.
Piilani Highway is a bit of a rollercoaster of a road, and not the easy alternative to the Road to Hana that many think it is.
Parts of the road are unpaved, and rock falls and hairpin bends present some real hazards.
However, it does tend to be quiet, although driving slowly is still a necessity. After or during heavy rainfall, Piilani Highway should be avoided altogether. 
Part of the reason many rental companies recommend avoiding Piilani Highway is that once you're there, you're pretty much alone.
Experience a breakdown, and you could be stranded for a long time. Especially as cell service is negligible.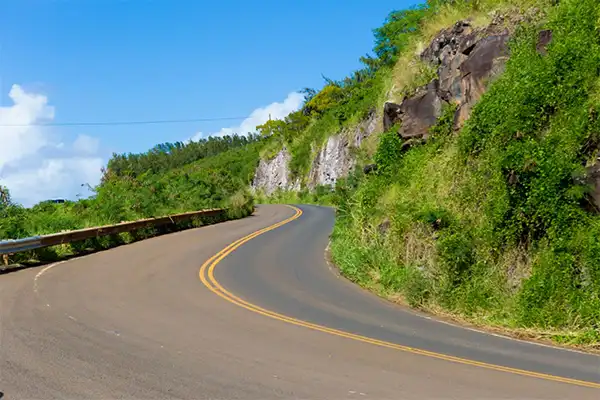 Is Haleakala Highway Safe?
The Haleakala Highway, Hwy 378, is a paved road that takes visitors close to the summit of Haleakala.
There's then a short walk to a look-out point, and you can enjoy the views without the work.
The drive takes between 60 and 90 minutes, and the road is largely safe. However, steep drop-offs and blind turns render the Haleakala Highway nerve wracking in places.
You also have to keep an eye out for the cows and nene (native Hawaiian birds) that like to wander across the path. 
You'll want to drive Haleakala Highway slowly, to take in the views that greet you along the way.
You'll also want to go slow to avoid any altitude sickness that can occur as the scenic road elevates.
While the highway is well maintained, the drop-offs and blind turns are off-putting for many drivers. 
Adverse Weather Conditions And Maui Roads
Adverse weather, like heavy rain, can transform roads from "relatively safe" to "must avoid".
As well as washing away trails and flooding roads, poor weather can lead to rock fall, which is a real issue on Maui cliff roads. 
Remember that Maui experiences many microclimates. Even if you've had a lovely and sunny day on Wailea, the weather at Kahekili Highway might be completely different.
Isolated areas of heavy rainfall can catch unsuspecting visitors out.
If you plan on driving the roads listed above, check the weather conditions before you go, and turn back if things seem unsafe. 
Final Thoughts
A rental car is a necessity for many visitors to Maui, as it's the best way to explore all the island has to offer. However, if you really want to see all of Maui, you'll have to tackle some tricky roads.
Kahekili Highway and Piilani Highway are both best avoided due to their isolation and dangerous cliff edges.
But while roads such as the Road to Hana and Haleakala Highway are stressful, many think they're worth the effort.
Alternatively, book a tour, and see the sites from a more comfortable position.