The one thing that Ka'anapali and Kihei have in common is that both areas guarantee a great vacation.
One of the most popular tourist destinations on all the Hawaiian islands is Ka'anapali. Kihei seems sleepy in comparison, but Kihei attracts vacationers who want to take things at their own pace.
So, which one is right for you?
In this guide, we'll cover everything to know about Ka'anapali and Kihei, and why the best vacation makes room for both.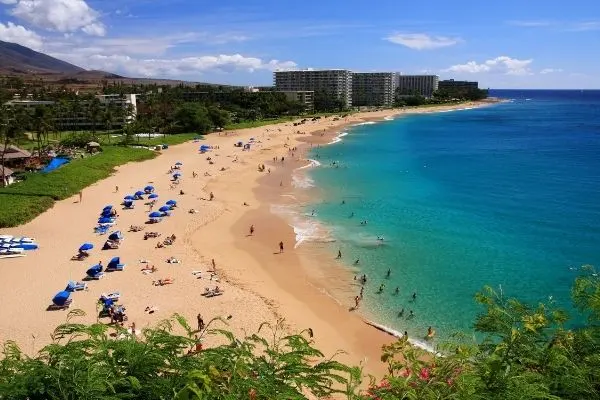 Ka'anapali vs Kihei
Whether it's due to the numerous recent awards, growing word of mouth, or its irresistible convenience, Ka'anapali has become one of the top areas to stay on Maui. For many vacationers trying to plan a trip, Ka'anapali is the obvious choice of destination.
In Ka'anapali, everything is a walk away. From the shops to the beach, the restaurant to the hotel room, compact Ka'anapali caters to you.
And if you like to mix up your relaxation with some excitement, Ka'anapali is a wonderful base for getting out and discovering Maui. Plenty of resorts offer day trips, and the convenient location means you can be there and back in time for dinner.
Things To Do In Ka'anapali
Ka'anapali beach. Gorgeous beach with plenty of opportunities for adventure and relaxation.
The cliff dive at Black Rock. A recreation of a historic event, and a thrilling dinnertime show.
Lahaina. Just a short drive (or long walk) away is the historic town of Lahaina.
Whalers Village. A busy shopping center with lots of places to eat.
Honolua. Travel north of Ka'anapali for this charming town, popular with experienced surfers.
West Maui Whale Watching and Snorkel Tours. See the humpbacks as they travel to Maui to breed, and birth their calves.
Where Is Ka'anapali?
Ka'anapali is on West Maui, slightly north of Lahaina.
An incredibly popular tourist destination, Ka'anapali offers easy access to the rest of the island.
All About Kihei
Maui is already well known for the aloha lifestyle, and Kihei takes that aloha atmosphere to the next level.
This residential town isn't the most popular of Maui tourist destinations, but the chilled out local lifestyle makes it perfect for the low-key traveler.
Kihei has miles of beach coastline, with the gentle sands and easy waves of Kamaole Beach Park suiting lazy days out.
If you prefer excitement on the waves, Kihei has you covered. Head to Charley's beach for a surfing adventure.
From Kihei, you can see some of the most beautiful natural features that Maui has to offer. Look out to sea and spot the Molokini crater, or search on land and discover the preserved wetlands.
Things To Do In Kihei
Kamaole Beach Park. Swim in Kam I, stroll along Kam II, and barbecue at Kam III.
Hawaiian Islands Humpback Sanctuary Visitor Center. Learn more about these fascinating creatures that are often spotted in the Hawaiian waters.
Maui Brewing Company. Take a tour at Maui's premier brewing company, and finish the visit with one of their delicious pizzas.
Keawakapu beach. The best place for sunset selfies.
Hawaii Mermaid Adventures. Fulfill a childhood dream and become an actual mermaid.
Kealia Pond National Wildlife Refuge. Easy walking trails where you can spot endangered wetland birds.
Where Is Kihei?
Kihei is on South Maui, just north of the popular resort town Wailea.
Kihei is known for being one of the warmest and driest parts of the island, giving you plenty of days to enjoy the ample beaches.
Which Is Closest To The Airport, Ka'anapali Or Kihei?
Kihei is just under 10 miles from Kahului airport (OGG), which makes it the closer of the two destinations. A journey by taxi is likely to cost you $40, and take around 20 minutes.
There's also the local bus route to Kihei. This is significantly cheaper, but it takes much longer. Expect traveling time to be over three times as long.
Ka'anapali is roughly 28 miles from Kahului airport. By taxi, this will take over 40 minutes, and cost upwards of $80.
Again, it is possible to take the bus to Ka'anapali. The service is cheap, but it can take several hours.
Many of the hotels in Kihei and Ka'anapali offer a shuttle service. This is generally the cheapest option, so make sure to check out what your accommodation provides.
Where To Go For Beaches, Ka'anapali Or Kihei?
If you plan on spending your vacation with every moment on the beach, then Ka'anapali is probably the destination for you.
Ka'anapali beach is a gorgeous stretch of sand, with clear waves that are welcoming to families and adventurers. There are plenty of places to try your hands at a few watersports, and the sparkling sea makes snorkeling a must.
The shape helps shelter Ka'anapali from the most adverse weather conditions, meaning almost every day is a beach day.
With many of the resorts backing directly onto the sand, beach access is easy from anywhere in Ka'anapali.
But don't start booking the resort just yet! The beaches at Kihei may not be as immediately fantastic as Ka'anapali, but they have their benefits.
Kihei beaches tend to be quieter, with a relaxed local vibe instead of a buzzing vacation atmosphere. With plenty of space to stretch out, you can really appreciate the sun, sand, and surf of Maui.
Travel slightly north, and you'll find yourself on a serene stretch of coast. Beaches here vary from the gentle waves and cushioned sands, to rocky picnic spots looking out across stunning vistas.
Head south, and you'll find yourself at the incredible Wailea beach. Probably the most packed beach on Maui, Wailea beach has unbeatable people watching, perfect waves, and a real touch of class.
So, the beach on your doorstep at Kihei isn't as good as Ka'anapali. But the beaches in the neighborhood are unmatched.
Is Ka'anapali Or Kihei Cheaper?
Kihei is still a largely residential area, which makes it one of the cheaper towns on South Maui. Restaurants often cater to locals after a quick bite, allowing tourists to get quality meals on a budget.
Food trucks are also popular in Kihei, and it might surprise you to learn that some of the best Maui meals come from the window of a truck.
Hotels and resorts are also slightly cheaper in Kihei, especially when compared to neighboring Wailea. At the moment, accommodation is still slightly limited.
But Kihei is a growing town, with places often opening up.
Ka'anapali, on the other hand, is all about the tourists. Resorts may not be the luxury accommodations you can find elsewhere on Maui (again, look to Wailea), but these inclusive hotels require a decent budget.
Local Living Or Vacation Vibrancy?
Kihei is still very much an area for the locals. With plenty of people living and working in the area full time, there aren't as many destinations catering to tourists. This helps create that relaxed atmosphere, but it does mean a stay in Kihei is slightly less convenient.
The stripped back simplicity stretches beyond Kihei town. From here, a curious vacationer can discover some of the most beautiful natural areas left on Maui.
Parts of Kihei still feel truly untouched, and they're only a short distance from the nearest restaurants.
Ka'anapali has a different feel entirely. Vacations are a big deal here, and much of the area is set up to cater to the needs of the holidaymaker. Food, drink, and shops are all within walking distance of the resorts.
Ka'anapali is welcoming, but so packed full of excitement that "calm" isn't exactly an apt description. Try "buzzing" or "playful" instead.
So, Which Is Best?
Ka'anapali and Kihei are completely different ways to explore Maui, and they each have their unique charms.
Kihei is the residential area. Cafés and bars serve hearty delights, and the food trucks have some of the best meals you can find in Hawaii. Beautiful beaches look out onto stunning natural features, and there's easy access to the rest of Maui.
Ka'anapali is the tourist spot. Everything you need is a short walk away, and Ka'anapali beach is literally one of the greatest in the world. With historic Lahaina accessible with just a quick taxi trip, and serene Napili just up the coast, you can experience something new every day.
The perfect Maui vacation manages to accommodate both Ka'anapali and Kihei. Spend time in Kihei and discover a Maui that the locals know. Slightly off the beaten track, and with unadulterated aloha. And then head to Ka'anapali, for a vacation that lets you truly get away from it all.