Hawaii is the home of surfing, so it's fitting that Maui is one of the top destinations for wave riders looking for excellent breaks.
Whether you're a beginner after gentle swells, or an experienced surfer hoping to find world-famous waves, Maui really does have it all. 
Check out our guide for the best surfing beaches on Maui, and get ready to ride the waves!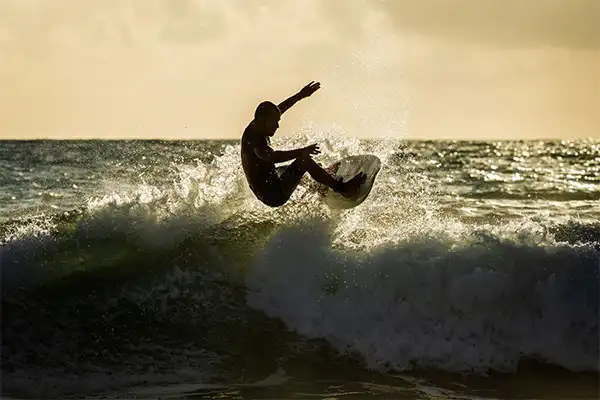 The Best Beaches On Maui For Surfing
Ho'okipa Beach
Ho'okipa Beach is Maui's premier surfing destination, a real gem on the North Shore that's strictly for experienced surfers only.
Conditions create swells from the east, west, north, and northwest, including the clean barrel of Pavilions, and the right-hander at the Point.
Ho'okipa Beach is also considered to be the windsurfing capital of the world. Expect to find crowds of locals and advanced surfers. (You may also see Ho'okipa Beach Turtles.) Anyone with a skill level below expert should stick to watching from the cliffs. 
Honolua Bay
The waves can be inconsistent at Honolua Bay, but when they're good, they're really good. This is an expert only spot, and loved by the locals.
Honolua Bay has a hollow reef breakpoint that delivers powerful waves, which is why this beach has been the setting for the Billabong Women's Pro Surfing competition.
When the waves are hitting right, expect to find a busy beach and a queue for a peak.
During summer. Honolua Bay transforms from an exhilarating break to a calm snorkeling spot.
Cove Park
Cove Park is a beginners snorkeling beach, and you'll often find lessons running from this popular South Maui location.
The waves are small, frequent, and roll throughout the day, and the sandy entrance makes it the perfect place for beginners looking to find their feet. Crowds are common, especially as families flock here to surf.
For intermediate and advanced surfers, Cove Park can sometimes throw up some pretty big waves. But this is rare. You're more likely to find the waves at Cove Park are quiet.
Launiupoko Beach
Just a short drive from Lahaina Town, Launiupoko is a popular family beach with long rolling waves that are excellent for beginners.
There's also a shallow paddling area close to the beach, so families can enjoy a day out.
The waves at Launiupoko break both left and right, and there's a park just behind the beach where you can watch the surfers before having a go yourself.
The surf tends to be consistent throughout the day, making Launiupoko an excellent beach for a sunset surf.
Between Lahaina and Ma'alaea there are several smaller beaches with beginner to intermediate surfing. Look for Guardrails, and Puamana Beach Park, for some more beginner surf options.
Olowalu Beach
A good beginner beach during summer, Olowalu Beach is one of the easiest to access surf destinations in the world.
Also known as Mile Marker 14, this beach is literally just a step away from the road. Visit in the summer for smaller waves that offer a medium ride. 
The waves at Olowalu are steady, but they aren't ideal for first-timers. This is a beginner break that edges on intermediate, so spend some time on a board before trying Olowalu.
The summer breaks are both rights and lefts, so there's something for everyone.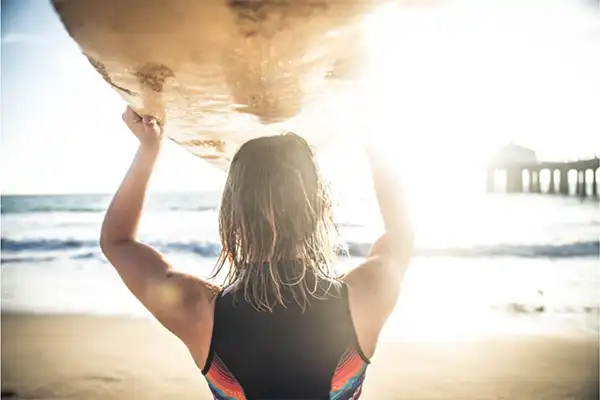 Ka'anapali Beach
The soft sands and limited rocks of Ka'anapali Beach make it an appealing spot for surfers standing up for the first time.
It's also a convenient surf spot—many of Maui's biggest resorts are just steps away, and it has excellent facilities. Definitely one for beginners, the waves at Ka'anapali Beach roll consistently.
Ka'anapali Beach tends to have left breaking waves that make for a short ride. It's a fun place to learn the basics, and incredibly picturesque.
When you get tired of surfing, the beach itself is an excellent place to relax and wait for the sunset.
Paia Bay
Paia Bay often attracts surfers who find the waves at Ho'okipa Beach to be a touch too powerful. Also a North Shore beach, protected Paia Bay doesn't catch the same expert-level swells as Ho'okipa.
Over winter, expect to find smaller waves that are frequent but short. In summer, the waves calm down, and Paia Bay is a better spot for swimming.
However, Paia Bay isn't always a beach for beginners. The waves are variable, and sometimes the currents can kick up major swells. Check out the conditions (and who else is in the water) before heading in.
Ukumehame Beach (Thousand Peaks)
Ukumehame Beach in Lahaina has been given the name 'Thousand Peaks' for a reason. Intermediate surfers can find a stretch of waves with peaks all over the place, breaking consistently and offering both lefts and rights.
With so many breaks, you can usually find a peak all to yourself, which is rare on Maui.
Beginners can enjoy Thousand Peaks, but it's better recommended for surfers with some experience. Not because of the breaks themselves, because it's quite a paddle out to find the best breaks.
If you have the strength and stamina, it's worth the effort for a chance at a quiet surf.
Other Maui Surf Spots
If you're all about the waves, and you aren't interested in a beach trip, then Maui has some amazing sand-free surf spots to catch your interest.
Breakwall in Lahaina is popular with beginners, thanks to consistent and gentle waves (that occasionally get crazy). Advanced surfers should head to Lahaina Harbor, where waves break both ways either side of the jetty.
Kahului Harbor and Ma'alaea Harbor can also be good for advanced surfers, although Ma'alaea has a very fickle right-hander.
Pe'ahi, otherwise known as Jaws, is a Maui surf destination for experts only. When the swell hits right, Jaws is complex and exhilarating. Non-experts should watch from the nearby cliff.  
Final Thoughts
Maui beaches offer surf spots for everyone, from first timers trying to stand up, to experienced surfers ready to tackle some complex breaks.
The best breaks hit different parts of the island throughout the year, so both summer and winter visitors can find some potential peaks. But watch out for the conditions—the waves can be rough!