At a glance, there's little difference between Wailea and Ka'anapali.
As large resort towns with nearby beaches and plenty to do, choosing between Wailea and Ka'anapali is not easy. There's something to love with whichever one you decide to go to.
With this guide, we'll show you what makes Wailea and Ka'anapali unique, to help you make the right choice for your vacation.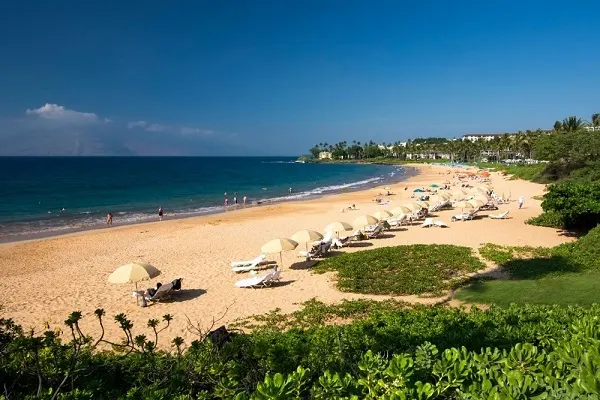 Wailea vs Ka'anapali
If you're heading to Maui for a bit of celebrity spotting, then Wailea might be the place to go. This luxury area attracts the best clientele, drawn to the fabulous hotels that hug the coast.
Of course, you'll have to look away from the incredible vistas if you want a chance to see anyone famous.
Wailea is a gorgeous area, with irresistible beaches just minutes from world-class restaurants.
Things to do in Wailea
The Shops at Wailea. A fabulous shopping center with some high-end boutiques. 
Wailea Beach. There are plenty of activities to do on Wailea beach, but people watching has to be one of the best.
Makena Beach State Park. Fabulous natural scenery in this pristine area.
Dinner at the Four Seasons. Quality food in Wailea is often accompanied by stunning views.
Wailea Golf Club. Championship quality golf, in a gorgeous location. Golf is a big deal on Maui, and this is one of the best courses.
Wailea Tennis Club. Something different, and a surprising place to take in the scenery.
Where is Wailea?
Wailea is located on South Maui, past the charming residential town of Kihei.
All About Ka'anapali
Ka'anapali is fast becoming one of the most popular areas on Maui. It boasts plenty of places to stay, at reasonable prices, and within easy walking distance of everything you need.
Ka'anapali may lack the thriving atmosphere of nearby Lahaina, but it's still a place that buzzes with life. Families will be particularly happy here, as there's plenty to keep children occupied during the day. And there are charming restaurants welcoming diners.
Want to head out and explore Maui? Ka'anapali offers easy access to the very best locations (including boat tours, if you like to go sightseeing from the water).
Things to do in Ka'anapali
Ka'anapali Beach. A long beach with pristine sand and sparkling seas. There's lots to do on Ka'anapali beach, with snorkeling and bodyboarding both popular activities.
Whalers Village. A lovely shopping center.
Black Rock beach. Nestled at the end of Ka'anapali beach is this lava formation, popular with cliff divers.
Visit Lahaina town. Hop in a taxi or stroll down from the beach, and spend a day in bustling Lahaina town.
Where is Ka'anapali?
Ka'anapali is on West Maui, slightly north of Lahaina. It does get more rain than areas on South Maui, so be prepared for some changeable weather conditions.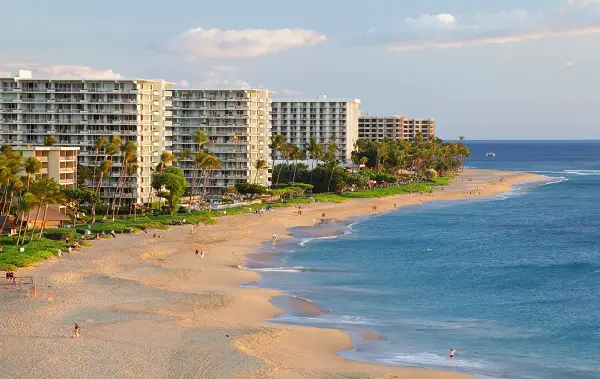 How Easy is it to Get to Wailea and Ka'anapali?
There's a distance of about 17 miles between Wailea and Kahului airport (OGG). This takes roughly 30 minutes by car, and a taxi journey will cost around $50.
It's also possible to travel by bus, for a cheaper (but longer) journey. Many of the hotels and resorts at Wailea offer shuttle transfers.
Ka'anapali is further from the airport, as it's just under 30 miles. A journey can take upwards of 45 minutes, and cost around $70. There are plenty of taxis and shuttle buses running between Ka'anapali and Kahului airport.
Where Are the Better Beaches, Wailea or Ka'anapali?
Wailea probably has the better beaches, but there's a lot to love at Ka'anapali as well.
If you're interested in spending long days relaxing on the sand, then you'll find something to appreciate in both places.
Wailea does have slightly more beaches within an easy distance. There's Wailea beach itself, Ulua beach, Polo Beach, and Mokapu Beach. Not far to the north is Keawakapu beach, and then the beaches at Kihei, And head south to find the beaches at Makena state park.
There are few beaches within a short distance of Ka'anapali, but they are lovely to visit. Napili beach, Kapalua beach, and Honolua bay are all worth a day trip.
How Affordable are Wailea and Ka'anapali?
Ka'anapali is slightly more affordable than Wailea, but neither are budget options.
However, Wailea is where the real luxury resorts are. At Ka'anapali, there are some moderately priced places.
At Wailea, you have the option to travel into Kihei if you're looking for cheaper meals. Kihei is a quiet residential area that's just starting to pull in the tourists. Budget cafés, food trucks, and family restaurants are common.
Couples Retreat, or Family Vacation?
Wailea is ideal if you're after a romantic vacation, somewhere that literally feels like a slice of paradise. With luxury at the heart of Wailea, this slow paced area has everything you need for a vacation away from it all.
Families can stay in Wailea, but some resorts  cater to an older clientele.
If you're traveling with children, be sure to check out how family-friendly the resort is.
Ka'anapali offers luxury, but perhaps not to the same level as Wailea. Instead, families will find their every need catered to. Those who like to fit everything into a single trip will also enjoy Ka'anapali—it works as a great base for days out.
Wailea is a more spread out than Ka'anapali. It lacks convenience. But that means Wailea has a quiet and calm feeling that's missing at Ka'anapali.
Where Should you Stay?
There's quite a few similarities between Wailea and Ka'anapali. Both are busy with tourists, in easy distance of towns and villages, with world-class beaches right on the doorstep.
Wailea has a laid-back luxury, with sunset views that are unbeatable. Ka'anapali is packed with life, and everything you need is a short walk away. It's also home to one of the best beaches on Maui.
Both are fantastic choices, so the decision depends on how luxurious you want your holiday to be.