When it's a cold winter day, and you're dreaming of the perfect getaway, the place you're thinking of is Maui in July. You may not be aware that's what you're imagining, but Maui in July is the paradise we all long for.
But Maui in July can become crowded, as everyone follows their dream and spends summer days on the island. If you want to know exactly what to expect visiting Maui in July, then this guide has all you need.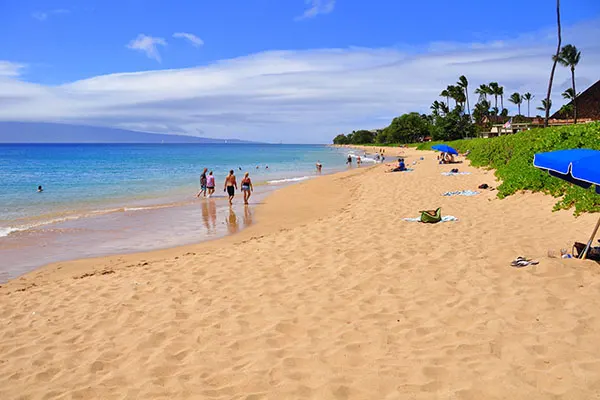 Does It Rain A Lot On Maui In July?
July falls in the middle of the summer season, which runs from April through to October. In summer, rainfall is reduced across the island, with sunny South Maui getting hardly any rain at all. West Maui gets a little more rain, with northern areas such as Kapalua getting the most of the rain.
West Maui and South Maui are the most popular tourist destinations, and also the places with the least chance of showers.
Head to North Shore Maui, the Upcountry, or East Maui, and expect to get some heavier downpours. This is true year round, as these are the windward sides of Maui.
Summer showers on Maui tend to be short, with some lasting for just a few minutes before clearing up.
What's The Temperature Like On Maui In July?
July on Maui is warm, with the average temperature during the day being 85°F. Even at night, Maui stays warm, with the temperatures sometimes only dropping to around 75°F. 
While temperatures on Maui beaches tend to stay consistent (especially if you're in West or South Maui) expect some deviation when you head inland. No matter what time of year you travel, it's going to be cold at the summit of Haleakala.
Does It Get Humid On Maui In July?
You might think you'll never miss the winds, but during July on Maui you'll be grateful for the cool breeze of the trade winds. July can be a humid month otherwise.
The trade winds are fairly common, and they prevent the Maui summer from becoming too humid. If the winds are bothering you, often only a short journey will take you to a sheltered area. Although, once the humidity sets in, you'll be hoping for the trade winds to come back.
During July, the trade winds are regular across Maui. The kona winds, however, are less prevalent.
What's The Water Temperature Like In July On Maui?
On a sunny July day on Maui, it's hard to resist the call of the water. You'll be rewarded with water temperatures between an average of 77°F and 80°F.
The water is warm on Maui throughout the year, and particularly in July. Even wary swimmers will find the waters of Maui pleasant for an extended paddle. 
A wetsuit won't be necessary, but make sure to pack a rash guard to protect against the sun.
Is Surfing Good In July On Maui?
The best time for surfing Maui is actually the winter, but that doesn't mean July is nothing but flat seas. 
The Breakwall at Lahaina Harbor is a good summer swell, and waves south of Lahaina tend to be at their best in summer.
Beginners might find summer on Maui a better time to try tackling the swells.
Are There Hurricanes On Maui In July?
Hurricanes are rare on Maui, but July is a time when you're more likely to see storms. Heavy storms can lead to flash floods and mudslides, which are particularly dangerous for tourists who might be unprepared. 
Be careful about venturing out if dark clouds are gathering—even if there are no hurricane warnings in place.
If you're staying in a hotel, ask the desk about any weather warnings. Don't swim or enter water if it's raining, particularly if you're near a waterfall or stream.
How Busy Is Maui In July?
July is one of the high seasons on Maui, although it's busy year round. As this tends to be a time when families are looking to take their holidays, July on Maui is crowded.
If you plan on traveling to Maui in July, the best thing to do is book early. That can help you find lower prices, and better hotel rooms.
Renting a car is often touted as the best way to explore Maui, but be aware of traffic in July.
The Road to Hana can be a heart stopping drive anyway, and when you add in the crowds, the tropical scenery suddenly seems less attractive. Consider booking a tour and traveling in groups, to keep traffic at a minimum.
What Can You Do On Maui In July?
With sunny skies and good weather, there's much to do on Maui in July. Of course, several trips to the beach will be necessary, and escaping the heat at a hotel pool is also a must.
Ali'i Kula Lavender Farm: there are so many varieties of lavender at the Ali'i Kula lavender farm that it's worth visiting year round, but the summer months are when the flowers bloom.  A treat for the eyes and the nose.
4th Of July Fireworks In Lahaina: although you may find fireworks elsewhere on Maui, the Lahaina celebrations are the best. Book early to secure yourself a viewing spot at Fleetwood's, or head to Kimo's for pre-fireworks happy hour.
Snorkeling: there's no bad time to snorkel on Maui, but warm summer seas make July particularly pleasant. Head out early, when the trade winds are calmest. Black Rock at Ka'anapali is a particularly nice spot in July.
Sport Fishing: have a go at catching the elusive Blue Marlin in the waters of Maui. The best time to find them is between June and August. Yellowfin tuna are also best caught in July, although they can be fished year round. Sport fishing trips depart regularly from Lahaina.
Shave Ice: on a hot and humid Maui day, nothing is more refreshing than a shave ice.The flakes of ice are packed down to give a surprisingly creamy texture, while fruit syrups provide sweet flavoring. 
Is July A Good Time To Get married on Maui?
July is a fantastic time to get married on Maui— if you plan far enough in advance. The clear skies of a Maui summer enhance an already beautiful backdrop, and the warm evenings keep the party going throughout the night.
For a Maui wedding in July (or honeymoon) start making plans early. There are plenty of gorgeous places for a wedding on Maui, and they all get booked up fast.
Where Can You Watch The Sunset On Maui In July?
Sunsets and sunrises are a spectacular sight on Maui. In July, the sun sets at roughly 7pm, which is the perfect time for an evening picnic, or a cocktail on the waterfront. 
Some places to view the sunset from include:
Haleakala National Park. An unforgettable sight that makes up for the massive climb.

Keawakapu Beach. A Kihei beachfront, regarded as the best beach for a sunset selfie.

Kapalua Bay. The rocky outcrops that frame the beach make for the perfect sunset setting.

Ka'anapali beach. Something a bit different—pair your sunset with the cliff diving ceremony at the Sheraton Maui.
Sunrise on Maui is always early, and during July you can expect the sun to go up at 6am. If you can bear to be awake at that time, the sunrise over Haleakala crater is awe-inspiring.
What Should You Pack To Visit Maui In July?
It's going to be warm on Maui in July, so pack clothes that are light and breathable. Sandals and open toe shoes are recommended, but take some sturdier shoes for exploring.
A rash guard is essential, or you're likely to leave Maui with a painful sunburn. Make sure to either pack reef safe sunscreen, or buy some as soon as you arrive on Maui.
Rain is infrequent, but still possible. A light waterproof jacket can protect you against the worst of the showers.
What Food Is In Season In July On Maui?
The growing season on Maui is year long, and many of the fruits are at their best in July. Add a trip to a traditional Maui farmers market to the schedule, and try some local delights.
Lilikoi, a tart yellow passion fruit, is delightful. July is also the best time to buy mango in Lahaina.
July may be busy, but the almost perfect weather conditions are still a convincing reason to visit Maui. Expect each day to feel as though you've woken up in paradise.