Looking for a place to stay on Maui that offers home comforts without the crowds of the resort towns?
Ma'alaea Surf Resort is a North Kihei condo retreat, with beachfront access, a good number of amenities, and large gardens in an area with low development. 
Discover Ma'alaea Surf Resort with this guide.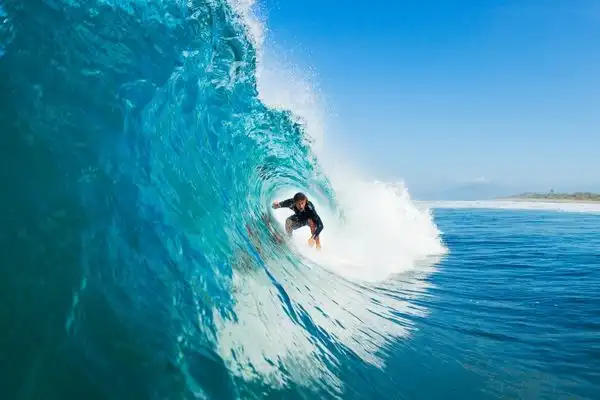 About Ma'alaea Surf Resort
Offering beachfront condos from a quieter stretch of North Kihei, the Ma'alaea Surf Resort is a popular destination for both families and couples and honeymooners.
Big kitchens and private lanais make Ma'alaea Surf Resort a convenient pwlace to stay, while the Polynesian inspired gardens and easy beach access adds charm to the property. 
Ma'alaea Surf Resort Condos
Ma'alaea Surf Resort offers one and two-bedroom condo rentals, located in eight two-story buildings set across five acres of gardens. The condo buildings are well spread out, providing guests with privacy, and the Polynesian inspired design adds charm to the area.
Ma'alaea Surf Condos are available as one-bed and one bath, two-bed and two bath. There are also two-bed and two bath two-story townhouses. 
All condos include a fully equipped kitchen (already stocked with essentials such as paper towels and detergent), plus access to outdoor gas grills.
A living and dining area provides space to stretch out and relax, as does the private lanai with ocean views. 
Ma'alaea Surf Resort Location
Ma'alaea Surf Resort is located in North Kihei, South Maui, close to the Kealia Pond National Wildlife Refuge. This is a quieter part of Kihei, away from the busier residential area and the major resorts of Wailea.
Thanks to the gardens that surround the property, Ma'alaea Surf Resort maintains an air of semi-solitude on a section of coast that's becoming busier.
There might be several condo resorts just a short walk away, but inside the Ma'alaea Surf Resort you'd hardly know they were there. 
Ma'alaea Surf Resort is well located if you want to explore Maui, and return to a peaceful home at the end of the day.
From North Kihei, West, South, and Central Maui are only a short drive away.
While the area itself might be quiet, you can find restaurants, shops and cafés in nearby Kihei, with even more options down the road in Wailea. 
How Far Is Ma'alaea Surf Resort From Kahului Airport?
Kahului Airport is roughly 10 miles from Kahului Airport, and a fifteen- to twenty-minute drive.
Ma'alaea Surf Resort doesn't have its own shuttle service, but some shuttle companies do stop at North Kihei. Ma'alaea Surf Resort also has on site parking, should you choose to rent a car.
Due to the location of Ma'alaea Surf resort, car rental is recommended. Kahului is also home to several major shops, including the Maui Costco.
If you want to stock up your private kitchen, you can get to and from Costco before the crowds arrive. 
Is Ma'alaea Surf Resort A Beachfront Property?
Ma'alaea Surf Resort sits on Sugar Beach, which is one of the longest beaches on Maui.
Some of the condos are almost directly on the beach itself, and even the furthest properties back are only a stroll away. Ma'alaea Surf Resort offers a direct path to the beach. 
Sugar Beach isn't the most spectacular beach on Maui, although it is up against some tough competition. The sand can be a little rough, and the sea lacks the clarity found in nearby Wailea.
However, if you enjoy long coastal walks, Sugar Beach is fantastic. And as such a lengthy, open beach, it provides excellent views of the Pacific Ocean. 
Is Ma'alaea Surf Resort Family Friendly?
Ma'alaea Surf is a family friendly condo resort, with spacious one- and two-bed condos. The location is great for young children, with the five acres of garden and two pools providing plenty of space to play.
They'll also love the easy beach access, as no matter which condo you're staying in, Sugar Beach is just minutes away.  
Two-bedroom condos have a maximum occupancy of six, while one-bedroom condos have a maximum occupancy of four. However, there are reasonable exemptions for children under 18. 
Ma'alaea Surf Resort also has quiet hours between 10pm and 8am, which is excellent for families with little keiki.
Ma'alaea Surf Resort Amenities
A condo resort, Ma'alaea Surf comes with a range of services and amenities.
Guests can keep themselves occupied with two oceanfront pools, two tennis courts, and two shuffleboard courts.
These can all be found in the spacious grounds of Ma'alaea Surf Resort, which feature tropical planting and manicured lawns. The gardens also house two gas barbecue grill stations
All rooms come equipped with private bathrooms, full kitchens, and sitting and eating rooms. Second floor properties include a private lanai, while first floor properties have a private balcony.
Every room in the Ma'alaea Surf Resort has an ocean view, and from your private lanai there are views across to Kaho'olawe, Lanai, and Molokini.
In winter, humpback whales are frequently spotted near Ma'alaea, and the Ma'alaea Surf Resort has a front row seat. 
Free Wi-Fi, central air conditioning, and cable TVs add to the convenience of the rooms, while on site laundry facilities are also available. 
Does Ma'alaea Surf Resort Have A Pool?
Yes, the Ma'alaea Surf Resort does have a pool. In fact, it has two!
The resort buildings are organized into two curves, and at the center of each U-shape is a swimming pool.
These are oceanfront pools, offering views of the Pacific. Sugar Beach, the beach Ma'alaea Surf sits on, is often too windy for swimming, but it sees spectacular sunsets.
Get comfortable in the pool, enjoy the shelter from the condos, and watch the sun as it sets over the ocean. 
Comfort And Convenience With A Polynesian Charm
Spread across five acres of tropical gardens, Ma'alaea Surf Resort has a surprising amount of charm for a North Kihei condo unit.
The Polynesian style buildings are nicely separated, providing guests with privacy, while the spacious gardens, complete with tennis courts and swimming pools, add a touch of serenity.
And while Sugar Beach isn't the best beach for swimming, the sunsets are amazing, as are the humpback whales, when they pass through.